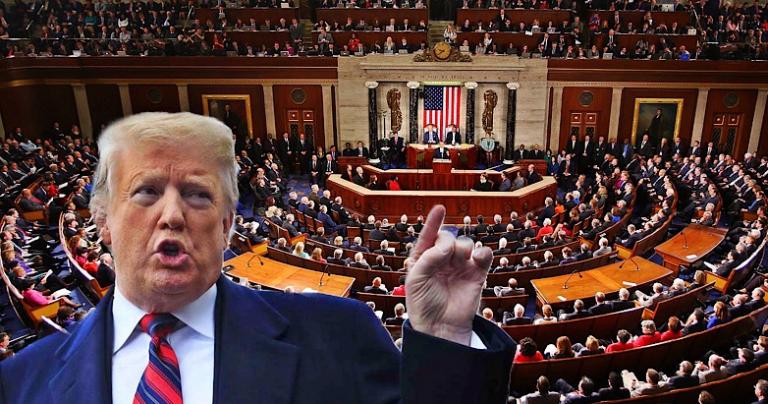 Washington DC – Speaker of the House of Representatives Nancy Pelosi is vowing to keep President Trump from delivering the State of the Union address. President Trump is declaring if he cannot address the House and Senate, then he will tweet the State of the Union Address in its entirety.
CNN reported House Speaker Pelosi's decision to check the power of the president:
House Speaker Nancy Pelosi quickly rejected President Trump's insistence on Wednesday that he would deliver his State of the Union address in the House chamber next week, despite her request to delay until the government is reopened, elevating an acrimonious standoff on the month-old shutdown into a balance-of-powers showdown.
The House "will not consider a concurrent resolution authorizing the President's State of the Union address in the House Chamber until government has opened," she wrote in a letter to the White House. Congress must pass such a resolution to allow a president to address it.
Commander-In-Twitter
Undeterred by what many consider to be a power move by Pelosi, President Trump stated he is going directly to the American people just like the Founding Fathers did — via Twitter.
"George Jefferson, our first president, gave the Gettysburg's Dress via Twitter," he told reporters. "And that's what I'm going to do with the State of the Union. But I'm not wearing a dress when I do it."
Observers note Trump's plan circumvents the potential awkwardness of him giving the State of the Union at the White House. In case he chose that route, major news outlets vowed not to air it. Twitter was the natural choice.
White House staffer Andrew Canard stated President Trump is planning to tweet the entire address himself. Mr. Canard suggested Trump's thumbs may grow tired, and he should hand off the job to others. The president refused the idea. "I dug myself into a hole, and I'm digging myself all the way to China," he said.
In related news, China issued an official statement saying if President Trump mysteriously appears in China they are sending him back immediately.
---
Did you enjoy this post? How about buying the writer a cup of coffee?
---