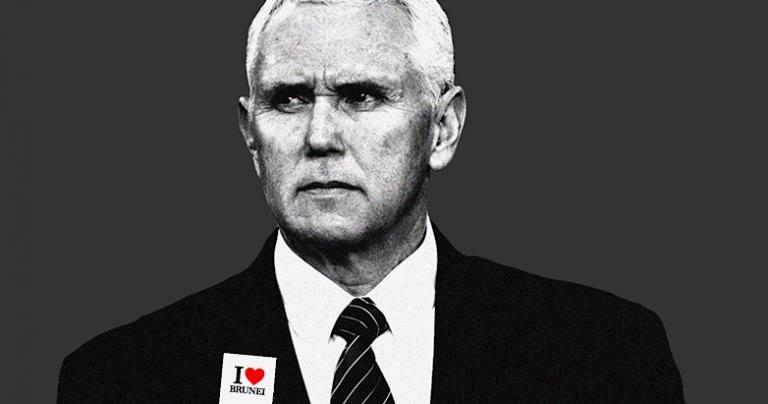 Vice President Mike Pence unexpectedly left the country of Brunei yesterday. Pence was visiting on state business. His staff state they have no idea why their boss would leave the country without packing his suitcase.
Some suspect it may have to do with the country's new law making homosexuality illegal. Vice reported on the nation's controversial move:
Next week, the tiny sultanate of Brunei become the first country in Southeast Asia to make homosexuality a crime punishable by death.

The change is part of a nationwide implementation of the Sharia law that was first announced in 2014. At the time, Sultan Hassanal Bolkiah said: "The decision to implement the (penal code) is not for fun but is to obey Allah's command as written in the Quran."
The punishment for those engaging in homosexuality is death by stoning. Motivated religious fanatics are getting their pitching arms ready.
Pence's office issued a statement regarding the Vice President's stance on Brunei's controversial new law:
I welcome any nation to follow their deeply held religious beliefs. Faith is what keeps us from being barbaric and godless people with no moral center.

The country of Brunei is bravely following the faith of their fathers. However, killing suspected non-heterosexuals is wrong. Governments should force them into the closet. Nations need to protect young, virile, muscular men from the delicious wonders waiting for them in men's room stalls.

Lastly, Jesus wouldn't kill non-heterosexuals. Punishing them is his dad's job.
Evangelical leaders are applauding Pence's stand on Brunei. In a snap poll, 88% of megachurch ministers and televangelists support Pence, the country of Brunei, and hypocrisy as long as it suits their purposes.
The Catholic Church is taking an issue with the new statute. The Vatican sent the Sultan of Brunei an official letter asking if pedophiles are to be treated the same way as homosexuals.
The Brunei government has yet to respond.
---
Did you enjoy this post? How about buying the writer a cup of coffee?
---
While Brunei is making homosexuality punishable by death, Mick Pence did not flee the country nor issue the statement.