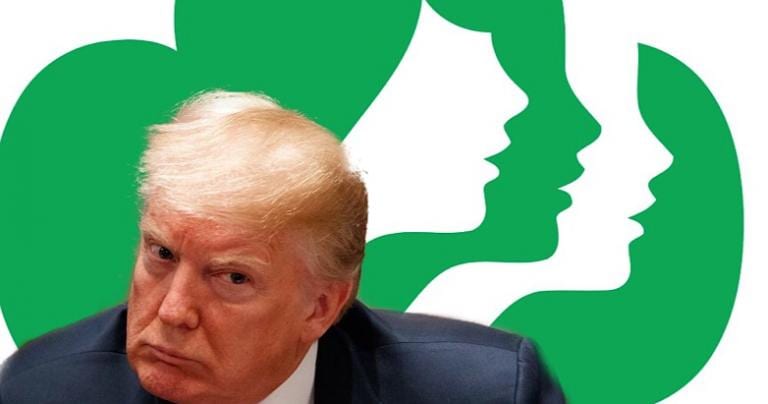 Washington DC – President Trump took to Twitter and officially put the Girl Scouts on blast. His concern? The organization is teaching girls about climate change.
Think Progress reports on the Girl Scout's push into STEM education and climate science:
Although the Girl Scouts' climate activities are largely educational, the organization has long encouraged girls to tackle issues that are important to them. Many scouting programs are designed to teach girls leadership skills and expose them to fields where women are underrepresented. The well-known cookie drive, for example, is meant to teach girls about business. Scouts are now learning about the STEM fields of science, technology, engineering, and math, which include earth sciences and the environment, and by extension climate change.
And some chapters are taking the lead in combatting climate change:
Most of that work is taking place on local and state levels, as scout troops and councils are free to focus on specific issues of their choosing. The Girl Scouts of Colorado, for example, created a program that enables girls to earn a climate change patch for participating in three climate change-related activities from a list of more than a dozen possible options.
President Trump is letting his people know what he thinks about the Girl Scouts and socialist science: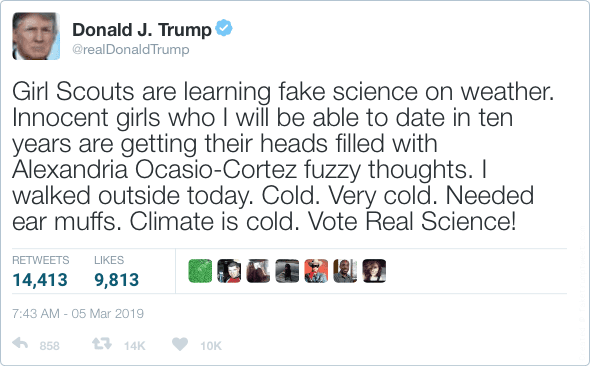 Girls Scouts are learning fake science on weather. Innocent girls who I will be able to date in ten years are getting their heads filled with Alexandria Ocasio-Cortes fuzzy thoughts. I walked outside today. Cold. Very cold. Needed ear muffs. Climate is cold. Vote Real Science!
White House Chief of Taradiddles Andrew Canard is defending his boss' abuse of the English language and science. "I was there when President Trump walked outside this morning," he said. "It was cold. Very cold."
The Girl Scouts haven't responded. However, they did release a statement on not responding to online trolls.
---
Did you enjoy this post? How about buying the writer a cup of coffee?
---
*While the Think Progress article is quite real, President Trump hasn't attacked the Girl Scouts due to the group' stance on climate change — yet.