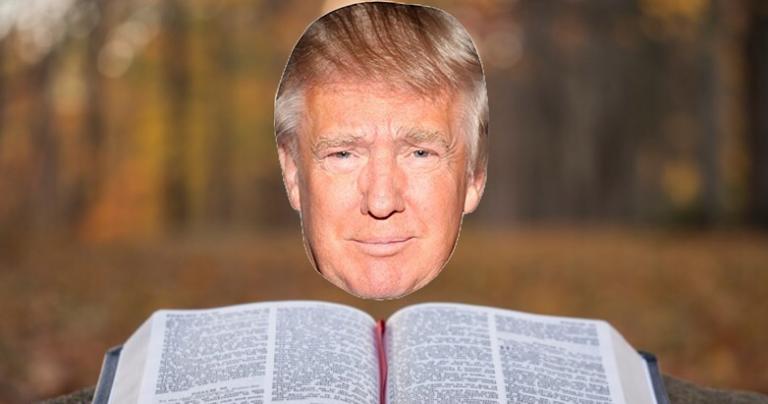 Washington DC – President Donald J. Trump is selling signed copies of the Bible at his online Trump Store. The holy books appeared early this week. Initial sales are reported to be robust.
Customers may purchase signed copies of various translations of the good book. The King James Bible is supposedly the biggest seller followed by the Catholic Bible. The Children's Bible takes third place.
Andrew Canard manages the Trump Store. He's ecstatic. "We're selling all types of White House merch. White House coffee mugs and Trump soap with the White House on the packaging are popular," he observed. "But people can't get enough of Trump branded Bibles."
Signed Trump Bibles are selling so well, the administration states a Trumpian translation of the Bible is in the works. Sources state the Donald Trump Bible, Presidential Edition will offer all the wonders of the Bible with the savvy knowledge contained in Trump: The Art of the Deal.
Controversy and Criticism
Some critics of the President state it's inherently inappropriate for the commander-in-chief to sign and sell Bibles. "Donald Trump didn't write the Bible. And he doesn't even know how to say
Second
Corinthians
," one online commenter quipped.
White House sources are leaking Donald Trump isn't signing the Bibles. Rather, Eric Trump is busy doing all the work.
"Dad gave me this important job," Eric told a friend. "If I get enough signed by 3 pm, I get a snack. I'm hoping today it's going to be pretzels."
Regardless of the controversies, fans of Jesus and the Donald don't care. Some families are replacing their old family Bibles with the tomes blessed by the President of the United States of America.
In related news, Muslims and Jews are unified at last. They both thank their respective deities Donald Trump is Christianity's problem.
---
Did you enjoy this post? How about buying the writer a cup of coffee?
---