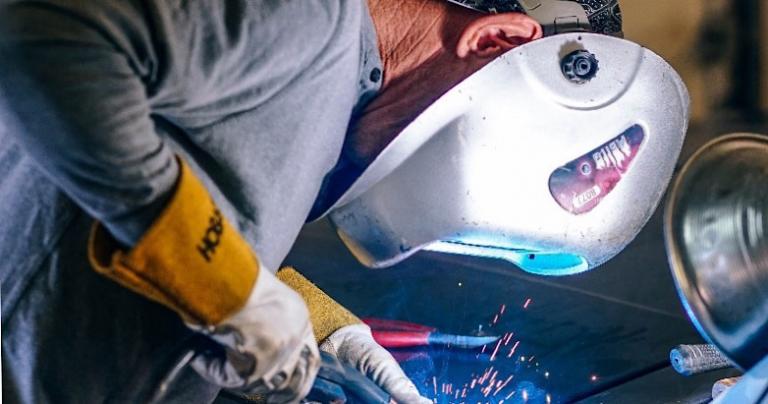 Lordstown, Ohio – President Trump is traveling to the GM plant in this village of 3,417 souls. His goal is to put the breath of life back into the failed manufacturing center.
The commander-in-chief isn't saying how he's going to keep the factory that makes the Chevy Cruz open. However, he is making big promises: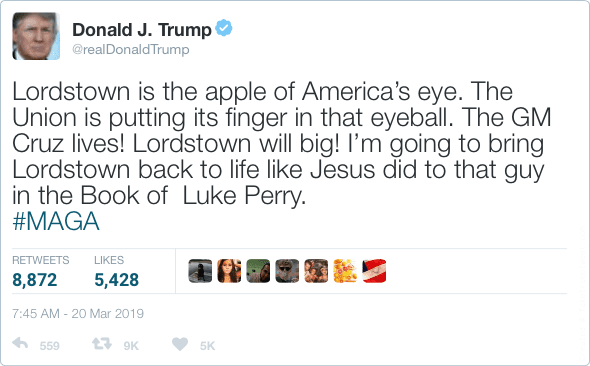 Lordstown is the apple of America's eye. The Union is putting its finger in that eyeball. The GM Cruz lives! Lordstown will big! I'm going to bring Lordstown back to life like Jesus did to that guy in the Book of Luke Perry. #MAGA 
Anonymous sources at GM say they don't need any more help from the president. One executive quoted a Politico article on how Trump is "helping" the auto industry:
Trump's tariffs on steel and aluminum have cost Ford and GM about $1 billion each. GM Chief Executive Officer Mary Barra cited the tariffs in November when she announced the 14,000 job cuts that included the Lordstown plant's shuttering. Potentially making things even worse, Trump is now weighing new tariffs on foreign automobiles that could threaten hundreds of thousands of additional U.S. jobs.
Regardless of the facts, many evangelical Christians are flocking from miles around to see Trump do his magic and save Lordstown. "I think he's going to tell everyone the plant is 'just sleeping' like Jesus said about Lazarus,' stated Billy 'Big Banana' King.
The local Chik-fil-A is officially feeding the crowd of Trump supporters. In an official press statement the faith-based fast food operator stated, "If Jesus had to feed the multitude today, then he'd do it with a side of waffle fries."
Warren Avenue First Baptist Church is sending its Executive Preacherman Minister Andrew Canard to the event. Minister Canard is expecting to be a simple bystander. But if Trump is attacked by demons, then he will be ready to lend a hand. "Unions are hotbeds of satanic power," he said. "I'm here to keep the president safe."
Economists are doubtful the plant will stay open. Most believe America's manufacturers don't need a miracle. They need good economic policies.
---
Did you enjoy this post? How about buying the writer a cup of coffee?
---
---