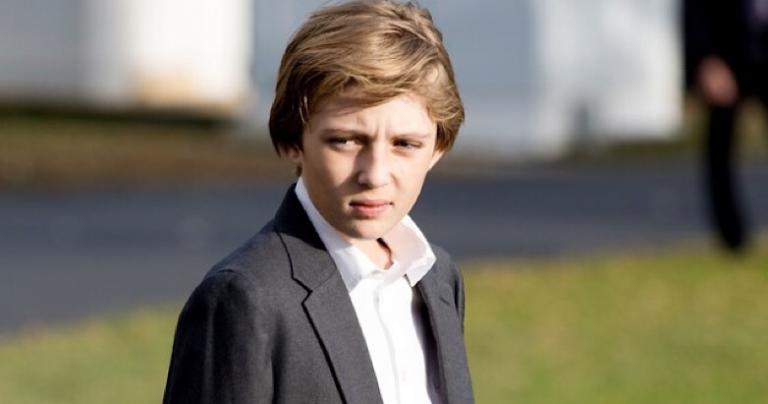 Washington DC – Barron Trump was detained by police early this morning. The thirteen-year-old is still in custody. President Trump and mom Melania were notified within minutes of the incident taking place. The youngest son of the commander-in-chief is to be released after questioning.
Sources within the Washington DC police department report a concerned Trump supporter called 911. The caller was in shock and dismay. Barron Trump was assisting a little old lady across the street. It appeared the woman was poor. Worse yet, her skin wasn't the color of virgin snow. "She could be Native American, Middle Eastern, or heaven forbid, a Mexican criminalien," the caller stated.
Police Commissioner  Andrew Canard offered some insight into the situation:
We all knew after the 2016 elections and subsequent behavior of the President of the United States that nothing mattered anymore. Donald Trump acted with impunity with little to no consequence. With the Mueller Report finished and Attorney General William Barr saying the President did nothing wrong, we can definitively say nothing matters anymore AND vice is virtue. In a world where vice is virtue, virtue is vice.
Commissioner Canard pointed out the President's son needs to be an example for his peers. Acts of kindness can not be tolerated.
Political pundits reflect this was bound to happen at some point. Eleven-year-old William Minkowsky of Arkansas successfully sued his parents because they gave him a sense of decency and a moral compass. Political scientists think it's only a matter of time before concerned parents start calling 911 due to their kids helping out elderly neighbors, getting good grades without cheating, and telling the truth.
First Lady Melania Trump plans to change her Be Best program to reflect the times. Instead of fighting cyberbullying, Be Best will focus on being the best bully one can be.
Trump supporters overwhelmingly believe the country is finally heading in the right direction. In a snap poll, 92% of Republicans believe Trump is a modern day Moses leading his tribe of Caucasians into the holy land of milk and meanness.
---
Did you enjoy this post? How about buying the writer a cup of coffee?
---