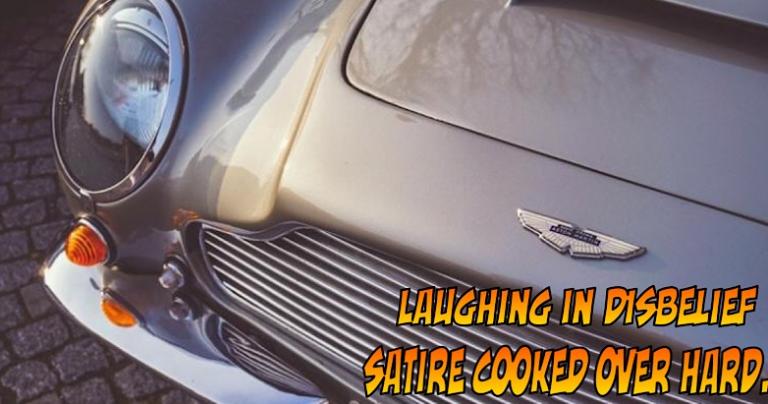 Washington DC – President Trump went on a Twitter rampage this morning after hearing James Bond will be craving an electric vehicle in the upcoming movie.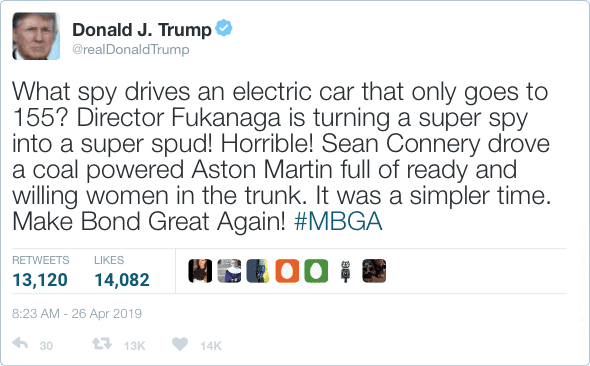 What spy drives an electric car that only goes 155? Director Fukanaga is turning a super spy into a super spud! Horrible! Sean Connery drove a coal powered Aston Martin full of ready and willing women in the trunk. It was a simpler time. Make Bond Great Again! #MBGA
What Will James Bond Be Driving?
Popular Mechanics published the story Bond 25: Everything We Know About the New James Bond Movie. This will Be Daniel Craig's last time playing the iconic character. After doing it for 14 years, he stated "he'd rather slash his wrists" than taking another go. While this is Craig's last Bond performance, it is the first time an American is directing a Bond movie. Director Cary Joji Fukunaga is looking forward to the challenge.
But what is Bond actually driving?
President Trump is correct the James Bond car will no longer be dependent on fossil fuel:
Fukunaga, a "total tree-hugger," is reportedly pushing for Craig to drive an Aston Martin Rapide E—the luxury automaker's first all-electric vehicle. Granted, the ride will still top out at 155 mph and go 0-60 mph in less than 4 seconds, per Aston Martin, but it'll still be pretty jarring to see Bond behind the wheel of an EV.
Fact Checkers Check Trump
Snopes.com, the fact checking and dubunking website, did credit Trump with his statement stating James Bond is driving an EV. However, Snopes quickly pointed out at no point in time did Sean Connery drive a coal powered Aston Martin full of ready and willing women in the trunk in a James Bond movie.
Supporters of Trump and fans of James Bond are quick to say they distinctly remember the spy shoveling coal into the Aston Martin's furnace. Tennessee Governor Andrew Canard is typical of what many recall on the sub-reddit on this topic:
In From Russia With Love he's hanging out with some trunk-girl and gets a call on his car phone. He has a job to do but first he has to get the car's fire burning. After he shovels the coal in, he has time to make sweet juniper love to that woman.
Daniel Craig Responds
The controversy of Bond's new electric vehicle is taking over FOX News. Sean Hannity supports President Trump and is quick to point out Obama was seen in an electric car several times. Coincidence? And what about that internet rumor saying Hillary ran a child sex ring out of an Aston Martin Rapid E? Can that be discounted? No.
Actor Daniel Craig is playing it cool. He's only addressed the matter once. "I don't respond to online trolls," he said. "I don't care how many electoral votes they got."
---
Did you enjoy this post? How about buying the writer a cup of coffee?
---
Laughing in Disbelief in one Pinterest! Check it out!