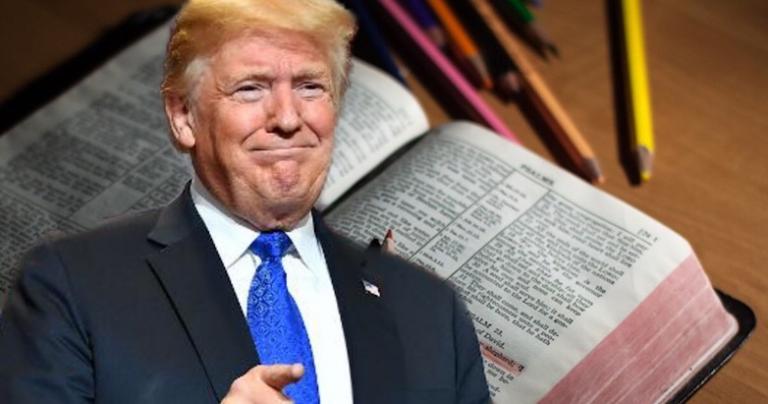 The Donald Trump Version (DTV) Bible is on sale now in many retail stores and online. For $59.95 the faithful can own the holy book of Christians translated by President Trump.
The DTV contains 39 books of the Old Testament, 27 books of the New Testament, and the classic Trump: The Art of the Deal. 
Evangelical scholars are celebrating the DTV. While many consider the King James Version to possess a "majesty style" the DTV has what's being called a "Trumpian style."
Professor Andrew Canard teaches theology at the Theological Institute of Technology (TIT). He states there are several unique characteristics of the DTV's Trumpian style:
No chapter is longer than a tweet.
Hashtags are everywhere. The most common are #CrookedHilary and #LockHerUp
Confusing words are not included. Simpler versions of said words weren't substituted. For example, 1 Peter 5:8 in the KJV is Be sober, be vigilant; because your adversary the devil, as a roaring lion, walketh about, seeking whom he may devour: In Trump's version it is Be your the devil, as a roaring lion, about seeking he may devour. 
Every word of Trump: The Art of the Deal is colored red and underlined.
"A lot of Christians don't read the Bible," Professor Canard noted. "They will love this condensed version they will probably never read."
There is an audio version of the DTV, too. Listeners will love every syllable. As a special treat, each member of the Trump clan reads a portion of the good book. However, Barron Trump decided not to be involved in the project. His friends report there's only so much hypocrisy Barron can take.
United States Attorney General William Barr reviewed the DTV. His review adorns the inside cover.
I have concluded that the evidence is not sufficient to establish that Pontius Pilate committed an offense.  – Attorney General Willam Barr
Early sales of the DTV are robust. It's expected to be a best seller.
---
Did you enjoy this post? How about buying the writer a cup of coffee?
---