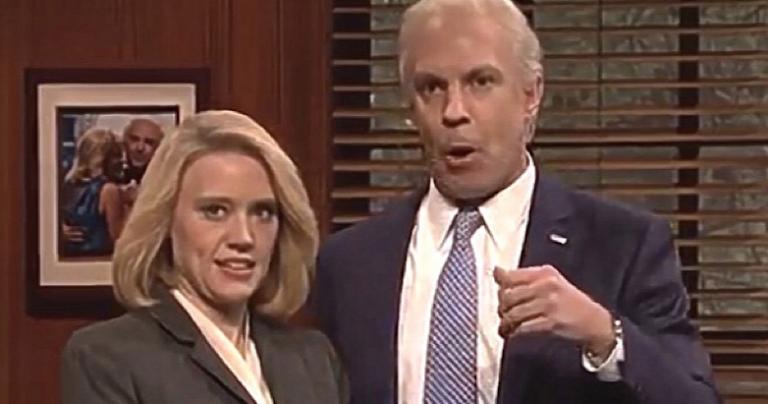 Saturday Night Live takes a stab at Joe Biden's predilection for touching in this video Joe Biden Cold Open – SNL
If you're not aware of the backstory here is a sliver from The New Yorker article Joe Biden and the Perils of Good Intentions:
What's changed is not the severity or nature of the offenses—no one has accused Biden of sexual misconduct. It's just that the voices narrating the scenes have switched, so that we're looking at the same gestures through a different lens. We're looking through the lens of Lucy Flores, who wrote in The Cut that her encounter with Biden before a campaign event in 2014 left her feeling "uneasy, gross, and confused." Or the lens of Amy Lappos, who said that, at a 2009 fund-raiser, Biden grabbed her around the neck and rubbed noses with her. "It's not affection," Lappos told the Hartford Courant. "It's sexism or misogyny."
Check out the video and see if SNL hits the mark.
Poor Joe. If he had my anxiety disorder, then he wouldn't want to touch hardly anyone.
We all can't be lucky like me.
Now, I could be speaking too soon, but I haven't seen Biden take to Twitter and threaten Saturday Night Live like our dear President.
Biden did tweet he's going to do a better job not invading personal space:
Social norms are changing. I understand that, and I've heard what these women are saying. Politics to me has always been about making connections, but I will be more mindful about respecting personal space in the future. That's my responsibility and I will meet it. pic.twitter.com/Ya2mf5ODts

— Joe Biden (@JoeBiden) April 3, 2019
Hey Joe, in case you're having trouble keeping yourself in check, I have enough anxiety to share.
---
Did you enjoy this post? How about buying the writer a cup of coffee?
---