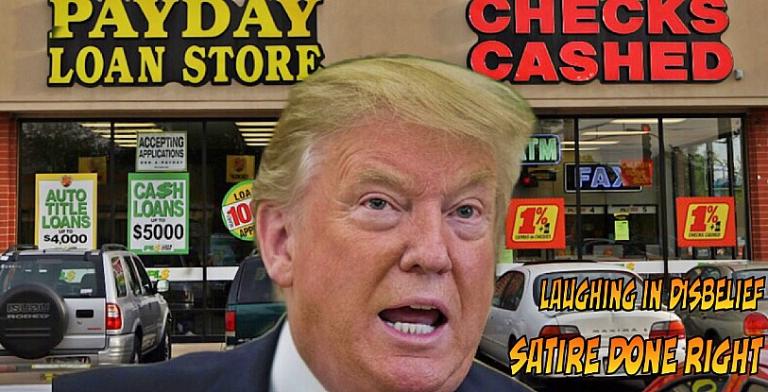 New documents reveal Donald Trump frequented a Payday Loan Store 48 times in 1988. All evidence points to the sad fact Donald Trump regularly needed cash until his father's weekly stipend showed up in his checking account.
The Payday Loan Store in question is located on the corner of Washington Street and Pleasant in Hoboken, New Jersey. Sources state the man who was supposedly a real estate mogul was afraid to use the stores in Manhattan in fear of being seen. Wearing a pork pie hat and dark sun glasses, Donald Trump would shuffle in just as the store opened and hurried out before anyone was the wiser.
"I remember him, alright," stated longtime owner Andrew Canard. "No one else left a trail of slime. It got to a point where I kept a bucket of soapy water and a mop around just in case he showed up."
These new revelations come on the heels of The New York Times reporting Donald Trump lost epic amounts of money from 1985-1994. The article Decade in the Red: Trump Tax Figures Show Over $1 Billion in Business Losses tells a tale of a man who had a big hat but very few cattle:
The data — printouts from Mr. Trump's official Internal Revenue Service tax transcripts, with the figures from his federal tax form, the 1040, for the years 1985 to 1994 — represents the fullest and most detailed look to date at the president's taxes, information he has kept from public view. Though the information does not cover the tax years at the center of an escalating battle between the Trump administration and Congress, it traces the most tumultuous chapter in a long business career — an era of fevered acquisition and spectacular collapse.

The numbers show that in 1985, Mr. Trump reported losses of $46.1 million from his core businesses — largely casinos, hotels and retail space in apartment buildings. They continued to lose money every year, totaling $1.17 billion in losses for the decade.
The White House is saying Donald
Donald Trump
used the Payday Loan Store because it looked better on his taxes. A reporter from
The
Flat
Earth
Journal
asked if President Trump is planning for the United States of America to have a beautiful tax return this year. He was escorted out by security.
In related news, the Payday Loan Store is now part of the Donald Trump Bigly Tour that brings tourists to notable Trump sites in the NYC area.
---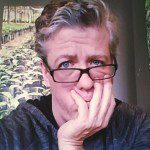 Andrew Hall is the author of Laughing in Disbelief. Besides writing a blog no one reads, co-hosting the Naked Diner, he wrote a book no one reads,  Vampires, Lovers, and Other Strangers. There are rumors his stand-up is funny. When he isn't shouting at the darkness on Twitter, Instagram, and Facebook he is showing his kids how not to behave. Oh, he's reading through the Bible and talking to interesting people on YouTube. 
---
Obviously, the NYT story is real while the Payday Loan Store bit is a Poe. But you know that already, right?