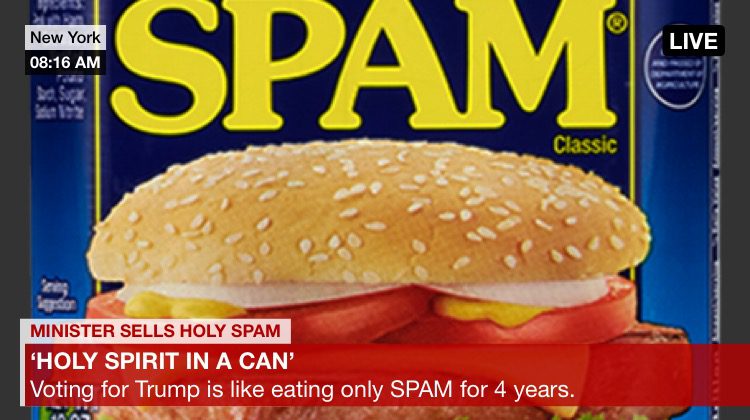 Evansville, Indiana – Reverend Andrew Canard of Warren Avenue Baptist Church is selling Holy Spirit in a Can. The man of God states for $19.99 anyone can own a piece of the Trinity.
"This heavenly product is first aid for your soul," Reverend Canard said. "When you have a spiritual emergency, just hold the can close to your heart and receive a divine anointing."
Thousands of Evangelicals already have Holy Spirit in a Can in their medicine cabinets, their emergency kits, and at work. Online reviews for the product defy reason:
My 10-year-old daughter carries Holy Spirit in a Can with her to school. How else is she going to survive a school shooting or the evils of evolution?              – Mary MacDonald
My can helped me get that big account. Thanks, Holy Spirit in a Can.                – Barry Basile
I was hungry and popped the can open. The Holy Spirit tastes just like SPAM.  – Mike "Live Bait" King
Is Holy Spirit In A Can SPAM?
Critics point out Holy Spirit in a Can looks like a can of SPAM you might find in the grocery section of any Walmart. In fact, if the outer packaging is removed, then the proud wrapping of Spiced Ham (SPAM) is revealed. And if the can itself is open, one sees a loaf of SPAM.
Many people are calling fowl on Reverend Canard.
However, he has a faith-based answer to the undeniable evidence he is simply repackaging cans of SPAM for a gullible public.
"Once the can is opened, then the essence of the Holy Spirit transforms into something nutritious and delicious. Not only does this product feed the spirit, but it feeds the flesh, too!" he stated.
Evangelicals Undeterred
Leading Evangelical leaders are supporting Reverend Canard and his Holy Spam 110%. Many are selling Holy Spirit in a Can in their own churches. Of course, Reverend Canard is allowing them to keep part of the profits.
Hormel Foods Corporation produces SPAM. They are looking to press charges against Reverend Canard. Experts believe their chances are thin. The new religious freedom laws will probably protect Reverend Canard and
Holy Spirit in a Can.
---
Did you enjoy this post? How about buying the writer a cup of coffee!
---
---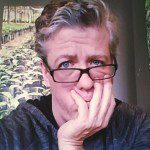 Andrew Hall is the author of Laughing in Disbelief. Besides writing a blog no one reads, co-hosting the Naked Diner, he wrote a book no one reads,  Vampires, Lovers, and Other Strangers. There are rumors his stand-up is funny. When he isn't shouting at the darkness on Twitter, Instagram, and Facebook he is showing his kids how not to behave. Oh, he's reading through the Bible and talking to interesting people on YouTube.