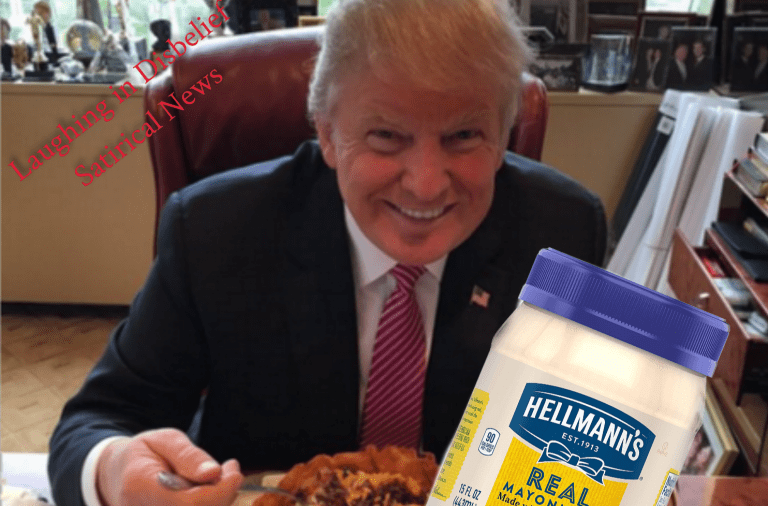 Washington DC – President Trump is throwing the best Cinco de Mayonnaise party ever. The Oval Office is decked out with festive Hellman's Mayonnaise banners, party hats, and even a mayonnaise jar shaped piñata. The only thing, of course, is that there is no such holiday as Cinco de Mayonnaise.
There is a Mexican holiday Cinco de Mayo, however.
FOX News reports most Americans don't know what the holiday celebrates:
Know the real reason Cinco de Mayo is a holiday? Congratulations, you're in the minority!

According to a new poll of 2,000 Americans, only 22 percent of respondents knew that Cinco de Mayo is a celebration of the Mexican army's victory over the French empire.
The article does not tell readers the story behind Cinco de Mayo. They were happy to say "Hey, you don't know this thing!" and then not give readers any information about the holiday besides Don't be on your phone all night when you're at the party.
Real news outlet CNN does tell the tale behind Cinco de Mayo:
The holiday celebrates

Mexico's victory over France in the Battle of Puebla

on May 5, 1862. It was a relatively minor battle — the French reclaimed Puebla a year later — but a symbolic one because a small Mexican army defeated a larger occupying force. By 1867, Mexican troops had driven France from the country.

Many Americans assume Cinco de Mayo is Mexico's Independence Day. It's not. That holiday falls on September 16 and commemorates the Grito de Dolores, a priest's ringing of a church bell in the town of Dolores in 1810 that triggered Mexico's War of Independence from Spain.
Iniders reports White House intern Skippy Tennenbaum attempted to tell President Trump the facts about Cinco de Mayo. Skippy no longer is an intern. He does have a lot of Hellmann's Mayonnaise packets as a parting gift from Trump.
No one knows for sure what is in that piñata. Many close friends and associates of the President hope it's filled with pardons.
The official Cinco de Mayonnaise White House party begins at 12 noon with lunch made with specially made McDonald's tacos with salsa-mayo. Afterward, traditional holiday songs will be sung like, Ain't No God In Mexico and Mayo, oh my, Mayo! The mayonnaise inspired cocktail hour follows with the smashing of the piñata.
Hellmann's issued a statement saying it does not endorse Cinco de Mayonnaise celebrations.
---
Did you enjoy this post? How about buying the writer a cup of coffee?
---
---