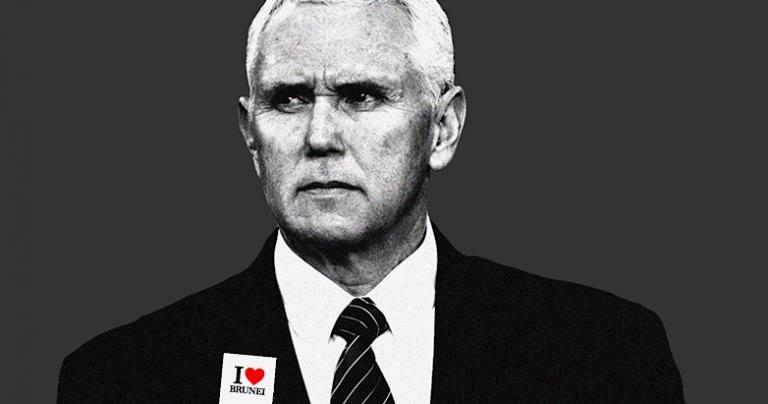 Washington DC – Vice President Mike Pence warned a group of Evangelicals about the dangers of "creeping gay pride."
The Vice President was the featured speaker at the prestigious Evangelicals and Eggs Breakfast. This annual event is a fundraiser for fundamentalist and creationist Ken Ham's organization Answers in Genesis. All proceeds this year are going to a new addition to the Ark Encounter theme park. The new project is tentatively titled The Tribulation Rollercoaster.
The Speech
Even though the mood was festive, Vice President Pence rang the alarm bell when he gave the keynote address:
In the beginning, there was no gay. The Almighty made us perfect. I have it on good information from Ken Ham before the fall, Adam could eat and talk at the same time. There was no choking hazard in the Garden of Eden. Can you imagine eating Doritos and talking about football at the same time?

But all that changed with sin.

Suddenly, we couldn't eat and talk at the same time without gagging and possibly choking to death. That's when the gay entered the world, too. And for millennia they didn't have a second to themselves in public. One day, some liberal decided to give them a second of peace. What hurt could that do?

But it hurt. It hurt us all.

That second became a minute. That minute later became a day of sinful Pride. That Pride Day then became Pride Week. Pride Week became Pride Month.

When will it end?

With our sons and daughters living under gay Nazi socialism twenty-four hours a day seven days a week. Our country is going to be a 7-11 of sin. Delicious butt sin.
Corporate Gay Pride Supporters Worry
All of the corporations who have jumped on the Gay Pride Parade bandwagon are wondering whether or not it's still profitable to be associated with human rights. Insiders at several companies report it is still safe at this time to offer the LGBTQ community 100% support when it's in line with their bottom line.
One concerned parent reportedly told his child at the Boston Pride Parade, "We live in an oligarchy. It's an aspect of the oligarchical system that companies overrun events like this. Just remember, they aren't your friends or want what's best for you."
---
Did you enjoy this post? How about buying the writer a cup of coffee!
---
The Best Advice Ever is the show where notable notables talk about the best advice they ever got. Manager of the Atheist Candidates Project Andre Salais is our guest!
---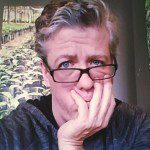 Andrew Hall is the author of Laughing in Disbelief. Besides writing a blog no one reads, co-hosting the Naked Diner, he wrote a book no one reads,  Vampires, Lovers, and Other Strangers. There are rumors his stand-up is funny. When he isn't shouting at the darkness on Twitter, Instagram, and Facebook he is showing his kids how not to behave. Oh, he's reading through the Bible and talking to interesting people on YouTube.