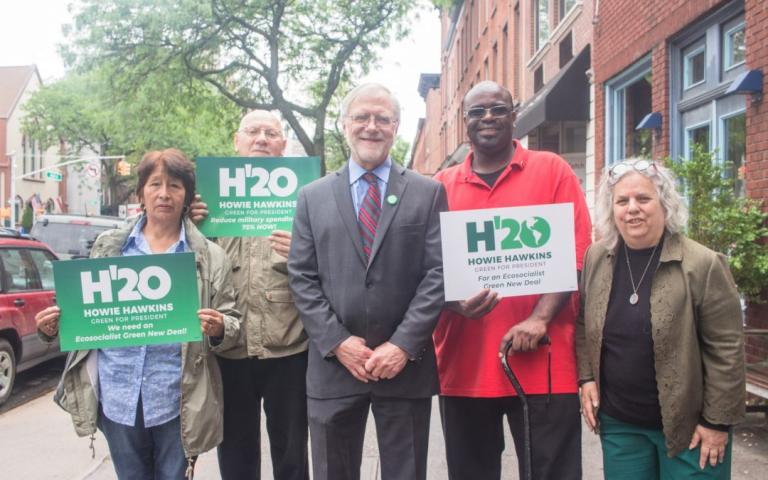 Howie Hawkins is a presidential candidate for the Green Party. In this episode of the Naked Diner Podcast Jack Matirko and Andy Hall sit down and chat with him.
For those of you unacquainted with the Green Party, this episode is a great introduction!
And for those of you first hearing about Howie Hawkins here is a bit from his bio page:
From the start, he was committed to independent working-class politics for a democratic, socialist, and ecological society. He supported the Peace and Freedom Party in 1968, the People's Party in 1972 and 1976, and the Citizens Party in 1980. Since that first national meeting in 1984, Howie has been a Green Party organizer.

As the Green Party's candidate for governor of New York in 2010, 2014, and 2018, each time he received enough votes to qualify the Green Party for a ballot line for the next four years. In 2014, he received 5 percent of the vote, the most for an independent progressive party candidates for governor in New York history except for Socialist candidates who received 5.7% in 1918 and 5.6% in 1920.

As a Green Party candidate many times for local office in Syracuse, his vote grew from 3% for at-large councilor in 1993 to 48% for a district council seat in 2011. In 2015, he received 35% of the citywide vote for city auditor.

Outside of electoral politics, Howie has been a constant organizer in peace, justice, union, and environmental campaigns.
A lot of ground gets covered!
Here are some of the topics:
The Economic Bill of Rights
Green Economy Reconstruction Program
Nuclear Weapons (The New Nuclear Arms Race)
Here is the episode!
You can find the Naked Diner on iTunes, Stitcher — wherever you get your podcasts!
Thanks for reading and thanks for supporting the Naked Diner Podcast!
---
Did you enjoy this post? How about buying the writer a cup of coffee!
---