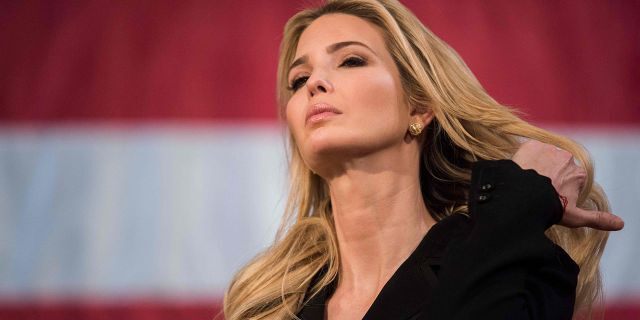 Hollywood, CA – Movie goers and critics are giving Midsommar rave reviews. Many consider this horror movie taking place in broad daylight as an innovative spin on the genre by writer/director Ari Aster. One critic remarked, "I'll never look at jazz hands the same way."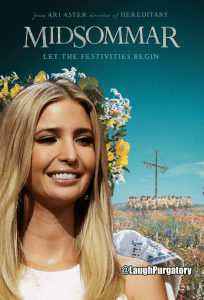 Ivanka Trump is telling the world she's looking forward to reprising her role as the main character Dani when Midsommar II begins production. The problem is, Ms. Trump doesn't appear in the movie currently in theaters.
Dani is played by actress Florence Pugh, and she is more than a little annoyed at Ms. Trump's statement."It sounds like a Trump thing to do," Ms. Pugh sighed. "They see something cool and immediately want to steal it and run it into the ground."
President Trump is lauding his daughter's portrayal of a young woman who suffered the insufferable and then journeys to Sweden for what seems to be an innocent midsummer festival. "It was as if Ivanka suddenly found herself in the Democratic National Convention," President Trump said. "Horrific."
When aides mentioned his daughter was never in the flick, the President said they were spreading fake news and fired them.
Wherever Ms. Trump is talking to foreign officials or the press, she goes out of her way to talk about her experiences as a movie star. Recently, she mentioned how playing a character stuck in the middle of a community of alt-sane white people came naturally to her. She believes she has a gift for understanding the unheard moral majority of Sweden.
There are rumors President Trump will soon be offering Swedes a two for one deal for those wishing to immigrate to the United States. He's reassuring them all of their "kooky religious stuff" will be protected under religious liberty laws.
In related news, writer and director Ari Aster is planning to do a flick with all of the Trump kids. Sources state he is rebooting the Hills Have Eyes franchise.
---
Did you enjoy this post? How about buying the writer a cup of coffee! 
---
---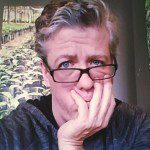 Andrew Hall is the author of Laughing in Disbelief. Besides writing a blog no one reads, co-hosting the Naked Diner, he wrote a book no one reads,  Vampires, Lovers, and Other Strangers. There are rumors his stand-up is funny. He's  on Twitter and Instagram.