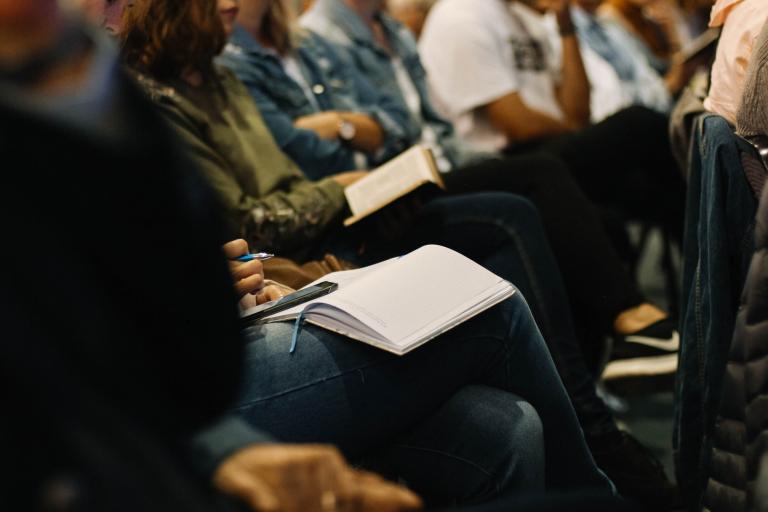 FORT SMITH, AK – What started with a simple question about the nature of good and evil spiraled into heathen helter-skelter last Wednesday. The faithless furor began at a routine Bible study when Calvary Chapel pastor Ben Jones made the critical error of opening the floor to discussion.
"I warned [Jones]," said survivor Karen Musgrove. "Nothing good ever comes from asking questions! I don't want to say I was right… but then I also didn't want PTSD."
Rumors abound as to precisely what words drew forth the spirit of atheism, but most witnesses agree that the trouble began when Richard Neville, 61, became curious as to whether or not an upcoming shrimp cook-off was the moral equivalent of the Holocaust in the eyes of God.
"I understand now why the Lord saw fit to caution against shellfish," said Barbra Caville, the Calvary Chapel secretary who found herself barricaded in the church with Pastor Jones.
Neville's heresy spread like wildfire. By the time Jones called a close to the meeting, skepticism had infected at least ⅔ of the group, each of them demanding answers to their own theological conundrums and positing the idea that mankind might be better off without a god.
"They just suddenly turned… like zombies," said Bible study survivor Ruth Oglesby. "Pastor Jones immediately rushed us to the basement and said it was just a matter of time before they fell upon us the way God's people fell upon the Midianites."
Leading the hordes of Hell was Neville himself, who spent an indeterminate amount of time hammering on the door of the church, demanding that Jones come out and face him and the others who had been exiled from the Bible study.
"I couldn't really hear him from where I was sleeping," said Charles Linney, area outdoor resident, "but he was saying something like, 'Let me in! You have my wallet!' Yeah, that's church for ya, buddy."
Indeed, those infected with Neville's impiety seemed listless and confused following their ousting from the church, remaining just outside the building or lingering in the parking lot.
"I wasn't trying to eat anybody," said Ashli Finn, a member of Neville's cabal. "I was banging on the window because they locked us out and I needed my phone back for work."
Finn wasn't the only one surprised to learn that Jones and a ragtag group of others had locked themselves in the church basement, city officials were taken aback as well.
"You hate to see a ruckus at the church," said Sheriff Glenn McClelland. "Naturally, I pulled over to see what was going on. When I learned the atheists were trying to take over, well… I did what any duly elected official in a Christian nation would do, and I began to open fire into the crowd. Let go and let God, as I always say."
By daybreak, the forces of darkness had been dispelled to the local hospital and Jones, and his flock re-emerged from their battlements, eager to share their persecution.
Regrettably, Jones' shout of "Hallelujah!" was misconstrued as "terrorist talk" by McClelland, who once again opened fire. The sheriff, however, is expected to make a full recovery in time for election season.
---
This post was penned by Kyle Pendergraft. Kyle has a great book out called Notes from the North Pole! 
Here's what the book is about:
A satirical expose on the true nature of that Jolly Old Elf, Santa Claus.

Each year, children around the world attempt to appease him and beg him for toys… Santa laughs. Join Santa in his merriment and pick up some useless facts, repellent recipes, and distorted history along the way!

It's the closest you want to come to waking up face-down in a snowdrift covered in elf blood on Boxing Day.
---