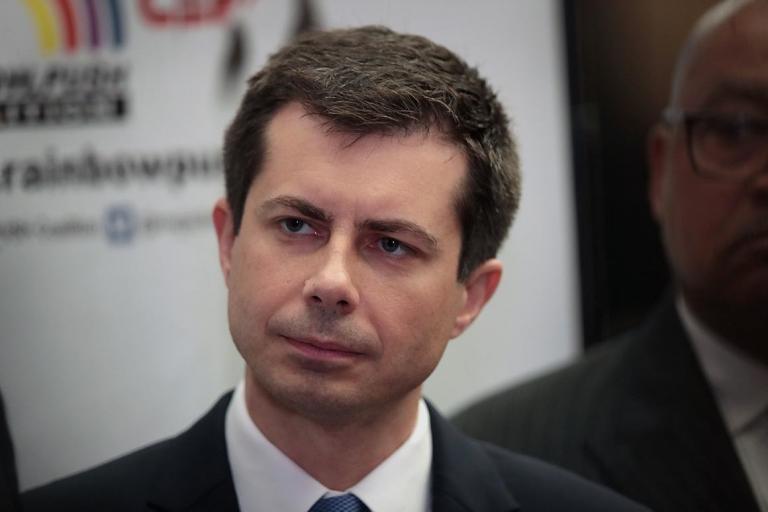 Evangelical leader Franklin Graham loves his God and harassing Democratic Candidate for President Pete Buttigieg.
The New Civil Rights Movement reports Graham's latest salvo against Buttigieg:
"Mayor Pete is trying to tell people that the homosexual lifestyle is okay with God and that abortion is okay. His brother-in-law is right when he said, 'This is leading people astray and it's very, very dangerous.' God defines right and wrong, not us. As Christians, we are to live by the standards He gives us in His Word. 'I am the Lord, and there is no other; there is no God besides Me..' (Isaiah‬ ‭45:5)."
Franklin attacking the Buttigieg is nothing new. The Friendly Atheist reported how the champion of the religious right quoted a verse in the Bible that called for the death penalty for gays:
It's never a good sign when atheists are the ones offering context to Bible verses that Christians are quoting…

But when evangelist Franklin Graham is involved, that's usually necessary. In a Facebook post purported denouncing people heckling Democratic presidential candidate Pete Buttigieg, Graham managed to work in the verse that condemns gay people to death.
However, all this hatred rampaging around in Franklin's head only masks the forbidden Butt-love the evangelical's penis has for the Mayor of South Bend, Indiana.
Leaks within the House of Franklin reveal countless lovelorn letters sent directly from the pants of Franklin Graham to Pete Buttigieg. In a bizarre mixture of repression, denial, and biblical verses the letters contain raunchy verses from the Old Testament Book, The Song of Solomon:
Like an apricot tree among the trees of the forest

is my beloved among the young men.

I delight to sit in his shade,

and his fruit is sweet to my taste.

He has brought me to the house of wine,a

and his banner over me is love.

Sustain me with raisins;

refresh me with apples,

for I am faint with love.
Professor Andrew Canard teaches Repressed Evangelical Studies at Theological Institute of Theology (TIT). He says it's not uncommon for fundamentalist men to have penises who are attracted to men.
"Let's face it, Pete Buttigieg is cute," Professor Canard quipped. "No evangelical penis is immune to his charm."
Insiders report Mayor Pete hasn't responded to the letters. After all, he is married and takes the institution seriously.
---
Did you enjoy this post? How about buying the writer a cup of coffee!