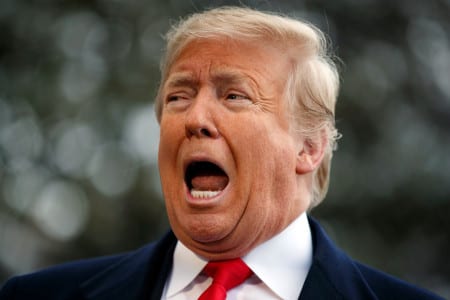 Washington DC – Seeking a new controversy to distract the American public from the numerous scandals plaguing his administration, President Trump attacked the new movie that celebrates Fred Rogers — A Beautiful Day in the Neighborhood.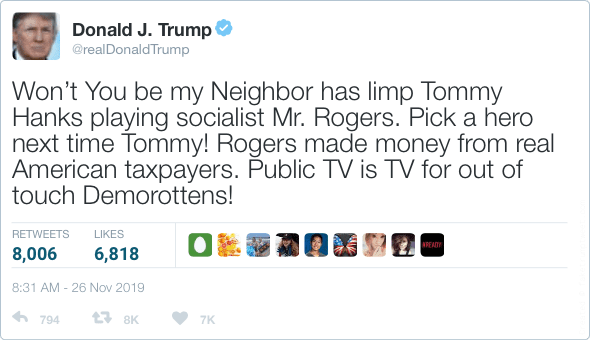 Won't You be my Neighbor has limp Tommy Hawks playing socialist Mr. Rogers. Pick a hero next time Tommy! Rogers made money from real American taxpayers. Public TV is TV for out of touch Demorottens!
President Trump did not stop with just one tweet attacking the legacy of Fred Rogers, the Presbyterian minister who showed generations of children how to be kind and gentle.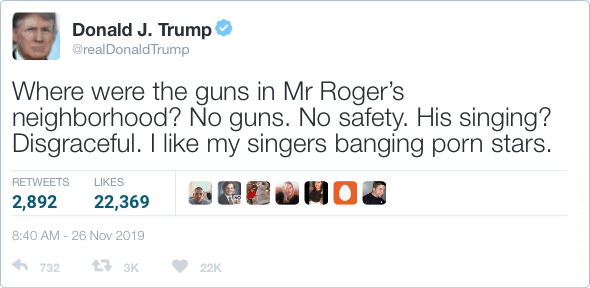 Where were the guns in Mr Roger's neighborhood? No guns. No safety. His singing? Disgraceful. I like my singers banging porn stars.
Professor Andrew Canard teaches the class Trump Political Theory at Miskatonic University. "There is a positive correlation between how much trouble Trump is in and how many idiot tweets the man produces," he pointed out. "There is also a similar relationship between how much trouble he's in and how unhinged the tweets are."
President Trump's evangelical base is standing by their man. Rick Perry recently stated President Trump was sent by God to govern us. These recent tweets aren't changing his mind. One anonymous friend of Perry's stated, "There are times Rick doesn't know his own name. But he knows for sure who Jesus would vote for."
In related news, evangelicals are blaming the recent spat of biblical plagues on gay wedding cakes. Or the Jews. Maybe both.
---
Did you enjoy this post? How about buying the writer a cup of coffee! 
---