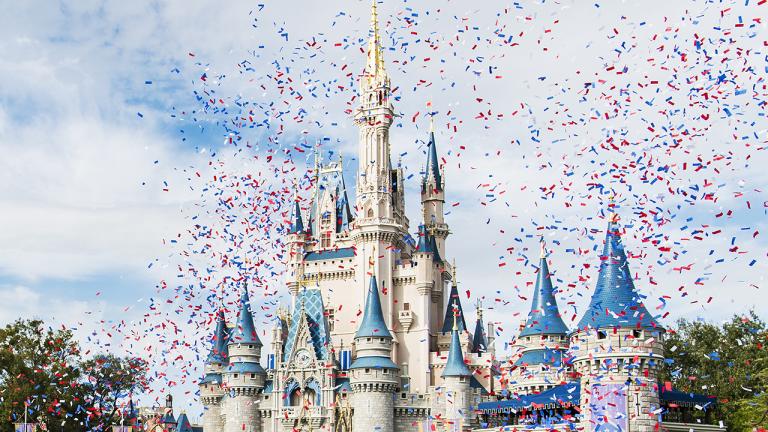 Prince Harry and Meghan are now officially brand ambassadors for the Magic Kingdom.
The Duke and Duchess of Sussex recently announced they were taking a step back from their roles as royals. Part of their plan is to spend more time in North America. While the move will save the couple from the grinding schedule of Windsor Castle, they will need to seek out new income sources.
BBC News reports the conundrum they are in:
"The established rule has always been that if you are a working royal you don't really do paid work – that one excludes the other," says BBC royal correspondent Jonny Dymond

"Nearly any employment of the type they are going to get is open to the charge that they are monetising or exploiting their royal brand."

If the couple renounced their royal titles they would give them more freedom – but there's no suggestion they want to do this.
How can Prince Harry and Meghan thread that needle while walking a tightrope of having their cake and eating it too?
Disney Steps In
Disney CEO Andrew Canard saw the dire straights the Duke and Duchess were in. In their moment of jeopardy he saw an opportunity.
"Disney owns Star Wars, Marvel Superheroes, and The Mormon Church," he stated. "I decided we needed to help out those two crazy kids by making them superstars beyond their wildest dreams."
With Disney's reach — and considerable financial resources — a deal of imperial proportions was crafted. Harry and Meghan signed on the dotted line and in doing so catapulting their lives to incredible heights.
Although all aspects of the legal agreement aren't public, here's what we know:
Meghan Markle joins the Marvel Cinematic Universe as the Unbeatable Squirrel Girl. Not only will Squirrel Girl Meghan appear in the upcoming Fantastic Four movies, but she will also get a film of her very own.
Prince Harry is the official head of the Church of Latter-Day Saints. This position includes unlimited supplies of magic underwear and super cool Angel Maroni travel mugs.
 Harry and Meghan get to appear in Disney's smash show The Mandalorian.
There are whispers the contract requires Harry and Meghan to live fulltime in the Magic Castle at Florida's Disney World. CEO Canard states that is simply not true. "They only need to be there 12 weeks out of the year."
In related news, Queen Elizabeth offers to imprison President Trump in the Tower of London.
---