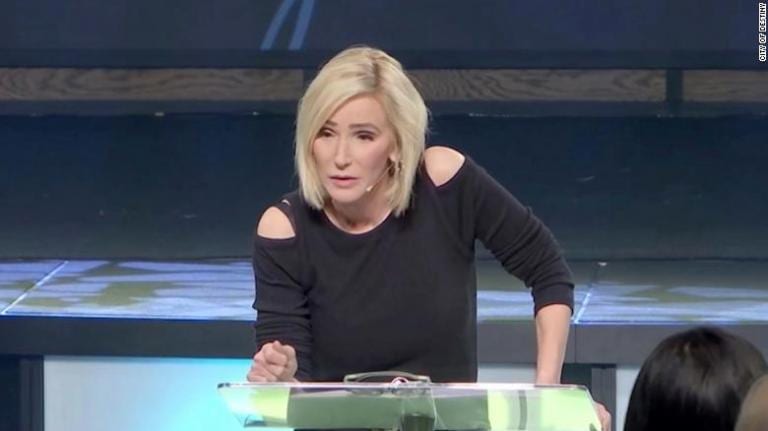 President Trump's spiritual advisor Paula White's resident was vandalized with fake 'Satanic miscarriages' and fetal blood.
Apopka, Florida – Local police responded to a call from Paula White's mansion early this morning. A hysterical Ms. White informed them "Satan was attacking Jesus' house."
When law enforcement arrived, they witnessed what can only be described as bizarre. Dismembered plastic baby dolls in a soup of gooey red fluid covered the estate.
"Baby doll heads, arms, legs, and torsos were in a stew of what seemed to be red-colored corn syrup," Officer Andrew Canard stated. "It was everywhere."
Detectives scoured the grounds around the walled estate. Evidence left by the pranksters was everywhere. The police report states several catapults and compressed air mortars were at the scene.
"It was a surgical strike force that did this," an anonymous source divulged. "These people knew what they were doing. It took them maybe five minutes to launch hundreds of pounds of the stuff and then they slipped into the darkness."
And who did the attack? A cryptic note was found: Care of Project Mayhem.
The Motive? A Prayer For Satanic Miscarriages
It's no mystery why President Trump's evangelical ally was attacked. Recently, she prayed for "satanic pregnancies to miscarry."
In a

pair of tweets,

White shared a clip of her January 5 sermon before congregants at her City of Destiny church in Apopka, Florida. In the clip, posted to Twitter by Right Wing Watch, a group that "monitors and exposes the activities of Radical Right political organizations," the pastor shakes her arms as she delivers the prayer.
"In the name of Jesus, we command all satanic pregnancies to miscarry right now," she prays. "We declare that anything that's been conceived in satanic wombs that it'll miscarry, it will not be able to carry forth any plan of destruction, any plan of harm."
Both the Chruch of Satan and The Satanic Temple have denied any involvement in what the press is calling "Operation Baby."
In related news, kittens recite the 7 Tenets of The Satanic Temple.
---
---
Did you enjoy this post? How about buying the writer a cup of coffee!