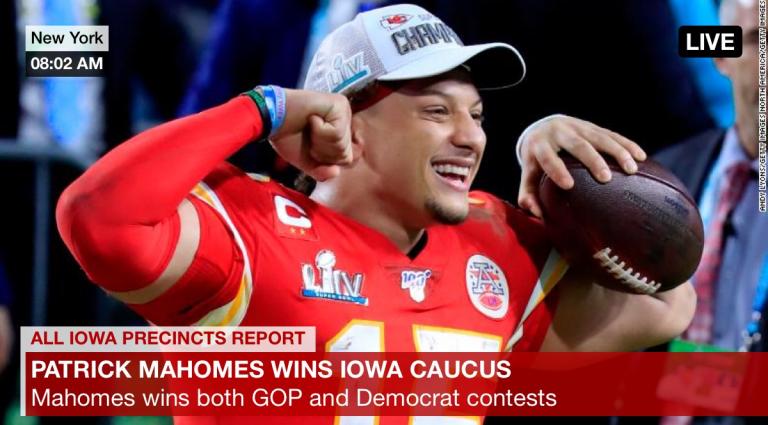 Des Moines, Iowa – Kansas City Chiefs' quarterback Patrick Mahomes is the undisputed victor of the Iowa Caucus. Due to technical problems with a new app, the Democrats mistakenly stated Mayor Pete Buttigieg and Senator Bernie Sanders won the contest. However, in classic Mahomes fashion, the 24-year-old led his team from a double-digit deficit to a devastating win.
All Iowa Precincts Report
The Democrats announced yesterday Mayor Pete and Senator Sanders winning Iowa with 71% of the precincts reporting. BBC News reported the tale of the tape:
The results represent the share of delegates needed to clinch the party nomination under America's quirky political system. Iowa awards only 41 of the 1,991 delegates required to become the Democratic White House nominee.

In the popular vote count, partial results showed Mr Sanders leading with 32,673 ballots, while Mr Buttigieg was second at 31,353.

However, Mr Buttigieg came top in certain rural areas with smaller populations, and so far has more delegates.
With the morning light, the electoral scene changed dramatically. With 100% precincts reporting, the Super Bowl MVP reigned supreme.
"You can never count Patrick Mahomes out," stated longtime political analyst and sportsman Andrew Canard. "Kansas City was behind 20-10 in the fourth quarter in Super Bowl LIV. The man hit hard with 3 touchdown drives in five minutes. That's a winner. That's why he won both Democratic and GOP caucuses."
Republicans are waking up even more confused than Democrats. Patrick Mahomes wasn't even on their ballot. It turns out Iowans know talent when they see it and wrote in Mr. Mahome's name. Some ballots had President Trump's name crossed out violently.
"I'm not surprised," Andrew Canard quipped.
Candidates from both parties have their teams deployed in New Hampshire and are panicking. Republican insiders whisper they are in talks with New England Patriot coach Bill Belichick to lead their team in the Granite State. Fans of Mahomes know it doesn't how much Trumpists cheat, their guy will find a way to win.
In related news, President Trump pardons the New England Patriots.
---