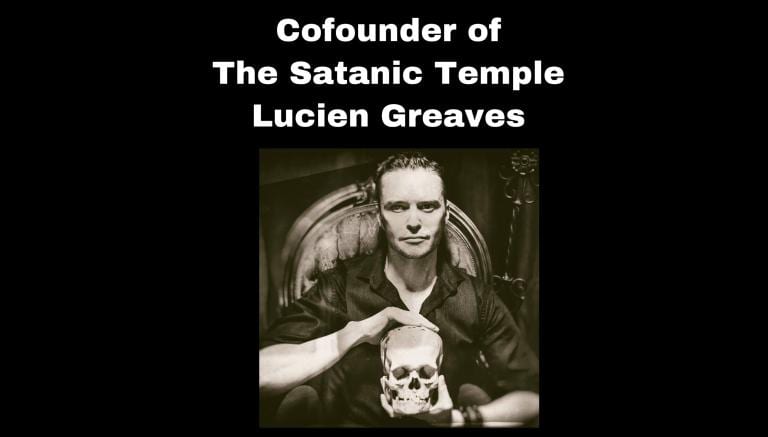 Lucien Greaves is the cofounder and spokesperson of The Satanic Temple (TST). I'm chatting with live at 11 am Eastern today (8/12/20). You will be able to ask him a question in the chat if you wish.
In case you aren't acquainted with TST here is an excerpt from their site:
We have publicly confronted hate groups, fought for the abolition of corporal punishment in public schools, applied for equal representation when religious installations are placed on public property, provided religious exemption and legal protection against laws that unscientifically restrict women's reproductive autonomy, exposed harmful pseudo-scientific practitioners in mental health care, organized clubs alongside other religious after-school clubs in schools besieged by proselytizing organizations, and engaged in other advocacy in accordance with our tenets.
We will be talking about several topics. One of them will be TST's Satanic Abortion Ritual
The Satanic abortion ritual provides spiritual comfort and affirms bodily autonomy, self-worth, and freedom from coercive forces with the affirmation of TST's Seven Tenets. The ritual is not intended to convince a person to have an abortion. Instead, it sanctifies the abortion process by instilling confidence and protecting bodily rights when undergoing the safe and scientific procedure.
Is TST raffling off an abortion? Yes. Yes, they are.
Lucien appeared as a guest several times on my old show Naked Diner. This is the first time he's a guest on the Laughing in Disbelief YouTube channel. This is a live show.
Who knows what deviltry will occur?
Here's the link to the video on YouTube.
---
Thought of the Day
Biden chooses Harris as VP.

VPs only affect a bump of 2-3 percent for the ticket in their home state. CA is safely Blue.

This pick was a wasted opportunity.

— Professor Andrew Canard (@LaughPurgatory) August 11, 2020
---
Did you enjoy this post? How about buying the writer a cup of coffee! Or becoming a Patron?
---
Buy me!