---
Water Valley, Texas – Life is simple in this small Texas municipality. With a population of 735, there are no streetlights in the center of town. There is a volunteer fire department who do their best with summer brush fires. The sheriff goes by the nickname Lunchables. He's been the law here for 25 years.
Being such a small community, citizens congregate to hash out issues at town meetings. Last year long-time resident Ottis Jackson asked to vote on a resolution to put a yield sign at the intersection of Main and Washington streets. After a protracted debate, the resolution failed due to a fear of big government.
The most recent town meeting did create a sort of hubbub. The good people of Water Valley voted to give guns religious rights.
Religious Rights For Firearms
Voters here believe religious freedom and religious liberty are hallowed principles. They believe the American republic was built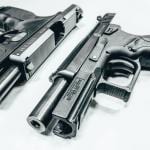 on Christianity and guns. If the Founding Fathers didn't believe the King James Bible was the errant word of God and guns were part of the divine plan for this great country, then Jimmy Carter would still be president.
Experts think that sort of clear-headed thinking is the reason why firearms are now legally considered Christian.
Citing fear of Antifa and a "godless Biden presidency" the town declared every pistol and rifle are Baptists. Catholics are not discriminated against, fans of the law state. They can have a gun as long as Reverend Andrew Canard of First Baptist Church signs off on it.
The weapons may be utilized in any such way against members of Antifa as well as shariah law with abandon. "You don't need probable cause to shoot sharia law," explains Sheriff Lunchables. "A Baptist gun is God's law in your own hands."
Are Guns The Answer?
Yes, guns are the answer according to the townspeople. In fact, guns are frequently utilized in such everyday activities as pumping gas, unloading the dishwasher, and burping babies. Gun advocates admit there are times glasses gets shattered by a gun misfiring, but that's just the price of religious freedom.
Baby sitters are complaining about the lack of jobs due to the dramatic downturn in babies since the measure got approved.
In related news, here is the best way to fight COVID-19 fatigue.
---
Stay in touch! Like Laughing in Disbelief on Facebook: