---
Atheist Alliance International (AAI) has seen its share of controversies. For example, Friendly Atheist reported that one of its former leaders, Michael Sherlock, stepped down in "a blaze of disgrace."
After hiring an alleged sexual predator in 2019, only to have him resign months later, Sherlock was eventually brought on board to right the ship… and it didn't go well.

He publicly called one critic a "cunt" and used the slur "retarded" in multiple tweets. (While there's a definition of the word that means "slowed" or "delayed," it was clear in context he meant the slur.) One major atheist group decided not to affiliate with AAI after seeing Sherlock's behavior. AAI temporarily suspended him over the summer, perhaps hoping he'd be on his best behavior after that, but when you hire an edgelord, you can't be shocked when nothing changes.
After that, the story just gets weirder. Sherlock, not seeing the error of his ways decided to double down on the "r-word" on Twitter. And if you're wondering who the alleged sexual predator is, it's David Silverman.
Let's look at the newest AAI drama.
Last night AAI sent out this email. One of my trusted sources forwarded it to me.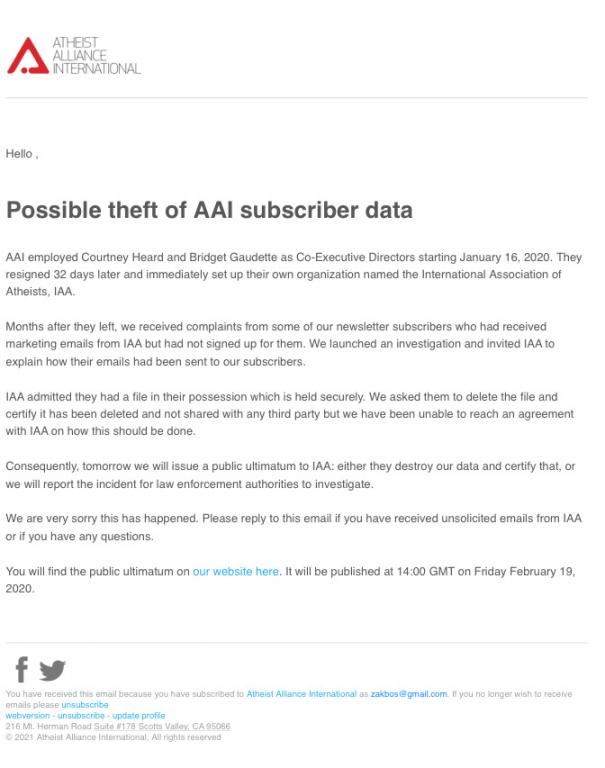 In case the image isn't clear here is what the email states.
Possible theft of AAI subscriber data

AAI employed Courtney Heard and Bridget Gaudette as Co-Executive Directors starting January 16, 2020. They resigned 32 days later and immediately set up their own organization named the International Association of Atheists, IAA.

Months after they left, we received complaints from some of our newsletter subscribers who had received marketing emails from IAA but had not signed up for them. We launched an investigation and invited IAA to explain how their emails had been sent to our subscribers.

IAA admitted they had a file in their possession which is held securely. We asked them to delete the file and certify it has been deleted and not shared with any third party but we have been unable to reach an agreement with IAA on how this should be done.

Consequently, tomorrow we will issue a public ultimatum to IAA: either they destroy our data and certify that, or we will report the incident for law enforcement authorities to investigate.

We are very sorry this has happened. Please reply to this email if you have received unsolicited emails from IAA or if you have any questions.

You will find the public ultimatum on our website here. It will be published at 14:00 GMT on Friday February 19, 2020.
I reached out to Courtney Heard on Twitter last night and asked her for a comment, and haven't heard back from her.
By no means should we assume Courtney Heard and Bridget Gaudette are guilty of any wrongdoing. We only know AAI's version of the story. We also don't know the nature of the agreements between the parties or the legal status of the AAI email list.
What we do know is that there will be a few more acts of this rendition of AAI's drama.
And yes, that last bit of the email says Friday, February 19, 2020.
*checks year*
It appears we are still in 2021. Was it a typo. The satirist in me wonders if this is all just one big joke.
Thanks for stopping by.
---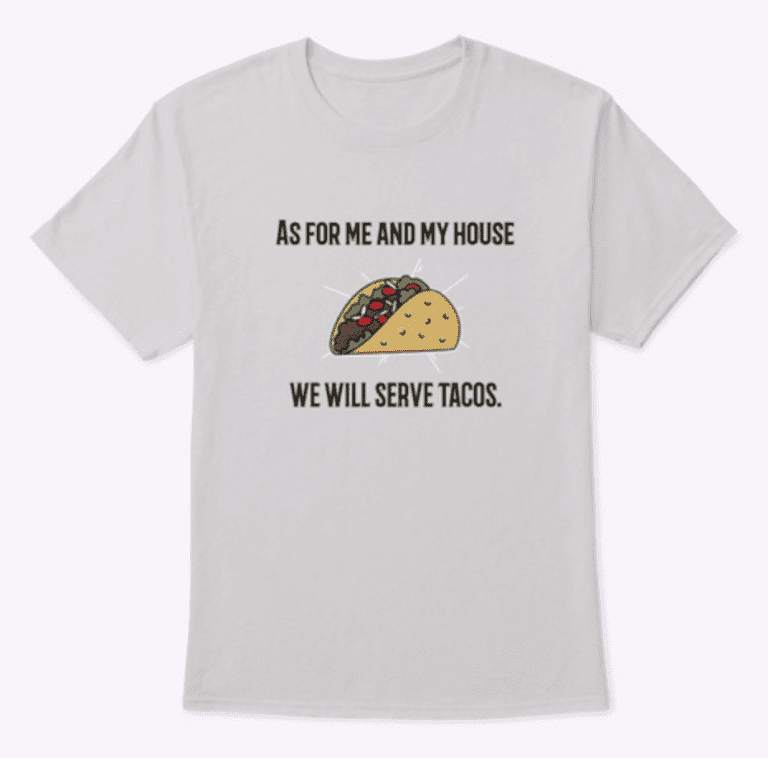 ---
Stay in touch! Like Laughing in Disbelief on Facebook: