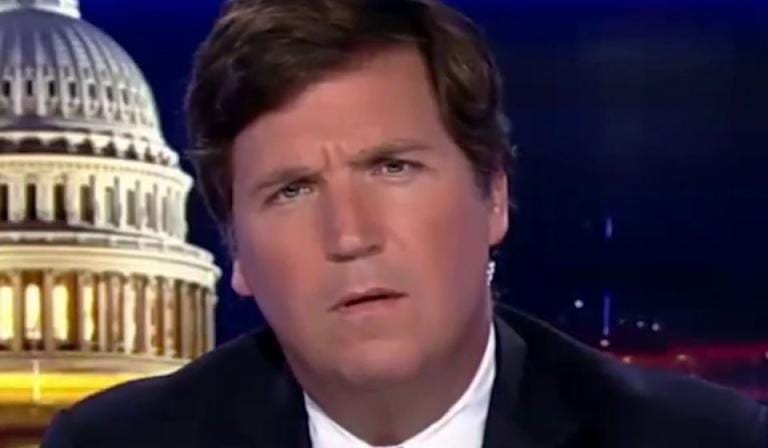 Tucker Carlson Tonight, a staple of FOX News' evening lineup is losing a major sponsor. Black Sturmgewehr Coffee states it can not continue to support someone who "clearly hates veterans" and "glamorizes the enemies of the United States of America."
The move by the pro-gun coffee company comes after a segment where the host praises the masculinity of China's military and attacks women who serve in the US military.
Democrats Hate Tucker Carlson
It's common for Democrats and leftists to go after Tucker Carlson. After all, he does intentionally target the left on his show FOX News describes the program as the sworn enemy of lying, pomposity, smugness and group think. We ask the questions that you would ask – and demand answers. Despite FOX's hype, many point out the program is simple right-wing propaganda loaded with racist dog whistles. Comedian John Oliver recently noted Carlson is "The most prominent vessel for white supremacist talking points."
Those who have issues with the TV host point out what FOX lawyers stated in court — Tucker Carlson Tonight is not a news show.
Now comes the claim that you can't expect to literally believe the words that come out of Carlson's mouth. And that assertion is not coming from Carlson's critics. It's being made by a federal judge in the Southern District of New York and by Fox News's own lawyers in defending Carlson against accusations of slander. It worked, by the way.

Just read U.S. District Judge Mary Kay Vyskocil's opinion, leaning heavily on the arguments of Fox's lawyers: The "'general tenor' of the show should then inform a viewer that [Carlson] is not 'stating actual facts' about the topics he discusses and is instead engaging in 'exaggeration' and 'non-literal commentary.' "
Fascist Coffee Company Hates Tucker Carlson
Black Sturmgewehr Coffee markets its product to those who believe Blue Lives Matter and black ones don't. They believe guns are given God-given rights via the Bible and the Bible's little brother the US Constitution.
Tucker Carlson made comments on his show showing how he approves of China's military being "more masculine" while "our military needs to become, as Joe Biden says, more feminine." Seeing this as an assault against veterans, the coffee maker decided to pull all its advertising from FOX News.
Andrew Canard is CEO of Black Sturmgewehr Coffee. He had this to say about withdrawing support from the conservative station.
We at Black Sturmgewehr Coffee understand the need for certain talk show hosts to batter those who are trying to make the United States a more inclusive country. We too support a white ethnostate. We long for the day when our children and their children live in a nation where their Western culture is safe. What we do not endorse is the attack Mr. Carlson made on the strong white women who choose to serve. Our money is going to support true supporters of the cause like One America News.
Tucker Carlson responded to the news by saying, "I will do my best to be a better racist."
In related news, Texas bans AOC.
---
Stay in touch! Like Laughing in Disbelief on Facebook: