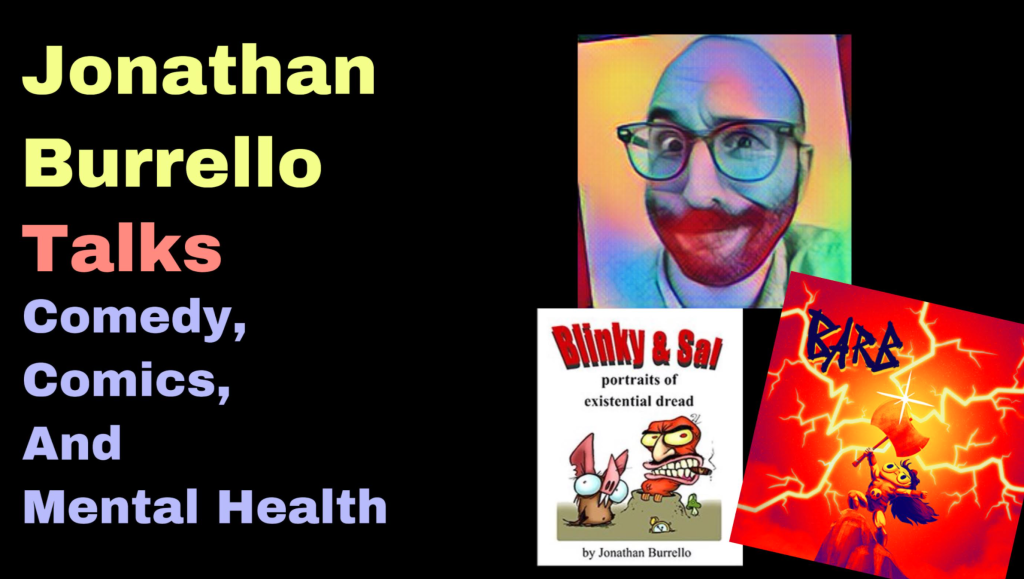 Jonathan Burrello is an atheist, a comedian, and an illustrator.
He sat down with Jack Matirko and Andrew Hall to talk comedy, comics, and mental health.
Jonathan is running a Kickstarter campaign for his new book. Check it out!
And here's a bit about the project and Jonathan.
Hello, friends. I make comics. Stuff like "Blinky & Sal", "Woolly the Big Cow", and miscellaneous cartoons for anthologies, magazines, and whatnot.

Two years ago, I started writing and illustrating a little webcomic inspired by Conan, Xena, and Frazetta (but with a touch of Calvin & Hobbes). It was an inky, messy comic adventure called "Barb", and it followed the exploits of a diminutive barbarian girl who had lost everything and was forced to wander through many monster-filled wastelands.

She winds up collecting friends (such as the savage, Kornog, and a taciturn unicorn named Anthrax) and vanquishing foes (the most troublesome being Sküllgorg, ruler of the Dwunge). It's a hostile world, but, to be fair, she's pretty hostile herself.

This Book of Barb will chronicle the entire Barb saga thus far. Whether she's battling the terrible Skelemen of the Dwunge, accidentally becoming the Queen of the Sea, atomizing Kornog's ex, or engaging in a barbarian standoff, Barb never falters in her resolve to destroy anyone who gets in her way. And you'll get all 130+ pages of her adventures bound altogether.
I hope you enjoy our conversation! If you head over to YouTube, please like the video and subscribe to the channel!
There are no ads on this video! It's all do to the support I get from viewers.
Thank you YouTube members:
Scott Duke
Remember Sammy Jenkins
Cryptameria
Jessi Bear
The Blazing Wizard Pope
Wild Eden
Crystal Allen
The Reverend Brother Heathen
Here's a shout-out to my Patrons!
3of5
Ed Shacklee
John Kelly
William Weyer
Tons of Mice
Simo Muinonen
Jess M.
Wild Eden
John Rexrode
Tobin Templeman
Ox
Dee Parks