---
Austin, Texas In the early hours of the morning Texas Governor Greg Abbott signed the Anti-AntiChrist Militia Act into law. The new law effectively divides up the state into twelve militia districts. Lawmakers decided upon twelve districts to represent the twelve disciples and each area is named after an apostle of the Lord. Each district has one state-sanctioned and citizen-operated armed paramilitary force that has one goal – to resist the antichrist if and when he marches on the great state of Texas.
The new law immediately takes effect. Citizen soldiers have been looking forward to the inauguration of the statue for some time, and militias have already formed, ready to fight for God and country.
"I've got thirty fellas who have been training hard on the weekends for the last month or two," said Andrew "Safety Off" Canard, Commander of District Judas. "So far we have only caught one squirrelly looking Jew acting suspiciously around Doug MacDonald's well, but it's still early in the game."
Each district has the authority to train its militia in whatever way it sees fit. This has led to the rise of a variety of innovative methods. District Luke takes a page from medieval England where archers practiced after Sunday services. Their soldiers drill in their Sunday best. District Mathew has a corporate sponsor, Budweiser. After a weekly meeting on Saturday afternoons where the militia partakes in Bud-inspired team-building exercises, they practice patrolling the streets of their communities.
Experts in the mass psychosis of small communities have spoken out on the inherent problems that occur when groups of citizens arm themselves and allow religious fervor to take the reins. These experts point to already existing organizations like Hamas, the KKK, and NRA. Hysteria is bound to occur, on varying scales. In District Mark, elementary school students will start doing duck and cover exercises. Harkening back to Cold War fears of nuclear annihilation, teachers will yell out "The antichrist is here!" or "Here comes Joe Biden!" and the children will then hide underneath their tables curled up in fetal positions.
Other states are looking at Texas and hoping to replicate the militia program. The legislature in South Carolina has a bill in conference committee that improves on the Texas ordinance by giving control of the state police to councils of churches. Not wanting to be outdone, Mississippi is looking to draft a law where every able-bodied God-fearing Christian man would be conscripted into the Gentle Jesus Defense League.
In related news, the Prank Bible is incredibly successful.
---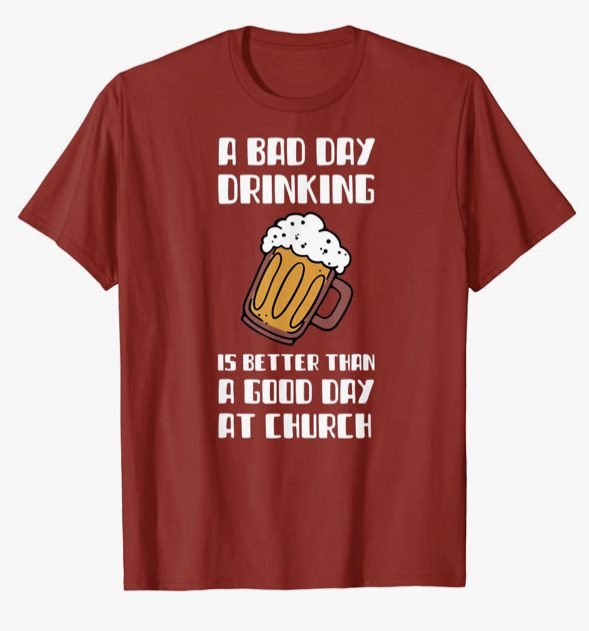 A Bad Day Of Drinking Is Better Than A Good Day At Chruch
Buy here!
---
Stay in touch! Like Laughing in Disbelief on Facebook: