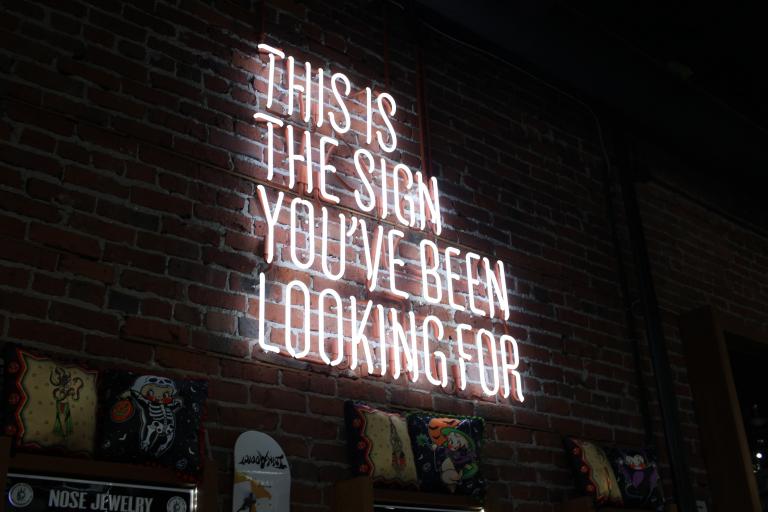 Best Advice Ever is the show where notable notables talk about the best advice they ever got! The chats run anywhere from 10 to 20 minutes, so you may consider episodes bite sized bits of wisdom.
There are some good conversations here. Each and every guest has a story to tell, and it's a good chance you won't hear them anywhere else. That's what I like about the show. The guest has some time to reflect and dig deep before coming on. What we're hearing isn't a rambling 2 hour rambling interview (though some shows do those kind of conversations well). Best Advice Ever is a laser beam.
I hope you enjoy the episodes!
Best Advice Ever has a Facebook page. Please give it a like.
If you are watching the show on YouTube, please upvote the video. It helps quite a bit!
Godless Engineer – Best Advice Ever #20
Here is the latest episode of Best Advice Ever, the show where awesome people share the best advice they ever received.
Past guests include Professor Phil Zuckerman, YouTuber Steve Shives, and cardiologist Sanjay Gupta.
Let's go through some basics!
– Who is Godless Engineer?
Godless Engineer is a YouTuber. He has 47,300 subscribers and has had over 7.6 million views of his videos.
Here's an excerpt from his about page on YouTube:
I am an ex-christian. There was nobody around to point me in the correct direction as far as thinking critically about what I believed. I was allowed to believe ridiculous things like that Adam and Eve were real people and a global flood I covered the earth. I felt stupid believing those things when they didn't make sense but I was told that was what I was supposed to believe.
I understand the sentiment. One of my friends observed I'm so passionate about atheism because I feel like "I was duped."
– The Best Advice
And what was the best advice ever? We delve into the nature of fear and how it prevents people from creating and living their best (or least bad?) lives.
I hope you enjoy this episode.
Please go to the YouTube video, hit like and subscribe to the channel!
Comedian Lahna Turner – Best Advice Ever #19
Lahna Turner is a gifted comedian.
She's had a slew of comedy specials and performs regularly.
Lahna is also the ex-wife of comedian Ralphie May. Ralphie died in 2017. A new documentary is coming out, "What's eating Ralphie May?" The movie intended to record his weight loss journey. It ended up chronicling Ralphie's life falling apart.
Lahna shares her experiences. We get to talk about how important it is to understand the things we can control and those we can't. The secret to not being miserable is identifying them.
There are intense moments in this video. But that's what happens when people talk about their lives honestly.
Thanks for watching.
Here's a link to the video. Please upvote and subscribe!
Check out Lahna's site: https://www.lahnaturner.com
Professor Phil Zuckerman – Best Advice Ever #18
Professor Phil Zuckerman author of "What It Means to Be Moral: Why Religion Is Not Necessary for Living an Ethical Life" sits down with Andy and discusses the best advice he ever got.
Professor Zuckerman teaches at Pitzer College. He's written several books and works at educating students and the public about secularism.
Here is a bit from his bio page:
Phil writes a regular blog for Psychology Today titled "The Secular Life," and he also writes for the Huffington Post. His work has also been published in various scholarly journals, such as Sociology Compass, Sociology of Religion, Journal of Contemporary Religion, Deviant Behavior, and Religion, Brain, and Behavior.

In 2011, Phil founded the first Secular Studies department in the nation. Secular Studies is an interdisciplinary program focusing on manifestations of the secular in societies and cultures, past and present. Secular Studies entails the study of non-religious people, groups, thought, and cultural expressions. Emphasis is placed upon the meanings, forms, relevance, and impact of political/constitutional secularism, philosophical skepticism, and personal and public secularity.
Take a listen to this episode! Professor Zuckerman shares his life and wisdom with us! Please hit like and subscribe to the channel. Hit the bell to learn when there are new episodes!
Here is a link to the video on YouTube.
---
Episode #17 York Cardiologist Dr. Sanjay Gupta
Our guest today is Dr. Sanjay Gupta. He's a heart specialist from York, England. He runs the popular YouTube channel, York Cardiology.
Here's how he describes his YouTube channel:
I am Dr. Sanjay Gupta. I am a Consultant heart specialist in York, UK and I believe that high quality reliable jargon-free information about health should be available at no cost to everyone in the world.

Through my Youtube channel, I want to engage, educate and empower patients to take control of their health by addressing their lifestyles and preventing disease from happening in the first instance.

Most of all, I want people to stop being fearful and anxious about their health by getting them to focus on improving their quality of life and living fearlessly.
Dr. Gupta was a great guest! We had a good conversation. Even though we didn't use terms like Stoicism and Buddhism, you will recognize those themes when we start talking about a person's relationship with the things they own. (To quote Tyler Durden, "The things you own end up owning you.")
I hope you find value in our conversation!

Here is the link to the video on YouTube.
---
Episode #16 Humor Blogger Paul Duncan
Paul Duncan writes at The Out And Abouter. It's a satirical site. Up until recently Paul and his family were living in Canada. The article that put him on the map was about Canadians putting up a privacy hedge with the United States.
I'm going to be honest, guests rarely tell me what piece of advice they're going to talk about. Paul did mention he had a piece of horrible advice worth discussing.
It's freaking crazy, guys.
Paul starts around talking about the worst advice ever around minute 7 and the conversation just rockets from there.
I hope you enjoy the video.

---
Episode #15 Comedian And Author Leighann Lord
Leighann Lord is our guest for episode 15 of Best Advice Ever. She is an incredibly talented comedian and author. Here is a bit from her site VeryFunnyLady.com :
Dr. Leighann Lord (VeryFunnyLady.com) is a veteran stand-up comedian and the author of Dict Jokes and Real Women Do It Standing Up. She is the creator of the People with Parents podcast and has been a co-host on StarTalkRadio, with Neil de Grasse Tyson. She has been seen on Comedy Central, HBO, and The View, and was recently seen on Netflix in the Def Comedy Jam 25th Anniversary Special. Leighann was also one of the five national finalists in the 2018 ABFF-HBO Comedy Wings Competition. She's the winner of the 2019 Humanist Arts Award, from the American Humanist Association. Leighann is a proud member of House Ravenclaw (with a dash of Slytherin).
Leighann and Andy sit down and talk about some solid advice.
I hope you enjoy the video.

Here is a link to the video on YouTube!
---
Episode #14 YouTuber And Podcaster Steve Shives!
YouTuber Steve Shives is our guest this week on Best Advice Ever. Steve's been on YouTube since 2010. His channel has over 100,000 subscribers. Steve covers Star Trek, politics, and atheism on his channel. Steve and Andy talk about how to take a compliment. For some people it's tough and Steve gives some good advice how to do it. But that's not the advice Steve wants to share with us!
I hope you enjoy the video!

Here is the link to the video on YouTube!
---
Episode #13 Extinction Rebellion Spokesperson Zion Lights
Zion Lights is the spokesperson for Extinction Rebellion in the United Kingdom, and she is our guest on Best Advice Ever!
Extinction Rebellion is a grassroots organization that engages governments to act responsibly concerning the environment. The group engaged in a two week October Rebellion where it shut down areas of London and staged protests around the world.
From Extinction Rebellion's Facebook page:
On October 31st 2018 we declared ourselves in Rebellion against Governments for their criminal inaction on tackling climate breakdown and ecological collapse. We repeatedly shut down London's streets and targeted government buildings with acts of mass civil disobedience, challenging and disrupting the Business-as-Usual that has us and nature headed for extinction.

Since then, hundreds of independent Extinction Rebellion groups have formed in dozens of countries. Each is organising and taking action to pressure their local Government bodies, and disrupt the industries that are destroying our planet and our future for the sake of profit.

We won't stop until society changes course – until we all start heading for a better world and a brighter future.
If you watch the video on YouTube, please hit like and subscribe!
---
Episode #12 Comedian and Podcaster, Ken Reid
Our guest today is comedian and podcaster, Ken Reid.
Here is what his About section from his site states:
'Ken Reid is a comedian. He loves horror movies, bronze age comic books, TV, punk rock, pie and pre-Millenium Popular Culture. You'll like him. He has some stand up comedy records out, and has a weekly podcast called TV Guidance Counselor.'
Ken's piece of advice is "Always take lunch."
Forbes wrote an article on the importance of lunches.
Here's an excerpt:
"Many American employees strive to perform their best in the workplace. They work overtime, agree to take on extra projects and rarely take a step away from their desk. In reality, this "work hard" mentality isn't effective – and it's definitely unhealthy. Employees who believe that they must work 24/7 to achieve a good standing in the workplace have the wrong idea. And unfortunately, employees often gain this idea through employers' attitudes."
I hope you enjoy the video!
---
Episode #11 Author, Humanist, and Philanthropist Dale McGowan
Dale McGowan is the guest for episode #11 of Best Advice Ever! Here is a small bit from his about page on dalemcgowan.com:
DALE McGOWAN has one foot in arts, the other in sciences, and the other in nonreligious life. He double-majored in music and evolutionary anthropology at UC Berkeley, then studied film scoring at UCLA before conducting a college orchestra while earning a Ph.D. in Composition from the University of Minnesota.
Dale wrote 'Atheism for Dummies,' 'Parenting Beyond Belief,' and 'Raising Freethinkers.' He also founded the humanist nonprofit Foundation Beyond Belief. Dale also runs a few podcasts covering topics like music (How Music Does That), parenting (Raising Freethinkers), and The Lucky Ones.
Dale offers some great advice!
You can see this video on YouTube!
---
Episode #10 Author And Activist Dan Arel
Best Advice Ever is a show dedicated to sharing great tips from some very interesting people. Today I have Dan Arel.
Here is a bit about Dan from his site danarel.com :
Dan Arel is an author, journalist, and privacy advocate. He maintains the site ThinkPrivacy and has had his work featured in OpenSource, Time, Salon, AlterNet, Huffington Post, The New Arab, and more.

Dan is the author of Parenting Without God, in which the second edition will be released on November 1, 2019 on PM Press. He also has three more books, including the second editition of The Secular Activist being released in the coming years.

In 2018, Dan launched ThinkPrivacy when he decided it was time to take digital privacy more seriously and activily work to stop contributing to surveillance capitalism. In 2019, he took the site to the open source community to continue its developement and help reach as many internet users as he could to put user back into the hands of users and out of the hands of corporations and government sponsored surveillance programs.
I hope you enjoy the video Best Advice Ever #10 – Dan Arel
---
Episode #9 Atheist And Author John Loftus
Atheist and author John Loftus sits down and talks about the best advice he ever got! You may know him from the books he's penned like Why I Became An Atheist: A Former Preacher Rejects Christianity, How To Defend The Christian Faith: Advice From An Atheist, and The Outsider Test Of Faith: How To Know Which Religion Is True. John Loftus has also edited books like Christianity Is Not Great and The Christian Delusion: Why Faith Fails.
I first heard about John from his popular blog Debunking Christianity. If you're interested in deconstructing Christianity, then you should pay it a visit!
Oh, and you may also know him from his episode on the Naked Diner Podcast!
Enjoy the video and please subscribe!
---
Episode #8 MMA Coach And Comedian Ian Harris
Ian Harris is a skeptical comedian and MMA coach. He sits down and chats about the best professional advice he ever got. Later, he reflects on being an atheist and talks about what helps him be a more moral person.
You can also watch the video on YouTube!
---
Episode #7 Author Michale Alvear
Author Michael Alvear has written many books. He was on the Naked Diner Podcast #152 talking about the satirical book he cowrote 'Revenge of the Hatless: MAGA Meets Karma.'
On this episode of Best Advice Ever Michael opens up and you won't be disappointed! We talk about drug addiction and its connection with weight loss.
I hope you enjoy this video as much a as I did making it!
---
Episode #6 YouTuber/Blogger Katherine Paulson
The Best Advice Ever is a show where guests come on and talk about the best advice they ever got regarding their job and on how to be a better person!
Our guest is YouTuber and blogger Katherine Paulson. She writes at Without a Crystal Ball and is the cohost for the Non Sequitur Show. She's was a great guest and opened up about working in sales and having a horrible boss.
This was a great chat that you'll enjoy!
If you want to see the conversation on YouTube click here!
---
Episode #5 Atheist Candidates Project Manager Andre Salais
The Best Advice Ever is a show where guests come on and chat about the best tip they ever got regarding their job and the best advice they received on how to be a better person. Our guest is Andre Salais. He is a political strategist at Method Social Kinetics LLC and manages the Atheist Candidates Project.
Besides talking about the best advice he ever got, Andre gives tips on what you should be doing right now if you want to run as a candidate in 2020.
If you want to see the video on YouTube, click here!
Enjoy the video!
---
Episode #4 Atheist And Philosopher Jonathan Pierce
Hey, everyone!
Atheist philosopher Jonathan Pearce is our guest on episode 4 of Best Advice Ever. Jonathan writes the Tippling Philosopher blog on Patheos and has authored a wide range of books. He recently underwent treatment for multiple sclerosis.
Jonathan has written gaggles of books. Check out his Amazon author's page!
We do talk a lot about advice. But we get into a great conversation about freewill. And somehow we stumble on the topic of how to change people's minds. Whether they are Trump supporters or pro-Brexit there are methods to help change their opinions. We talk about them.
This is another great chat that you will find entertaining and informative.
Thanks for watching Best Advice Ever #4 With Atheist Philosopher Jonathan Pearce.
---
Episode #3 Comedian And Activist Sam Slade
Best Advice Ever is a show where guests talk about the best tip they ever got regarding their jobs and the best advice they ever received about being a better person.
Stress. Believe it or not stand-up comedians are experts in handling stress. Comedians have to get in front of crowds of people and talk about their problems. Sometimes just getting to the gig is a problem. And in this episode of Best Advice Ever comedian and political activist Sam Slade gives some great advice in handling the stress.
I had a great time chatting with him.
If you like the video, please upvote on YouTube it and subscribe!
Thanks for watching Best Advice Ever Episode #3.
---
Episode #2 Comedian And Author Nathan Timmel
Here is the second episode of Best Advice Ever. Best Advice Ever is a show where guests come on and chat about the best advice they ever got concerning their jobs as well as advice that helped them be a better person.
Author, podcaster, stand-up comedian, and dad Nathan Timmel is the guest. Nathan is a regular guest on the podcast I cohost, Naked Diner.
He's a professional. With 3 full length books under his belt and years of comedy experience, Nathan had a lot to share about navigating the comedy world as well as working on his relationship with his wife.
It was great having him on. I laughed, and learned something.
---
Episode #1 Podcaster Philip Kapitan
This episode features Philip Kapitan. Phil runs the Hangover Haze podcast. He's been a guest on my podcast Naked Diner. I was also a guest on his show.
Phil and I talk about who gave him the best advice, what it was, and how it affects him to this very day.
I feel very fortunate I got the opportunity to talk with him on this subject. Even though we've been each other's shows we never covered this topic. I never heard this part of his story before.
I hope you enjoy this conversation. Perhaps something we say will help you on your journey.
Enjoy this video Best Advice Ever Episode 1 – Podcaster Philip Kapitan .
Please subscribe and upvote!