Vampires, Lovers, and Other Strangers: A Short Story Collection 3rd Edition
by Andrew Scott Hall
Copyright: March 2017
Summary: Vampires, Lovers, and Other Strangers: A Short Story Collection
 is a short story collection about the secret lives of those who fear sunlight and exist in darkness. Each story investigates the lives of the undead who thrive on the blood of the living, and in doing so helps us understand what it means to be alive.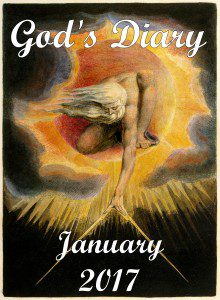 God's Diary: January 2017
by Andrew Scott Hall
Copyright 2017
Summary: God's Diary: January 2017
  is about God taking a vacation. He decided to start a diary. Read through His adventures and misadventures the Almighty had during January 2017!
You will laugh! You won't cry, which does put a limitation on the full range of human emotions you will experience while reading this book. However, you will twice as much so that you will not notice nor miss those tears.
God wants you to read this book. Badly. His cat wants you to read this book. The Devil probably doesn't want you to read this since because he is such a contrarian.