A quick run through social media will show a number of different angles on Christian ministers. An overwhelming majority of these are negative. Many sites portray Christian ministers as spiteful, manipulative individuals who are out for power and control, deliberately trying to harm people. As a Christian minister myself, I can say this is both an exaggeration and a falsehood. While I do not question there are leaders who abuse their positions, that is not the standard "norm" among Christian leaders. The majority of Christian ministers are sincere individuals, crossing a number of different denominations, who desire to follow what they feel God has called them to do, to the very best of their ability. All over the world, Christian ministers work with the complications of lack of finances, support, denominational struggles, and yes, their own personal battles.
As millions of people undertake a process known as deconstruction, ministers face scorn and disdain, often unjustly. As their voices are left out of the discussion, many don't know what leaders experience; the assumption is that ministers are on top of everything, and have no problems. This, however, isn't true. Simply put, ministers hurt. Maybe leaders don't hurt all the time, but they hurt often. They face the pains of betrayal, disrespect, and a hostile society that doesn't value their purpose and position.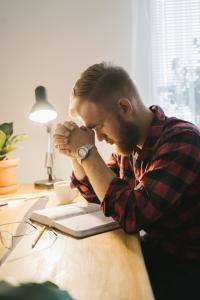 In this article, we will explore the ins and outs of ministerial hurt and how we can all do our part to respond.
Being honest when ministers hurt
And to keep me from being puffed up and too much elated by the exceeding greatness (preeminence) of these revelations, there was given me a thorn (a splinter) in the flesh, a messenger of Satan, to rack and buffet and harass me, to keep me from being excessively exalted. Three times I called upon the Lord and besought [Him] about this and begged that it might depart from me; But He said to me, My grace (My favor and loving-kindness and mercy) is enough for you [sufficient against any danger and enables you to bear the trouble manfully]; for My strength and power are made perfect (fulfilled and completed) and show themselves most effective in [your] weakness. Therefore, I will all the more gladly glory in my weaknesses and infirmities, that the strength and power of Christ (the Messiah) may rest (yes, may pitch a tent over and dwell) upon me! (2 Corinthians 12:7-9, AMPC)

There are many theories about what the Apostle Paul's "thorn in the flesh" was. Some say spiritual issues, relationship issues, or physical ailments. My favorite is a quote from televangelist Jesse Duplantis: "Some people are a thorn in the flesh and other people are the whole bush." Entertaining as this is, in the endless debate focusing on the what, scholars miss the why.
In the text, the Apostle Paul confesses something to us all, as well as to himself. We see the balance between spiritual revelation and the realities of living as a human being. He is honest in a way no minister likes to admit: he was hurting. As a minister who has worked mostly with other ministers, I find it more relevant the Apostle Paul admitted he was hurting rather than focusing on the nature of such hurt. He hurt as a person who admitted, through his ministry, about his personal pain.
Acknowledging hurt
None of us know what his thorn in the flesh was because we are not meant to know.  The specifics of it are, apparently, none of our business. It is one of those Biblical unknowns that remains unknown so we will look at ourselves. In a bigger sense, the Apostle Paul's thorn in the flesh represents all the issues we have:
General problems
Hard emotions
Invasive thoughts
Pains
Hurts
These are things we continue to have, even when we believe God and yes, even when we accept a call in ministry. that we have even though we believe God. They are the things we pray, believe, and hope will go away, but they don't.  that we may have prayed to go away, believed to go away, and hoped to go away, but they just don't. When in ministry, we sometimes expect we will stand before the world transformed, healed, and whole, without another issue. People sometimes think our lives, relationships, and thoughts are perfect. As a result, many assume ministers are there for everyone else, without need of their own. For this reason, ministers don't admit when they hurt.
Ministers hurt, but don't talk about it
Being in ministry is an amazing walk. I've had incredible encounters with God, and with others. I know of a grace, mercy, and love I did not earn, and do not deserve. There have been many things I've seen and heard about that took me by surprise and revealed new possibilities.
I've also spent years dealing with compulsive behavior, pain in my body, and disrespect from those I taught, led, and helped through their own issues. I am neurodivergent; this means I don't always understand others, and they don't always understand me. People turned on me in spoiled, angry tantrums when they didn't get their own way. I've experienced long periods of depression that sometimes lasted for years.
There was a time in ministry when I would have never admitted such personal things to anyone, let alone in a column. Why? I feared judgment from those in the pews (who have no concept of what ministry is like) and those in the pulpits (who should know better). I was afraid my work as a minister would never recover if people knew those things.
Whether I admit it or not, I go through things, like every other minister does. I, and every minister out there, has our own "thorn in the flesh." There's nothing wrong nor shameful about it. Our healing, however, starts when we are willing to talk about it.
Who can we trust with our hurt?
About ten to fifteen years ago, there was a huge push for ministers to congregate with other ministers. The result was hundreds of small collective bodies, all designed to train or lead ministers at different levels of leadership. Every leader was encouraged to have another leader to go to, someone who could "cover" them as a leader in prayer and guidance. The idea sounds beautiful to the ear, but the results were often less than engaging.
For one, connecting with leaders was often more difficult than it might sound. If we had a leader, odds were good they were in another city (or often state). It wasn't always easy to get a leader on the phone. Ministers are a competitive bunch; there are only so many slots for preaching and visible ministry available, and nobody wants to be left out. Gossip often rages through local church circles. Even if you had a good friend, ministers are often busy and not always available when you might need to talk.
In addition, we raised a generation of spoiled church members who don't understand the complications of ministry or the experience for a minister. Because we didn't talk about it, nobody understood. We might have bellowed Bible verses about honoring leaders and such, but we failed to convey something very important to our congregations. While yes, birthday services and church anniversaries are nice, having church members we can trust is essential.
Honor your leaders
In 1 Thessalonians 5:12-13, the Apostle Paul states:
Now also we beseech you, brethren, get to know those who labor among you [recognize them for what they are, acknowledge and appreciate and respect them all]—your leaders who are over you in the Lord and those who warn and kindly reprove and exhort you. And hold them in very high and most affectionate esteem in [intelligent and sympathetic] appreciation of their work. Be at peace among yourselves. (AMPC)

The Apostle Paul commands us to know, honor, acknowledge, respect, and appreciate the work of leaders for many reasons, but the primary one is so obvious, we ignore it: ministry is hard. It's not reasonable to assume another leader will always be available to listen or encourage a leader, as they, too are doing the work of ministry. We are called to honor leadership because ministry is difficult and leaders hurt. It takes a trustworthy congregation (or ministerial body, depending on your level of leadership) to pray for, encourage, assist, serve, and support a leader, especially when they fall on difficult times. If we want our "thorns in the flesh" to heal (or at the least, hurt less), leaders need safe places where they can be real.
Like anyone else, leaders need to know they are appreciated for their efforts, beyond an occasional gift or appreciation service. These things are nice, and yes, we should do them, but leaders need to know they are also safe in the spaces they've labored to create. They need the support of their churches and congregations as much as they need the support of other leaders. We don't need just one or the other, but both working together.
Having hard conversations
Some assume pulpit ministry and minister presentation are all there is to ministry work. They do not consider the darker side of ministry, namely the way that we see the worst of humanity, often at the most difficult times. People seek out ministers when they have spiritual or emotional issues, deep questions about the meaning of life, relationships in crisis, or pain in their lives. Very seldom do people seek out a minister because they want to be better-than-good. We stand with people in illness, fear, death, pain, crisis, loss, and confusion. It's not a complaint, but a fact. No matter how good we might be at it, the work of ministry is both complicated and sometimes depressing.
There's nothing wrong with talking to someone when things get difficult. This can include a professional or Christian counselor, another leader, or a trusted friend. As difficult as it might be to admit that you need help, there's nothing wrong with it. Through those conversations, we can better discern what we need: an assistant to help, a day off or maybe a mini-vacation, additional support from a trusted source, more time for prayer, or more honesty with our ministry leaders or congregations.
The promise of healing
Everyday, ministers hurt. Ministers hurt because the burdens of ministry manifest as a violation of trust, people refusing to listen to their hurts, or because they see the worst in humanity. They fear judgment because they once opened up to someone and that person, in turn, judged them. They've been taken advantage of, spoken down to, and given up much for the sake of Kingdom ministry. Like others in the church, they need healing.
Healing of all sorts starts with honesty. The thorn in the flesh reminds us that sometimes we experience healing through what we go through. It is this process of sanctification that makes us better ministers, as difficult as it sometimes may be. As we go through, we understand and develop the eternal balance between soul and Spirit that empowers our reality. Our challenges remind us that we need God, and others, as well.
You can help a minister heal by being there for those who serve you. Be there for those who lead you, are your friends, and inspire you to walk the Christian life. Yes, answering the ministerial call is a choice, but that doesn't mean ministers deserve to hurt. Reach out in love. Empathize. Listen. Ask if they have any prayer requests and be sure to pray for your leaders. Don't gossip. Be trustworthy. Make their job easier by honoring, obeying, and caring about them. In the long run, it will make a huge difference as they move from pain to greater purpose.