I've chalked up another flawless victory and been published in the New Statesman.
As I write, the article is the top story on the Statesman's home page.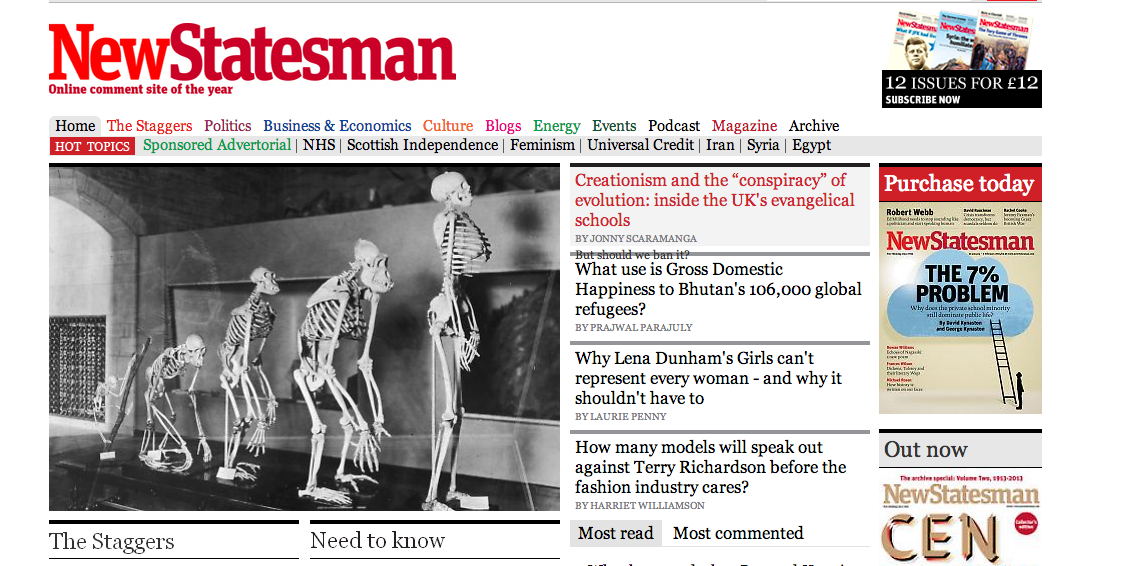 Please share this one. My previous widely-published articles on ACE have been somewhat tabloid in style, all numbered lists and sections in bold. This is an attempt to raise the level of the conversation on the subject. Here's the link: http://www.newstatesman.com/2014/01/creationism-and-conspiracy-evolution-inside-uks-evangelical-schools
In a bid to do less blogging and more actual work, I've got really behind in sharing links with you, so here's some more excellent reading if you have time:
Zack Kopplin did a thorough exposé at Slate about ResponsiveEd, the secularised version of ACE that's currently gaining ground in America. I've previously written on that too.
Tyler Stoltzfus, past (and hopefully future) Leaving Fundamentalism guest blogger, wrote more about his life as an atheist at an ACE school for AlterNet.
I did a thing for AlterNet about the propaganda cartoon that lace the ACE curriculum, and how they seem to promote racism, sexism, and the intolerance of non-Christians.
Dana Hunter has started blogging about ACE too. She has purchased the entire 8th grade Earth Science PACE set and is going to review each one in turn. You may have noticed my strategy for 2014 is to get people who aren't me talking about ACE (anyone who cares knows what I think by now), so this is a very pleasing development.