There's more bad news for ACE in the current issue of Private Eye. On page 36, there's an article about Pieter Van Rooyen, the convicted slave master who opened an ACE school in Dover in January this year. Disappointingly, the phrase "slave wages" doesn't appear in this story (as it does in most other coverage about Van Rooyen), but otherwise it's pretty great. I won't reproduce it all here for copyright reasons, but here's a taster: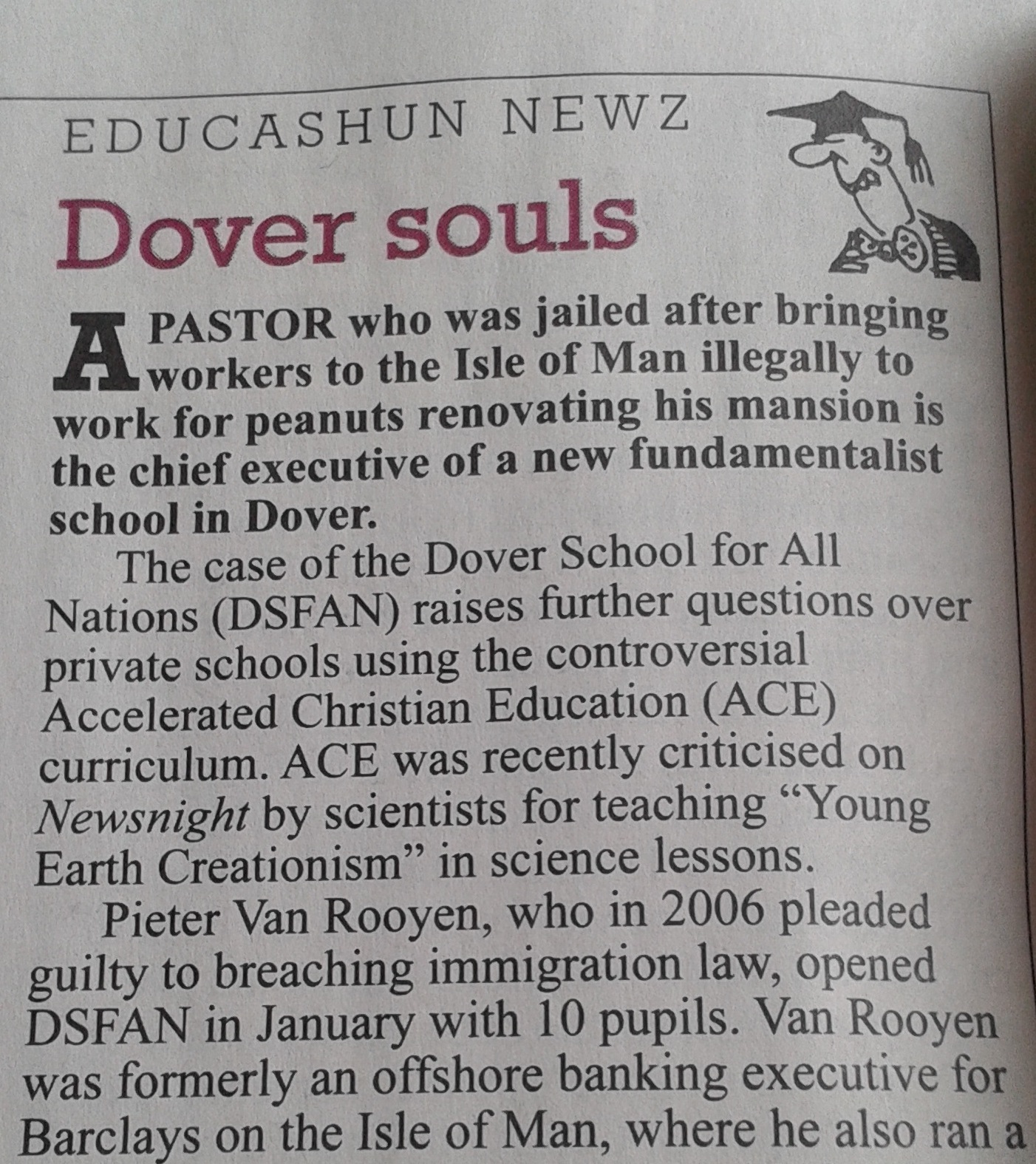 What Private Eye didn't report—and I can exclusively reveal—is that in addition to being a criminal, Van Rooyen is also a conspiracy nut and a plagiarist.
For anyone not yet up to speed, Pieter Van Rooyen provided false documents to illegal migrant workers from South Africa and paid them £1.36 per hour to build his mansion. He pleaded guilty to preaching immigration law and went to prison in 2006 (although, bizarrely, he still maintains his innocence). This year, he opened a fundamentalist Christian school where students will be taught, according to documents on the school website: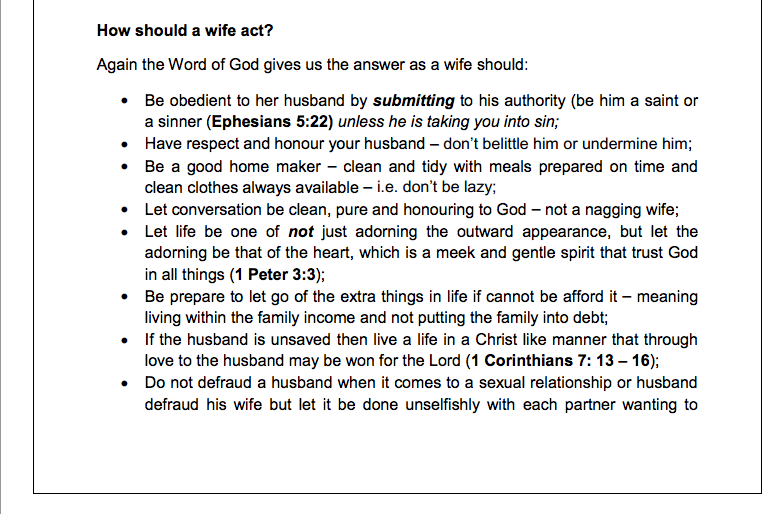 How should a wife act?

Again the Word of God gives us the answer as a wife should:

 Be obedient to her husband by submitting to his authority (be him a saint or a sinner (Ephesians 5:22) unless he is taking you into sin;

 Have respect and honour your husband – don't belittle him or undermine him;

 Be a good home maker – clean and tidy with meals prepared on time and clean clothes always available – i.e. don't be lazy;

 Let conversation be clean, pure and honouring to God – not a nagging wife;

 Let life be one of not just adorning the outward appearance, but let the adorning be that of the heart, which is a meek and gentle spirit that trust God in all things (1 Peter 3:3);

 Be prepare to let go of the extra things in life if cannot be afford it – meaning living within the family income and not putting the family into debt;

 If the husband is unsaved then live a life in a Christ like manner that through love to the husband may be won for the Lord (1 Corinthians 7: 13 – 16);

 Do not defraud a husband when it comes to a sexual relationship or husband defraud his wife but let it be done unselfishly with each partner wanting to lease the other (1 Corinthians 7: 5).
Because that's not a recipe for domestic abuse or anything. (Also, now that independent schools have to abide by the Equality Act, I'm pretty sure teaching the above is illegal.)
I, along with Leaving Fundamentalism regular Aram McLean, have read Business Unusual, Van Rooyen's self-published autobiography (in which he exclusively refers to himself in the third person). Private Eye called it "purple prose", and this a description of excessive kindness. Check out Aram's Amazon review (and give it a helpful vote!) to get a feel for what to expect.
What struck me most when I read it was this section:
The British Crown, or the British monarchy, is the owner of the Federal Reserve. This is their real secret. The strategy of the Federal Reserve is their other secret. Again, it is right in front of us, but no one sees the obvious. The strategy of the Federal Reserve is to accumulate all the wealth through the very slow, but effective, technique of currency debasement. The monarchs of old used to shave or clip the coins as they passed through their treasuries. Now the process is more sanitary (no more clipping and scraping all those dirty coins). John Maynard Keynes, the socialist British economist and member of the Illuminati, clearly stated that there is no more effective method of destroying a society than through currency debasement.
I don't think I've ever resorted to a reaction GIF on this blog before, but Van Rooyen has driven me to it.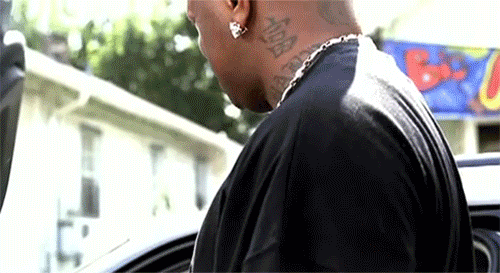 Where had Van Rooyen got this crap? Google to the rescue. It turns out that Van Rooyen had copied and pasted this (and quite a lot more) from an article by conspiracy theorist Wayne N. Krautkramer. And that is definitely the direction of plagiarism: Krautkramer's article is from 2004, while Van Rooyen's book was published in 2010. Krautkramer is an unusual name, so I checked that it wasn't Van Rooyen writing under a pseudonym, and found Krautkramer's obituary.
It's lucky for Mr Van Rooyen that Krautkramer is dead, because despite using large chunks of his work, Van Rooyen does not credit Krautkramer as the author of this or any other section (Krautkramer's article is cited as a reference once, but in an entirely different part of the book, and the words Van Rooyen has taken from him are not in quotation marks). So to breaching immigration law, we can add intellectual property theft to Van Rooyen's glittering CV.
The book is full of standard conspiracy theory stuff about the Rothschilds and the other big banks planning to take over the world. Other highlights include Van Rooyen using Yahoo Answers as a citation:
Yahoo Answers, for anyone unfamiliar, is the academic repository with answers to such questions as "Can your baby get pregnant if you have sex while pregnant?"
And then there's the stuff where he promises readers that if they follow his tips, God will turn them into millionaires!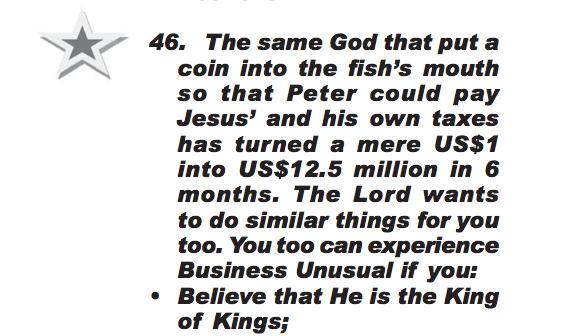 Nor is he content with spouting this in his books and sermons. His school's PSHE policy says students will be taught "Kingdom Principles" about "sowing and reaping". This is standard prosperity gospel "give and you shall receive!" health-and-wealth stuff. Van Rooyen is listed as "School Author & CEO" on at least five documents on its website. His wife's name appears on several more.
Brilliantly, the Port of Dover (where the school is located), welcomes Van Rooyen's school with open arms:
Tim Waggott, Chief Executive, Port of Dover, said: … "This is a fantastic example of how we are working with partners to regenerate part of Dover and to provide new opportunities."
I've contacted the local newspaper, the Dover Express several times with the details of this story, and they've been absolutely obstinate in their disinterest, claiming that "There's not enough of a local angle". I think, however, that the people of Dover have a right to know about this. Should convicted criminals be free to run schools? Should children be taught misogyny as part of their PSHE lessons? Surely people at least deserve to know so there can be public debate.
Related posts: