It looks like 2015 is another year where justice is in short supply for survivors of institutionalised abuse. I am desperately sad as I write this.
And maybe this has nothing to do with it, but it turns out that the District Attorney on this case was a fundamentalist Christian with ties to the family of Mack Ford, the fundamentalist Christian minister accused of rape.
In this post:
About Troubled Teen Homes (for the uninitiated)
New Bethany Home for Girls (also for the uninitiated)
Mack Ford Grand Jury (a summary of today's report about the failure to indict Mack Ford)
The Fishy Stuff (Jump straight to this section if you're already familiar with the above)
About Troubled Teen Homes
If you've been following this blog for any length of time, you'll be aware of my efforts to raise awareness about the 'troubled teens' industry of Christian reform homes in the United States that often employ brutal techniques to try to reshape their allegedly evil residents into the image of God.
Last year, readers of this blog raised more than $1000 in less than 12 hours to help Silke Matero afford a lawyer so she could extract her daughter from one such place.
New Bethany Home for Girls
Among the most notorious of these was New Bethany Home for Girls in Louisiana. Girls were kept in a compound surrounded by chain link fences topped with barbed wire. Some of them scrambled over that barbed wire and ran through thickly wooded areas to escape from that place. Dozens of former New Bethany students have testified to shocking abuse. Several have testified that they were raped or sexually assaulted by Mack Ford, New Bethany's boss man. The allegations go back decades. New Bethany closed at the beginning of this century. For years, it has looked like there will be no justice for New Bethany's survivors.
Anyone who has followed the Jimmy Savile case in the UK might be disturbed by Mack Ford's account of why he founded New Bethany:
Ford was a high school dropout-turned-tire-salesman who said he was inspired to open the school during a retreat in Arkansas. There, he once said in a court deposition, he met two little blonde 12-year-old girls who had been impregnated by their father and was inspired to help such troubled children.
At the end of 2013, seven New Bethany survivors travelled from across the USA to file charges against Mack Ford. It was all documented by Louisiana journalist Tom Aswell, and then covered by NOLA.com. This was necessary because the Bienville Parish sheriff's department hadn't seemed very interested in the survivor's testimony when it was given without media coverage. It was actually Jo Wright's second time attempting to give a statement. After the first time, when she inquired whether her statement would be followed up, she was told there was no record of her having given one.
But in December 2014, finally Jo Wright, Simone Jones, and Jennifer Halter were able to testify before a grand jury, which would decide whether Mack Ford would face charges.
Mack Ford Grand Jury
Today we learn that the grand jury has declined to indict Mack Ford. The New Orleans Times-Picayune has an excellent story about it, but there are many details of the case not mentioned therein which look more than a little fishy to me.
The details in the story are bad enough. It seems that the grand jury has declined to indict because the statute of limitations has expired for the relevant offences. But as Tara Cummings points out in the NOLA article, if that's true, they shouldn't have convened a grand jury in the first place.
"The particulars for the statutes of limitations for these crimes was always accessible to the DA's office," she said. "They are the party who needs to understand and be clear about what is and what is not possible under the statutes."

[District Attorney Jonathan] Stewart said in an interview Tuesday afternoon that recent case law makes it somewhat unclear whether current prescriptive periods for sexual assaults are retroactive.
To explain, Mack Ford forced Simone Jones to perform oral sex on him. Under current law, that's rape, but under 1980s law it was only considered sexual battery. Rape has no statute of limitations, while sexual battery does. The DA, Jonathan Stewart, is unsure whether it is the current law or the law at the time that applies. It seems like this is something the DA should be clear on. And if it's even arguable that the current law should apply, then surely it's the DA's job to push for an indictment.
He said that while his office understood what the women had already reported to police in terms of dates and timelines, he felt it was important to let them speak directly to a grand jury. That's partly because it's common for victims of childhood sexual abuse to re-remember their trauma in piecemeal fashion, over time, he said.
So he decided to put these women through the wringer of testifying in court on the off-chance that they might remember something indictable? In any case, Jo Wright described being forcibly raped by Mack Ford in 1977, for which there is no limitation. Jo pointed out LA police's abysmal record with following up on her testimony:
Wright said news of the non-indictment left her feeling numb. She said she had told authorities about what happened to her on several occasions — she said she told a social worker about it in 1993 and spoke to a district attorney in 1998 — and nothing ever came of it.
Worse, NOLA reports that Louisiana State Police investigator Mike Epps failed to follow through with further witnesses who came forward for the most recent hearing:
Katherine Strong, 42, of Bushnell, Fla., said she was a witness to some of the things that Halter said happened to her at New Bethany. She said that she contacted Epps twice this year offering to give him her statement, but he never followed through. When Strong learned Halter was headed to Louisiana to speak in a court proceeding, she said, she reached out to Epps a third time and was told that prosecutors did not need her testimony.

Strong resided at the home in 1988 and 1989. She said that she remembers Ford regularly pulling Halter away from other people, asking her to do housework and other chores in his private quarters. Strong said she clearly remembers being on a choir trip, seeing Ford escort Halter to the bathroom and then seeing Halter tearful and distressed afterward. Strong said Halter ended up confiding in her about her sexual abuse while they were still at the home.

"He's been getting away with it for better than 30 years and I don't have any faith in anyone doing anything," Strong said.
There's also some dispute over how District Attorney Tammy Jump handled the case:
Halter says Assistant District Attorney Tammy Jump scolded her three times during her grand jury testimony, saying that she was lying regarding a memory involving her encounter with a law enforcement officer. Halter also said she shared with investigators the contact information of witnesses from New Bethany who could corroborate her testimony, but they were never contacted.

Jump referred questions about the case to Stewart. The outgoing district attorney said he felt the case was handled professionally — both by the Louisiana State Police and Jump. He chuckled when he was asked about the Halter's account that Jump accused her of lying.

"Oh Lord," Stewart said. "I can just tell you that I doubt very seriously that that happened. And it certainly never happened when I was in there."
In 2013, Jump wrote:
I will do my best and anything within my power to see that justice is done. But unfortunately justice for some of the victims will not be served on this earth. [Mack Ford] will have to answer to God.
It makes me uncomfortable to read about District Attorney, whose job is to secure justice in this life, deferring her duty for the afterlife. But it turns out Jump's belief in God is probably very strong indeed.
The Fishy Stuff
Reacting on Facebook, Tara Cummings and other New Bethany survivors point out a number of troubling facts about this case.
Tammy Jump attended a fundamentalist school and two fundamentalist universities
Of course, this doesn't mean that the District Attorney acted anything other than professionally in this case. But it's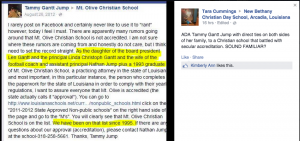 nevertheless an interesting fact that she went to school at Mt. Olive Christian School, where her parents and husband are staff. In a Facebook post she makes this clear (as an aside, I'm not convinced that state approval is the same as accreditation, but that's for another day).
She went on to attend Pensacola Christian College, which, as it happens, doesn't have a brilliant record itself of handling sexual abuse claims—and, totally coincidentally, was one of the few colleges that New Bethany girls were encouraged to attend. Her biography is on the PCC website. According to it, she went on to do her law degree at Regent University, whose chancellor is one Pat Robertson. That's the same Pat Robertson who appeared on television with Jerry Falwell after the 9/11 attacks, declaring that the terrorists were a judgement from God because America tolerated gay people.
Tammy Jump's family appears to have professional ties with Mack Ford's
Mack Ford has two grandsons (possibly he has more, but these are the relevant two): Caleb Lynn Johnson and David Johnson. According to information publicly available on their Facebook pages, Caleb has worked for Ruston Tractor, and David currently works there. The Ruston Tractor website gives a contact name of Jeremy Gantt. Gantt is Tammy Jump's maiden name. According to Tara Cummings, Ruston Tractor is owned by Tammy Jump's family.
I don't think this in itself is sufficient evidence that Jump had a conflict of interests in this case, but from her education it certainly seems that her sympathies would be likely to lie with conservative Christian organisations like New Bethany, and from her family connections it seems possible that she may have prior knowledge of Mack Ford.
Jonathan Stewart has known about this stuff for a long time
DA Jonathan Stewart was the assistant District Attorney in 1988. Here is his signature on a court document from that time which says that New Bethany residents were in "substantial immediate danger". On Facebook, Jo Wright expressed the view that Stewart had an incentive not to want Ford to be indicted this time, because that might raise questions about why no charges were brought in 1988.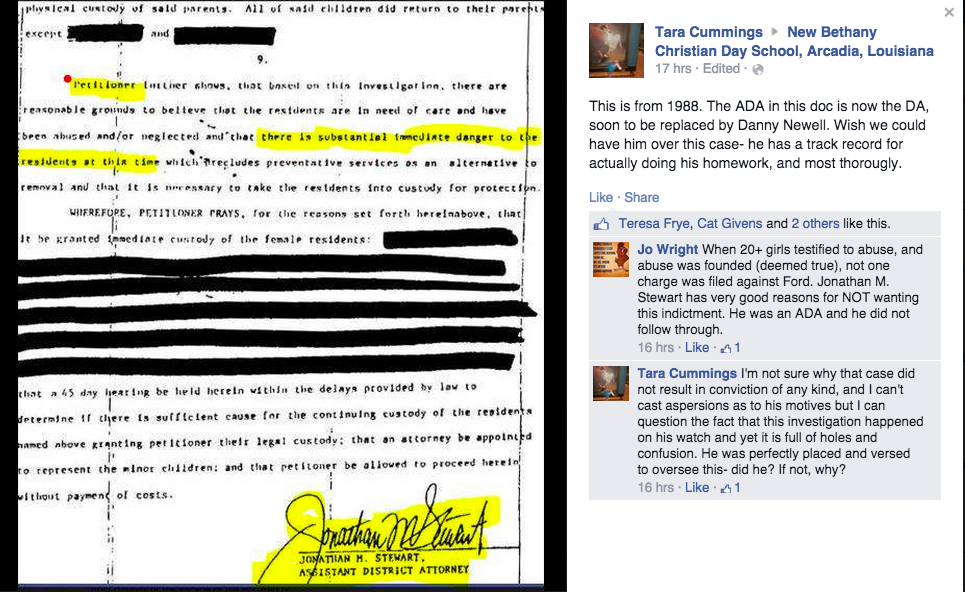 My limited understanding, as a non-American non-lawyer, is that grand juries are not meant to decide whether someone is guilty. They are meant to decide whether there is a case to be brought against them. Jo Wright says more than 20 girls have testified to abuse at New Bethany. There are strikingly similar accounts of sexual abuse from women who were at New Bethany at different times and never previously met each other. There is clearly a case against Mack Ford, and justice has not been done.
Here's Jo Wright's reaction to the news:
Update: The is a new District Attorney who has said he will review the file for this case.
Related links:
Grand jury declines to indict Mack Ford
A handy guide to 'tough love' teen reform homes