Last Wednesday, I told you about the Bridge Schools Inspectorate (BSI), a collaboration between the Christian Schools Trust and the Association of Muslim Schools UK which means that these bodies get to pick their own inspectors. This way the schools also avoid inspection by Ofsted. Instead Ofsted monitors the BSI's inspections and annually reports on their quality. In the latest report Ofsted has found that in a majority of cases the BSI did not "provide clear and balanced assessments of the schools", that some reports "disguise serious weaknesses in schools", and that the schools are given long periods of advanced warning to prepare for inspections.
Further digging has brought up Ofsted's letter to the BSI for the academic year 2013/2014, and it's a battering. After Trojan Horse, there was more pressure on the BSI (see last week's post), and for a while it looked like it might be shut down. That hasn't happened (more on why later), but it does look like Ofsted has been scrutinising the BSI more closely than usual.
Ofsted's chief inspector Michael Wilshaw lists his key findings:
 The inspectorate does not publish its criteria for making judgements on different aspects of schools' performance. I believe that this is unhelpful.
This is a masterful understatement.
 Of the 13 reports, eight do not, in my view, provide clear and balanced assessments of schools. Of these eight, six over-emphasise the faith-based and religious values at the expense of other essential aspects of schools' work, for example the secular curriculum.

 I believe that the reports do not consistently provide parents with the information they need to make a decision about their child's education. Reports are often too long, complex and disguise serious weaknesses in schools. For example, four reports identify pupils' attendance as below standard, yet these concerns did not have a significant impact on inspection judgements. Four reports are not clear about pupils' achievements. There is a lack of clarity in some reports because positive and negative statements in the same paragraphs confuse the overall picture of how well pupils are doing.
Wilshaw goes on to add that the BSI gives schools five working days' notice of inspection (as opposed to the half day he recommends), so that "By the time the inspection team arrives, the school has had significant time to prepare". He argues the reports make assertions about the schools which are not backed up by adequate evidence.
Suitability of inspectors
In this section, Wilshaw notes "The Bridge Schools Inspectorate prides itself on allocating a Christian and Muslim inspector to each school". I was surprised to read this, because I understood that BSI policy is for Christians to inspect Muslim schools and vice versa. I've gone back through my old emails, and on 29 January 2014, I received an email from Sylvia Baker, BSI board member, in which she wrote "as far as possible a further member of the team comes from the other faith group, so Muslims inspect Christian schools and vice versa". The phrase I'd misunderstood was "a further member". It's not that Christians inspect Muslims. It's that there's usually a token Christian present on the team.
Wilshaw doesn't think this is adequate.
Some of these inspectors are drawn from the same group of schools or belong to the same association. I believe that it is unwise for schools in small, closed communities to be inspected in this way. Such staffing of inspections may lead, as shown above, to judgements that emphasise the faith-based curriculum at the expense of a rounded curriculum that properly prepares students for life in modern Britain. Accordingly, I recommend that the Department investigates the staffing arrangements of the Bridge Schools Inspectorate.
Why isn't the BSI just shut down?
I am only aware of three independent schools inspectorates in England. They are the BSI, the School Inspection Service (SIS), which only inspects Steiner schools and Focus schools (ie Plymouth Brethren schools), and the Independent Schools Inspectorate.
In my view, the BSI and SIS clearly do not deserve to exist. The notion that religious schools (or, in Steiner's case, schools underpinned by pseudoscientific hokum) should be inspected to different standards from other schools is outrageous. But the spanner in the works is the Independent Schools Inspectorate (ISI).
The ISI inspects "association independent schools"—high performing private schools, including places like Eton and Harrow. Association independent schools are widely regarded as the best in the country. Rightly or wrongly, the current political view is that state schools would be better if they were more like these private institutions. The schools say that the ISI inspects them to a higher standard than Ofsted, and is part of the reason for their excellence.
More significantly, the majority of this country's front bench politicians went to association independent schools. All of which means that the ISI holds a great deal of political clout. So any steps to get rid of the BSI and SIS will be blocked if they threaten the ISI. Since the laws that enable the BSI and SIS to exist are the same ones that apply to the ISI, this seems to mean that their legal right to exist is safe.
BSI's response
The BSI's reply to Wilshaw's letter is also worth a read. It claims:
The 2014 Ofsted report was, we consider, seriously misleading because it does not make clear to readers that of the seven monitoring events, three of them, nearly half, relate to one inspection, which took place in June 2014 and it does not reflect many of the positive comments made in the monitoring letters we have received during the year.
It then explains:
The Ofsted monitor of the BSI inspection in June arrived with the name of an alleged extremist who was associated with the school, but he did not at the time of the inspection share this information with the BSI Lead Inspector.

…

We are told that an expert within Ofsted identified the alleged extremist. Despite our requests for further information, we have not been told the identity of this expert or the nature of his or her expertise. At a face-to-face meeting with senior Ofsted managers, it was said that the only technique used to identify suspect individuals was to google their names. This highly questionable practice substantiates the concerns recently expressed by the Reverend Nigel Genders, the Chief Education Officer for the Church of England, that Ofsted is ill-equipped to monitor extremism.
As I said at the beginning, the reason for Ofsted's sudden scrutiny of the BSI is its connections with alleged Operation Trojan Horse extremists. The concern here is not primarily about the quality of education in private faith schools, but worries about terrorism. This is annoying. I do not think there is much chance that the children of the Association of Muslim Schools UK are trained to become suicide bombers. I think there is every chance that they, like the children in the Christian Schools Trust, are being deprived of a broad and balanced education. The extra scrutiny, no doubt, is aimed almost entirely at the Muslim schools. No one is staring at the Christian fanatics sitting next to them.
I recognise that Islamic extremism poses a real and unique threat that needs to be handled with care, and it seems plausible that children taught beliefs like the ones in BSI inspector Ibrahim Hewitt's book would be sympathetic to more extreme views. But if we tackle the problems common to all extreme faith schools—indoctrination, teaching an uncritical view of one particular religion, 'othering' of unbelievers, a black-and-white view of morality—then all children will be guaranteed a broader education, and radicalisation will be dealt with in the process.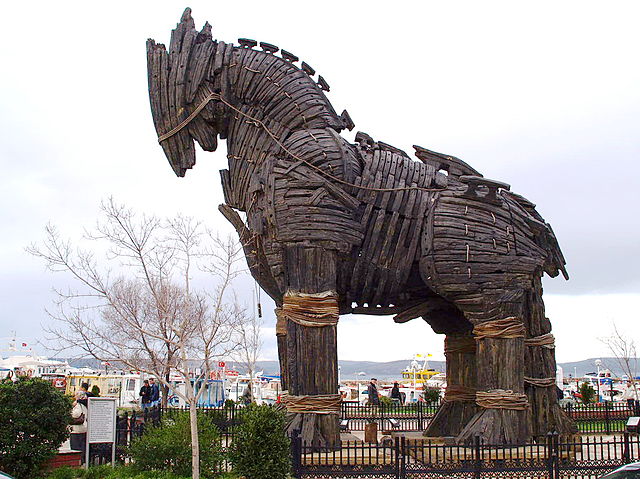 We saw the same thing with Ofsted's negative inspection of Dover School for All Nations, an Accelerated Christian Education school. It found the school inadequate, but it missed all the real causes for concern. Indeed, this is a useful reminder that even if Ofsted were inspecting all religious schools directly, it's doubtful that they'd do a satisfactory job. When is Ofsted going to realise that it is wrong to 'educate' children into a particular religious belief, when this is a decision they ought to be making freely and independently?
I welcome Wilshaw's criticism of the BSI in principle. But criticism of faith schools should be motivated by the ways they really fail the children in their care, not tabloid-fuelled stereotypes about Muslims being terrorists.