Much excitement to share with you today:
First up, you may remember that last year this blog won The Skeptic's Ockham Award for best blog. Nominations for the 2015 Ockham Awards are now open, and I should remind you to go and do your bit to recognise the world's heroes of skepticism. The official announcement from The Skeptic is particularly good because it says nice things about me (I'd pretend to be embarrassed, but you've all worked out I'm mostly just a walking ego by now).
This year, we at The Skeptic magazine will once more be delighted to run another 'Ockham Awards' ceremony at the UK largest skeptical event – QEDcon. The annual prize-giving is designed to draw attention to – and thank – those people who work so hard in their free time to get a great message out there. Past winners have included The Nightingale Collaboration (which has worked so hard to prevent misleading advertising for 'alternative' medicines); Jonny Scaramanga (who has done so much to campaign for a fully-rounded education, even for those who have fundamentalist parents); Skeptics on the Fringe (who tirelessly run a full science-strand program during The Edinburgh Fringe each year), and many, many more.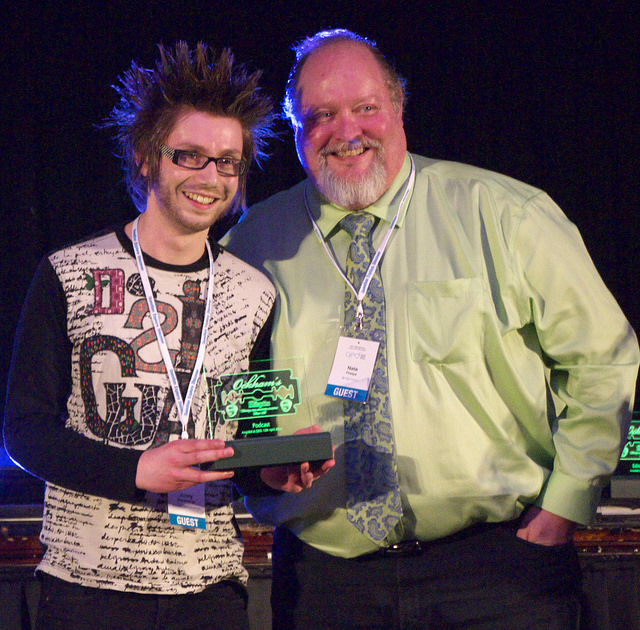 Please go and vote for your favourite skeptical blog, event, and podcast. I don't even mind if you vote for a blog other than mine—just go and tell The Skeptic which blogs you think are worth reading.
Er, actually, please do vote for me.
Also consider voting for great podcasts like Godless Spellchecker, InKredulous, or Be Reasonable (there are tons more too), great blogs like MINE, THERE ARE NO OTHERS, and great events like QED and Skeptics on the Fringe.
Upcoming events
Christian creationism indoctrination: a former student's experience, 18 March, free entry
I am no longer the only speaker on the UK circuit talking about ACE! I have been joined in my efforts by David Waldock, occasional Leaving Fundamentalism contributor, who will be making his debut at Conway Hall on Wednesday 18 March with a talk entitled "A Taste of ACE". From what David's told me about it, it's going to be very different from my talk on the same subject, so worth seeing even for those who have been electrified by my genius presentations on the subject.
From his personal experience as a student of ACE (Accelerated Christian Education), David Waldock will give us the experience of learning in the style of the School of Tomorrow.  We'll participate in the morning rituals, complete a Taster PACE and gain an insight into how children are viewed in this fundamentalist Christian school system.  We'll also hear about the experiences of ACE survivors, and about the impact it has on their lives, sometimes years after they've left. We'll never view the concept of religiously-inspired education the same ….

David grew up in fundamentalist evangelical baptist churches, attending an Accelerated Christian Education School from the age of 11 until he left school at 16. After meeting the right guy at 21, he left church behind, eventually identifying as a philosophical agnostic, but a pragmatic atheist. *cough*teen years later, David has completed a degree in health and life sciences, and post-graduate studies in science and society. Today, he is a civil servant working for a well-loved public institution, and in his spare time, is owned by four cats and campaigns against ACE alongside other survivors.

Doors at 6.30 pm for talk at 7.00 pm at Conway Hall, London.
AHS Convention 2015, 27-29 March, £15/20
This is also happening at Conway Hall. I'll be on a panel at this on Saturday 28 March:
13:30 – 14:20 Leaving Religion: Alom Shaha, Jonny Scaramanga and Hayley Stevens will explore their experiences of losing faith, with Ruth Haydock chairing the discussion.
More information here.
Greenwich Skeptics in the Pub, April 1, free entry
What better day than April Fool's Day to talk about Accelerated Christian Education. I'll be giving my talk, Inside Britain's Creationist Schools. I'll probably change it up a bit because I've been giving the same talk since 2013 and I'm ready for a change. So come and hear (possibly) previously unreleased ACE bashing!
When?
Wednesday, April 1 2015 at 7:30PM
Where?
The Star and Garter
60 Old Woolwich Road, Greenwich, London SE10 9NY