While I'm pretending this blog is a news site…
Our estimable education secretary, Nicola Morgan, has announced plans to ban organisations and campaign groups from making formal complaints about faith schools. Under her regime, only those living in the local area would be able to complain about unfair admissions.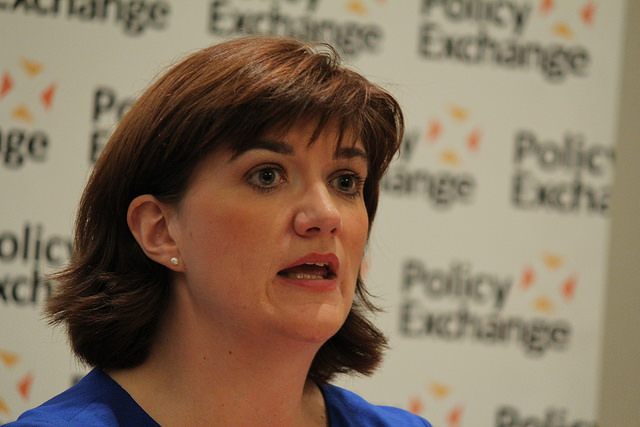 Why this and why now?
Well, last year the Fair Admissions Campaign and the British Humanist Association released a report in which they revealed that "virtually every" state faith school breaks existing legislation in its admissions practice. The report, An Unholy Mess, reveals that faith schools have been found to discriminate by race and gender, that one in five schools required parents to give practical or financial support to an associated religious body, and that more than a quarter were discriminating in ways that even their relevant religious bodies deemed unacceptable.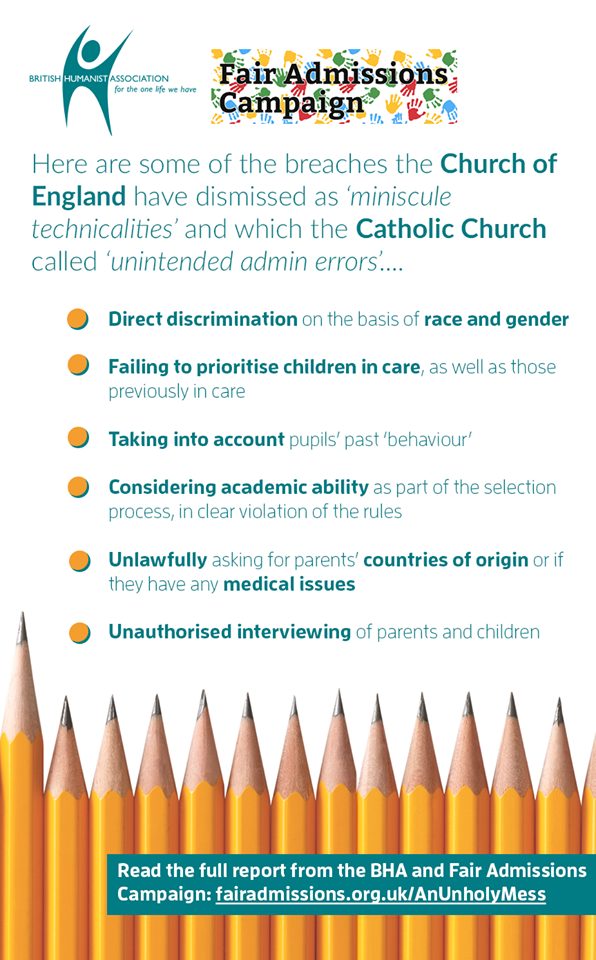 The BHA also launched 42 complaints about faith schools' admissions. Nicky Morgan, according to the Telegraph, said these were "vexatious". The BHA's Andrew Copson tweeted:
Nicky Morgan & Catholic Church called our cases vexatious. We won 41/42. Can it be they do not know what word means?
Nicky Morgan & Catholic Church called our cases vexatious. We won 41/42. Can it be they do not know what word means? pic.twitter.com/mbvs44mr5R

— Andrew Copson (@andrewcopson) January 25, 2016
Andrew later clarified that the BHA did, in fact, win all 42 of its cases, and that "the DfE actually thanked us for our work at the time because we were upholding DfE policy!"
In response to the revelation that faith schools are breaking the law, Nicky Morgan wants to make it harder for groups to point this out. The BHA calls this "an affront to both democracy and the rule of law". More practically, it means that children of different backgrounds do not have equal opportunities for a decent education. The BHA comments:
The report we published last year was provoked by the high volume of requests for help we receive every year from parents who are victims of the unfair system, and it revealed that a huge number of children are being unfairly denied places at their local schools due to the abuse of the admissions system by religiously-selective schools. Any restrictions on who can object will not only allow this to continue, it will encourage it by drastically reducing the accountability of the admissions process.
It's hard to deny that the BHA's campaigning on this issue is entirely moderate. The Fair Admissions Campaign has the support of such disparate groups as British Muslims for Secular Democracy, the Christian think-tank Ekklesia, the Hindu Academy, and the General Assembly of Unitarian and Free Christian Churches. It is hardly an atheist attack on religion. It is simply a defence of the principle of freedom from discrimination.
What strikes me as odd is that Nicky Morgan is in the government. If she thinks faith schools should be allowed to discriminate, why doesn't she try to get the law changed to that effect?
I can only speculate, but I'm guessing it's because to do so would fly in the face of the principle of equality, require the rewriting of the Equality Act, and basically make a mockery of this government's much-touted 'British Values'. Perhaps for Morgan 'equality' is a defining British value only when you can use it to exclude those you wish to deem Not British.