Fans of this most excellent blog will be delighted to learn that you can now have it stuffed in your face in various new ways!
First up, Facebook has a cool new feature called Facebook Live, where I can do a live video and answer your questions. Some of you may have tuned in to see Andrew Copson of the British Humanist Association doing a Facebook Live broadcast for The Independent, and my Patheos colleague Dan Arel has done some as well. You can watch the videos after the event, but obviously the point is to have a live audience that I interact with. So please post in the comments if you would be interested in a broadcast, and let me know when you would be able to watch (don't forget to tell me your time zone).
Like Leaving Fundamentalism on Facebook here.
By the way, if you're not seeing as much Leaving Fundamentalism as you'd like, you can turn on notifications or set my posts to appear at the top of your feed (or both) by clicking the drop down menu next to the 'Like' button on the page: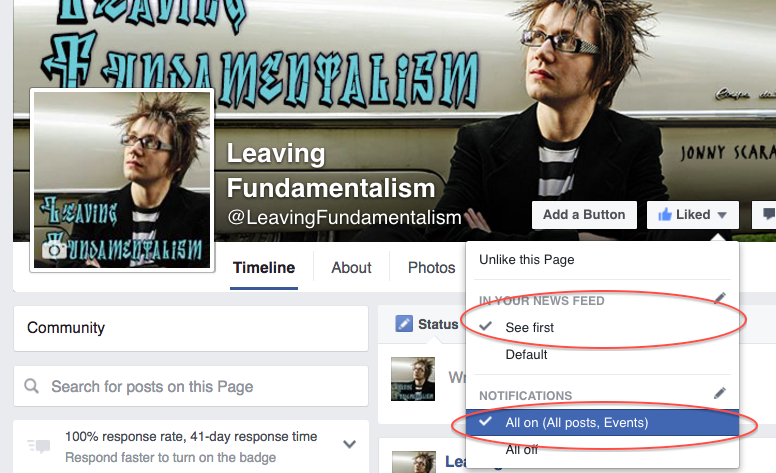 Plus you can also now keep up with the blog on these other platforms. I'll also be trying to share a selection of stuff from other websites that I think will be of interest to you, so even if you subscribe to the blog, there'll be something new to find here:
Pinterest
Leaving Fundamentalism on Pinterest.

Google+
Leaving Fundamentalism on Google+.

And, as ever, there's still the Twitter page: