Presumably the alternatives "When God Sends You a Racist Mother-in-Law" and "Help! My Mom Sounds Like a White Supremacist" were rejected in the editing room.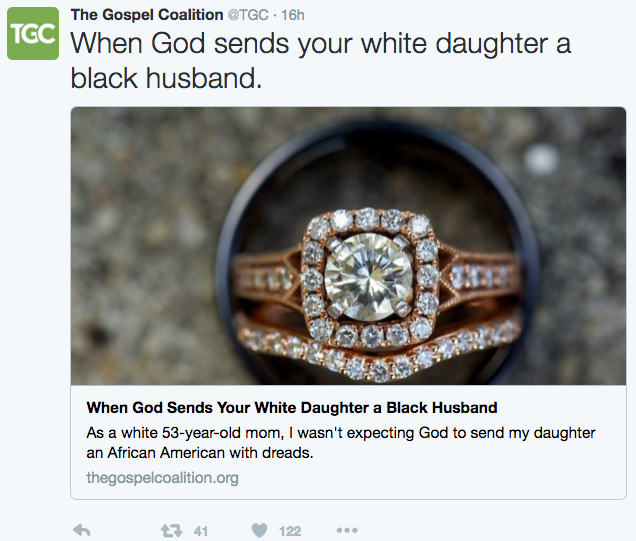 The article begins:
For years I prayed for a young man I had yet to meet: my daughter's husband. I asked the Lord to make him godly, kind, a great dad, and a good provider. I was proud of a wish list void of unrealistic expectations. After all, I knew not to ask for a college football quarterback who loved puppies, majored in nuclear rocket science, and wanted to take his expertise to the mission field. I was an open-minded mom.
But God called my bluff.

This white, 53-year-old mother hadn't counted on God sending an African American with dreads named Glenn.
The author, Gaye Clark, continues, "To the parent like me who never envisioned her daughter in an interracial marriage, here are eight things to remember when your white daughter brings a black man home for dinner," before adding: "Glenn moved from being a black man to beloved son."
Particularly important is point number 4:
4. Remember to be patient with family members.

Calling Uncle Fred a bigot because he doesn't want your daughter in an interracial marriage dehumanizes him and doesn't help your daughter either. Lovingly bear with others' fears, concerns, and objections while firmly supporting your daughter and son-in-law. Don't cut naysayers off if they aren't undermining the marriage. Pray for them.
Yes, it's definitely being called a bigot that is the dehumanising thing here. I'm glad we're concentrating on Uncle Fred's feelings. It's tough to be a racist these days.
This isn't the first time TGC has been under fire for racism. In June, Christian podcast The Polemics Report called out TGC for its "soft bigotry and overt racism". In December 2014, four black evangelical leaders condemned TGC for running an "extremely anti-black" response to events in Ferguson, Missouri.
Even The Gospel Coalition's readers were not unanimously impressed:
@TGC Originally titled, "How I learned to love my son-in-law in spite of his blackness". Opportunity missed.

— Rogue Thinker (@Lekunutung) August 8, 2016
@TGC I would have loved to read an article titled, "How I learned to love my mom-in-law in spite of her racism". But, The Coalition.

— Rogue Thinker (@Lekunutung) August 8, 2016
@TGC this is so disgusting, guys.

"Glenn moved from being a black man to beloved son"

WHAT ARE YOU EVEN TALKING ABOUT?????

— Kevin T. Porter (@KevinTPorter) August 9, 2016
@TGC you guys do tone deaf better than anybody in the business.

— jenwells (@jenwells) August 8, 2016
@TGC Guys… this is super troubling and makes me feel like there isn't a single person of color in your entire organization.

— Sonja @ Ginger Makes (@GingerMakes) August 8, 2016
@TGC I appreciate the conversation, but this headline deeply troubles me. The framing doesn't make me feel dignified as a black man

— Tyler Burns (@Burns23) August 8, 2016
No word yet from Thabiti Anyabwile, whose blog on TGC has been more favourable to Black Lives Matter.