The Iowa House is to vote on a bill that would allow a school for troubled teens to use an unaccredited curriculum. House Study Bill 186 would allow Anchor Character Training Center in Fort Dodge to use the Accelerated Christian Education (ACE) curriculum. This curriculum would be provided by nonlicensed teachers.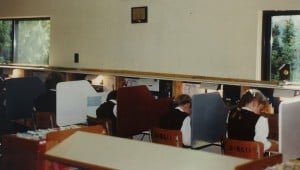 The Des Moines Register reports that an unnamed Iowa legislator (possibly Rep. Matt Windschitl) has claimed that ACE is accredited "in several states". No evidence is supplied for that statement, and readers should be skeptical. In the entire time I was doing my PhD on ACE, I did not hear that claim anywhere else. It does not appear on ACE's website.
"It's a singular fix for a singular problem," said state Rep. Matt Windschitl, a Missouri Valley Republican who grew up attending the Harvest Baptist Church in Fort Dodge, which has served more than 600 youth since it opened in 1996.
It is hard to think of anything that would be 'fixed' by allowing Anchor Character Training Center to use ACE. It claims to be a home for troubled teens. If you're the kind of teen that the adults in your life are calling 'troubled', then your odds of success in life are already too low. The last thing you need is for your chances of going to college or getting a job to be further knocked by having an unaccredited high school diploma. Somehow, that's exactly what the Iowa House is considering.
Even if ACE offered an excellent education (and let me be clear: it doesn't), the fact that it is unaccredited should be enough on its own to dismiss it for use in a home for troubled teens.
In fact, though, ACE offers a thoroughly substandard education. Every independent academic review of ACE ever published agrees on this point. As I show in my PhD thesis (which will made publicly available any day now), ten examinations of the curriculum, from Christian and non-Christian organisations alike, have found that the ACE curriculum is inadequate or unacceptable.
It is not just that ACE teaches young-Earth creationism as fact, or that it contains sexist, racist, and homophobic elements. It is that ACE's teaching methods are so bad that even if you are a sexist racist homophobic creationist, you should acknowledge that ACE is simply a poor method of teaching. Young people in Iowa deserve better.
ACE education requires students to work at desks enclosed on three sides (seriously, you can download the blueprints for ACE furniture from their website). Students at Anchor Character Training Center will spend the majority of their time working in silence. They will be isolated in learning carrels where they will be unable to see or communicate with their peers. Teens who get labelled 'troubled' often have poor socialisation. ACE is only going to compound that problem.
If you live in Iowa, please contact your representatives about this.