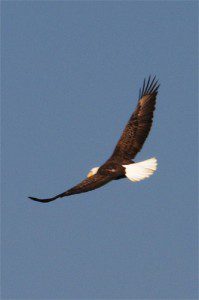 Lectionary Reflections on the First Sunday in Lent – February 17, 2013
Deuteronomy 26:1-11; Psalms91:1-2, 9-16; Romans 10:8b-13; Luke 4:1-11
Graceful Inclusion
Today's scriptures are both comforting and challenging. In the wake of his team's Superbowl victory, athlete turned evangelist and theologian Ray Lewis affirmed that God implicitly supported the Ravens, when he proclaimed, "If God be for us, who can be against us." While Paul's affirmation (Romans 8:31-39) has nothing to do with athletic contests or win-lose relationships, Paul is asserting God's that nothing can separate us from the love God and that God will sustain us in life's most difficult moments. This is a great promise, especially in uncertain and painful personal and institutional times.
Many of us are familiar with Psalm 91 as a result of the popular song, "On Eagle's Wings." God is our refuge and fortress, the Psalm asserts, and because of that, "no evil shall befall you." No evil shall befall you! Does that mean that believers are immune from disease, unemployment, and death? Once during an interview on the role of guardian angels in our lives ("Sophie Live" on CNN), the host asked me, "When you're hit by a car or your plane crashes, does that mean that your guardian angels were asleep on the job?" I found that to be a provocative question, especially in light of the Psalm's promise that angels will protect us. I think real life experience argues against the existence of angels who always insure we get the right parking place, win the lottery, and succeed in all that we do. There are few guarantees even for Christians; the sun shines and the rain falls on just and unjust and the mortality rate remains 100% for Christians and non-Christians alike.
Angels are invoked as present during Jesus' retreat in the wilderness. This time by the "devil," who promises that even if Jesus' jumps of the temple roof, angels will insure his well-being. Jesus responds, "Don't put God to the test." Alignment with God does not insure that everything will work out and that we will be protected from life's uncertainties.
Following his baptism and confirmation of his vocation as God's beloved messenger, Jesus is led into the wilderness by the Spirit. Filled with energy and possibility, Jesus must now discern the shape of his vocation. Temptations are many and whether they come from the devil, Jesus' unconscious mind, or the entertainment of an array of possible uses of his power and giftedness, Jesus is challenged to choose his life path.
We are usually tempted by good things: there is nothing wrong with nutritional meals (and the lure is great when we are fasting); power can be used in positive ways; and safety and security is important for a good life. Jesus' temptations in the wilderness are his alone, not necessarily ours and should not be used as an excuse for neglecting to provide safety, nutrition, and political access for the vulnerable and disenfranchised. We are to be earthly minded as well as heavenly oriented and that means insuring physical and material well-being for the least and most vulnerable of these. In this case, such support is not a temptation but a necessity!
The problem is not the temptations themselves but the possibility that they will divert Jesus from his calling. This is our problem, too. Our best qualities may become our undoing if we fail to embody them in wise and caring ways. The Luke passage challenges us as individuals and congregations to ask ourselves: What are our temptations? What will keep us from following God's vision for our lives? What good things do we need to defer to achieve greater things?
The temptations of life never end. The very human Savior and Healer still must grow in his relationship to God. The passage ends with a word of warning: "the devil departed from Jesus until an opportune time." It has been said that "greatest temptation is to have no temptation" and Jesus' awareness of temptation may have enabled him to choose God's way moment by moment over a lifetime.
We are not alone in facing life's challenges. Although we might raise the question about how the indigenous Canaanites felt about the coming of the Hebrews, the key element of this passage is its affirmation that God hears, responds, and acts. God is influenced by our cries of anguish – God hears the cries of the poor, oppressed, and vulnerable. God is present in the soup kitchen, the unemployment line, and the bedside. God does not control the outcome of our quests for wholeness, but is a factor in bringing about moments of comfort, possibilities of change, and the movements of liberation and affirmation. These may shape our physical and economic situation, but they are not all-determining of such things.
These divine movements, however, are not exclusive, according to Paul's Epistle to the Romans. God is generous in God's aim at salvation. Everyone who calls upon God will be saved – everyone! Does that mean that there is a prescribed formula for calling upon God? Or is our simple cry of "help" – Lord, have mercy upon me" – in our vulnerability, sin, temptation, pain, oppression, and fear, enough, regardless of our spiritual tradition or beliefs? Could it be that God answers the prayers of atheists, agnostics, Muslims, Hindus, Buddhists, as well as orthodox believers? Could it be that the one who makes no distinction between Jew and Gentile is equally unconcerned with our religious labels, belief systems, and sexual orientations? While our belief or unbelief may shape how God works in our lives and open or close us to God's desire for us to find wholeness, I contend that God seeks our well-being regardless of our religious loyalties or uncertainties. That's what it means for God to be generous in the quest for salvation.
Today, let us celebrate grace and inclusion. Let us not limit God's favor to our kin, to the successful and healthy, and to the winners, but also the Canaanites, the Forty-niners and other losers, spiritual and sexual outsiders, and religious questioners.