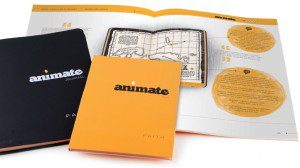 Responding to the Sparkhouse animate Series
animate is the right name for this adventurous new series in Christian formation. Some people think being a Christian is boring…rule filled…anti-science…monolithic…authoritarian…so yesterday. animate lives up to its title: it's alive and shows us a faith that's alive. Being a Christian means a lot of things, but a key element in the journey of faith is the exploration of provocative propositions: visions and statements that take us beyond familiar comfort zones to explore wild horizons of spiritual adventure.
Sometimes I wonder how people within the church can be bored by what it means to be a Christian. There is nothing safe, certain, or self-contained in the words we invoke or the great hymns we sing. We talk about wild and crazy things every time we worship. Sometimes we domesticate them just to feel safe or because there are too many changes going on in our lives already. Sometimes we've heard the words so often that they've lost their power to surprise, unsettle, or upset. But, Annie Dillard may be right when she suggests that we need to put on crash helmets and lash ourselves to the pews as we prepare for worship. We may be in for a wild ride. C.S. Lewis may be right when he asserts that Aslan, the Christ-figure of the Chronicles of Narnia, is anything but "safe." As Mrs. Beaver tells Lucy, one of the series' main characters: "Course he isn't safe. But he's good. He's the king, I tell you."
animate pushes those who have eyes to see and ears to hear beyond the safety of spiritual shibboleths. It asks questions, presents possibilities, and leaves the viewer with options. Not one size fits all in faith. Many visions characterize a living faith; and these living visions move with the Spirit and take us into the unknown, trusting a Mystery whose presence is often more than we can imagine, even in its apparent absence. Never entirely safe, but always entirely faithful.
animate.Faith inspires us to dream freely, as Lillian Daniel asserts, even as we ground ourselves in a faithful tradition. We need to ask questions and challenge our sacred books, as Lauren Winner suggests, in order to be faithful to the living word moving through the often problematic and contradictory words. We need to explore humor in exploring the atonement and be more than a little iconoclastic to understand the radical nature of the Cross, as Nadia Bolz-Weber affirms. After all, scripture and spirituality – the whole journey of faith – is a dynamic interplay of what we know and what we can never know, the immediacy of incarnation and the mystery of a God unfettered by any symbol or tradition. God is always more than we can fathom and humility compels us to recognize that no thoughts can fully encompass the divine, so goes the drift of Brian McLaren's exploration of the Holy.
Faith is embodied and adventurous, indeed, provocative, or soon it lapses into boredom and habit. Mark Scandrette challenges us to live incarnationally. It's not just what we believe; it's living the path of radical discipleship and hospitality. It's walking in the way of Jesus. Shane Hipps asks us to "number our days" that we might gain a heart of wisdom. He cites a lifetime of 70 years, involving the living of 25,500 days. At one glance, this is a long time, but from another perspective but a moment. As I pondered Shane's counsel, I considered my own 60 years and the reality that I probably have no more than 10,000 to 15,000 days ahead, and that I'm not even guaranteed the next moment. We need abundant life NOW – heaven will take care of itself and heaven is no reason to defer joy and justice in this lifetime. Along the way, we need a home, even if it is, as Bruce Reyes-Chow confesses, an "imperfect family." Still, when the church is a God-centered family, it joins tradition, innovation, aspiration, hospitality, healing, and transformation. It roots us in something much larger than ourselves.
In less than two months, I am moving forward to a new congregation. I have been called to be Pastor of South Congregational United Church of Christ in Centerville, Massachusetts, a historic Cape Cod congregation, overlooking the gentle waves on Craigville Beach. I am being called forward to join a life-transforming vision of faith, with the promise that people can experience God in their daily lives and in life and death moments, and to teach practices that help persons experience the faith they affirm and find ways to share that faith with others. I don't want to pastor church as usual, but a church on the move, unusual, questioning, active, and willing to entertain gentle but provocative possibilities related to how we should understand God and live faithfully in the second decade of the twenty-first century. Like my friends on animate, I want to be part of a living congregation where people expect surprises and better yet, make them happen in faithful ways. Though I am being called to be a "settled" pastor, I am not planning to be "settled" at all, but rather be a partner in God's often unsettling and always exciting vision and action on Cape Cod and in the world.
animate provokes but also companions. It reflects a God who invites us to launch out into deeper waters and even walk on water at times. But, the one who pushes us forward also swims beside us, buoying us up with loving care and adventurous companionship.
For more on the animate.Faith series, check out the Patheos Book Club, starting May 16th.