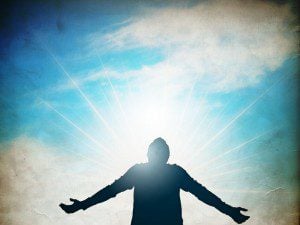 Lectionary Reflections for  November 10, 2013
Haggai 1:15b-2:9; Psalm 145:1-5, 17-21; 2 Thessalonians 2:1-5, 13-17; John 20:27-38
Today's passages relate to the authority of prophets and world spiritual leaders such as Jesus. God's word touches prophets; it is also present in the beauty of the universe and the moral arc of history, both of which reflect God's wise and patient providence. We can experience inner authority by aligning ourselves with God's vision of the future, and while we can't know the exact nature of everlasting life, our vision of eternity is intended to be lived out fully in this lifetime. Jesus shares his authority by reinterpreting a puzzling question in a new and creative way.
Haggai describes the prophetic experience of receiving a word from God. According to the prophetic tradition, God spoke to the prophets, authorizing them to speak words of challenge, rebuke, and hope to the nation and its political and economic leaders. A key element in prophetic spirituality is the affirmation that "God speaks to us in the concrete situations of our national lives." There is nothing abstract about God's word to the prophets. Prophetic mysticism is profoundly this-worldly, inviting us to live justly and hopefully in our embodiment of God's word in our time. The prophet speaks to us right here, revealing God's vision of government, economics, and history. Prophets do not predict the future in minute details, but they have a profound sense of personal and corporate cause and effect: they know what leads to peace and prosperity and death and destruction. They also intuit that beneath the maelstrom of historical conflict, God's vision is unfolding and that in the darkest national times, there is still hope for the future.
Haggai presents God's vision to a broken land and the possibility of healing. God is working within history of the people as well as the great Persian potentate Darius. The prophet provides a promise of God's current and future presence: "My spirit abides among you; do not fear." God's spirit will guide and empower the people; giving them resilience as they await the nation's liberation.
The Psalmist proclaims "every day I will bless God." We praise God because of the wonders of life; we also praise God because of God's justice and care for the vulnerable. Cosmology and ethics are interdependent. The beauty of the universe is ethical as well as experiential. When the philosopher Alfred North Whitehead asserts that the teleology or aim of the universe is toward the production of beauty, he is affirming that beauty is a moral as well as aesthetic category. Morality is related to quality of experience; the moral arc of God's providence aims at joyful experiences and abundant life, especially for the most vulnerable people.
2 Thessalonians describes the works of divine providence in transforming our lives and history. The fullest revelation of God lies in the future and cannot be confused with the actions of today's false spiritual leaders. Christ is coming to fulfill our planet's destiny, but there is no specific timetable. In the meantime, we need to become citizens of God's coming realm.
The pastor may choose to address the apocalyptic images of 2 Thessalonians:  there is the danger of confusing the coming Christ with those who claim to be spiritual giants, putting themselves in God's place as sources of wisdom, power, and hope. We need to be discerning, the author counsels. Yet, I would add, we also need to be humble: there is a tendency to look for the Evil Ones, assuming they are those who hold different political views than ourselves or who set themselves against our land and its foreign policy.  Certainly, we see this in intransigent political positions, often motivated by equally intransigent theologies such as Christian dominion and Islamic and Biblical fundamentalism. Humility is necessary in theological and political reflection, since we may easily and without self-critique identify our opponents with the demonic, thus objectifying them and giving us permission to silence or persecute them.
The author of Thessalonians reminds us that we don't need to wait till we die to experience God's eternity; we can experience divine wholeness in the here and now. We need to open ourselves to God's glory by standing firm in the faith. We are to live according to the traditions of the faith, the stories of Jesus, and way of Christ in our time. The exact nature of these traditions is left vague, but their soundness is related to their influence on our ethical lives.
The passage from John's Gospel is a spiritual koan or mind-altering puzzle. When asked a speculative question regarding the marital status of a woman who outlives her seven husbands,  Jesus gives an equally speculative answer, suggesting that there will no marriages in God's realm. What is truly important involves our experience of the living God, whose realm is dynamic and life-giving now and forevermore. The issue here is not marriage in its concreteness or some abstract theory of the afterlife, but the affirmation that God's care is more than we can ask or imagine. We can experience everlasting life in the here and now. Eternity is about experience and a sense of divine presence, not chronology, whether this involves Jesus' Second Coming or our own post-mortem journeys. Eternity relates to our embodiment of divine values, our alignment with God's vision, in the concrete realities and decisions of daily life. Our humble authority as followers of Jesus emerges from our willingness to align ourselves with God's evolving vision, everlasting in faithfulness and lived out in everyday life.