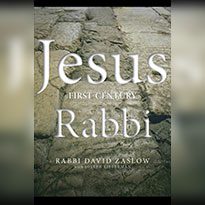 Scholars, pastors, and laypeople alike are rediscovering the Jewishness of Jesus and the continuity between the first-century Christian movement and the Jewish tradition prior to and following the life, death, and resurrection of Jesus, whom we Christians call Christ and Savior. Freed from replacement theories regarding the relationship of Judaism and Christianity and Hebraic spirituality and the teachings of Rabbi-Savior Jesus, we can understand Jesus in new and life-transforming ways. We must always affirm that Jesus was a Jew, who affirmed the wisdom and saving power of his Jewish faith tradition. We must, as Christians, also recognize that Jesus brings to the world new and creative possibilities for healing, transformation, and relationship with God. These novel possibilities build up and do not abrogate the saving wisdom of Judaism, then and now.
Rabbi David Zaslow's Jesus: First Century Rabbi is a wonderful addition to the growing literature on the continuity of Jesus' teaching and the Jewish spirituality and theology of his time. Zaslow rightly affirms Jesus' Jewishness. Jesus did not intend to displace the faith of his parents, but to bring forth a more intimate, energetic, and expansive understanding of the faith he and they affirmed. Jesus as Savior could only have emerged out of the Jewish tradition in the same way that Gautama the Buddha could only have emerged from Hindu roots. Jesus' wisdom is continuous with Jewish wisdom and Jesus energetic healing power and prophetic hospitality reflects and embodies the dream of Israel's prophetic spiritual leadership.  When Christians invoke Isaiah's vision of the redemptive power of God's suffering servant, they affirm, rather than deny, the spiritual wisdom of the Jewish tradition. When Christians speak of Jesus as the fulfillment of the prophet's dream, they need not – and should not – displace God's revelation in Judaism.  Rather, they can with integrity affirm that prophets (such as Isaiah) imagined that someone – or some transformed community – might embody what Christians see in Jesus. Jesus' embodiment and, dare we say, fulfillment of the prophetic vision in no way undercuts the legitimacy of Judaism; rather it affirms Jewish wisdom, past, present, and future.
Today, Christians can affirm both the uniqueness of Jesus as Savior and Jesus' continuity with the ongoing wisdom and saving power of the Jewish tradition. In fact, the Hebraic vision of God, embodied in Jesus and the early Christian movement, not to mention the most progressive voices of Christian theology, makes such an affirmation not only possible but the invitation to future dialogue.
The pre-Christian Hebraic tradition, Jesus, and the movement that emerged from his teaching affirmed both the universality and personality of God. The Word and Wisdom of God – Logos and Sophia – embodied in Jesus the Christ is the creative energy and intelligence in all things. God's light touches all creation and all people, asserts the Prologue to John's Gospel (John 1:1-5, 9). All things reveal divine love and creativity. Accordingly, as certain early Christian teachers affirmed, wherever truth is present, God is its source, regardless of religious tradition. The true light that enlightens all people – and presumably, every authentic faith tradition – comes into the world in the embodied message of Jesus of Nazareth the Christ.
A living, personal, and wise God is present in all things, but can be present differently in different situations. God can choose a people as a vehicle of salvation (the uniqueness of the Jewish vision as articulated in the First Testament); God can also choose a person to be a vehicle of salvation. God's presence in the world is not homogenous, but variable in intensity, transparency, and personality. The lively trajectory of Jewish wisdom, ethics, and spirituality took birth in the life and teachings of Jesus.
Could God have been uniquely present in Mary's openness to divine revelation and in Joseph's willingness to father an unexpected child? Could God have been, from the very conception of Jesus, been uniquely present in the cellular and spiritual life of Jesus? Could Jesus have been so closely aligned with God's vision that John could faithfully and honestly assert of Jesus, "I and the Father are one?"
An early church theologian proclaimed that the glory of God is a person fully alive, implicitly affirming that Jesus' full humanity and divinity constitute a unique world-changing reality. Humanity and tradition are not diminished but fully realized in the incarnation of God in Jesus of Nazareth in ways consistent with his Jewish historical, ethnic, and spiritual identity.
Contrary to some Christian and Jewish approaches, claiming a congruency and continuity of Jesus and Judaism does not lessen the importance of the emerging possibilities in the life of Jesus. A fully alive, fully human, and fully inspired Jesus brings something new to Judaism and human experience. Jesus was not competitive with his followers: instead Jesus affirmed that his original Jewish and later Christian followers can do "greater things." The coming of God's Spirit in fullness – and the Spirit was present before Pentecost and is present in all things – on Pentecost presents a new spiritual possibility for humankind continuous with the deepest spirituality of Judaism. In Jesus the Christ, God does not hoard wisdom, energy, healing, or creativity but makes it available to all.
In that spirit, we can affirm the unique revelation in Jesus of Nazareth – his identity as Christ-Messiah – and also the ongoing revelation of God in Judaism. Together, both traditions, evolving in the context of our pluralistic age, can bring greater light and love to the world, and continue to grow as partners in God's revelation to humankind and in healing the world.
To read an excerpt from Jesus: First-Century Rabbi, visit the Patheos Book Club here.