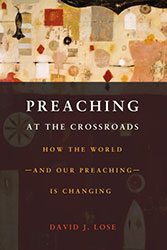 Philosopher Alfred North Whitehead once described worship as an adventure of the spirit.  The same judgment could apply to preaching as well: preaching is also an adventure of the spirit especially when we are at the crossroads, dealing with a changing world and changing images of preaching and spiritual leadership. David J. Lose's Preaching at the Crossroads: How the World – and Our Preaching – Is Changing accurately surveys the world to which the preacher must share her or his good news.  We are in a time of "permanent whitewater" which the preacher must address in tone, style, delivery, and content.  Preaching is a creative task in which the preacher must respond to the novelties all around her or him in ways that are equally innovative as well as spirit-centered.
Preachers are called to be artists of mind, body, spirit, and relationships: their media is not just words but also popular images, the preacher's physical presence and spiritual preparation, and the experiences of her or his community and world around us.  As an interdependent act, preaching mirrors the relational universe: we are never alone or isolated but shaped in each moment by tradition and possibility, identity and environment, and stability and change.  Accordingly, our preaching can transform our congregations and congregants, inviting them to embark on adventures of the spirit themselves.
Most mainline and progressive preachers have their work cut out for them, and frankly so do our conservative brothers and sisters, whose congregants' apparent biblical literacy often masks problematic understandings of biblical authority. In most mainline and progressive churches, faith is known more by experience than doctrine; people have few of the definitive – and inflexible – moorings that characterize many conservative congregations.  Most mainline and progressive churches see themselves as being of the world rather than against (or other) than the world.  There are few boundaries dividing the ways of the world and the ways of the church. This makes the preacher's challenges multivalent in nature: he or she must present a Christian story and vision to people whose personal and Christian stories are often nebulous; he or she must make promises that people can experience God in their daily lives; and he or she must provide spiritual practices for people who struggle with discipline and find it easy to go day to day without any sort of spiritual compass.
Preachers must preach the Bible – whether topically or through the lectionary – to folks whose knowledge of the Hebrew-Christian story is often minimal.  Moreover, the preacher must make a case for biblical authority, even if he or she finds much troubling or outmoded spiritually or theologically in scripture.  People hear scripture in mainline congregations week after week without any clear sense about why we take the scripture more seriously than the insights of bestselling books or television personalities like Oprah or Dr. Oz.  Our congregants often apologize for their biblical illiteracy, but at the same time, rebel against fundamentalist Bible thumpers or church leaders who use a few dubious biblical passages related to homosexuality to bring ecclesiastical charges against a pastor who performs a marriage ceremony for his son and his mail fiancé.  They want to know more about their faith and scriptures but their knowledge is often superficial; like the weeds that choke the good seed in Jesus' parable, their intentions to become more biblically literate and spiritually disciplined are crowded out by the busyness of their daily lives.
Preaching is an adventure of the spirit – and an adventure of ideas and practices – that should orient the preacher and the congregants to God's presence within their lives and in the world around us.  Preaching joins the inner and outer journeys.  Preaching in a pluralistic, postmodern, and secular age requires us to take our own spirituality seriously.  We can pray with our eyes closed as well as open when we encounter the weekly scriptures.  We can listen deeply through
lectio divina
(exploring the word God speaks to us through the words of scripture), Ignatian prayer (imagining ourselves as a character in the narrative), silent reflection, and walking prayer.  All of these elicit a holy imagination in which God becomes our companion in the process of preaching.
We can also pray with our eyes open, noting God's call in reading the newspaper, Facebook postings, on-line news ideas, television and radio news, and our attentiveness to the life of our congregation.  In this interplay of inner and outer spirituality, scripture becomes a dynamic lens through which we experience the events of our lives.  Trusting divine inspiration and synchronicity, we discover illuminating moments that guide our words toward the hopes and dreams of our congregation and those who are led to visit our worship services.  This approach to preaching enables us to address concrete people in terms of concrete visions related to their concrete world.  Scripture is never an abstract word – it is always incarnational – and our preaching should be equally embodied in the real world of politics and economics, parenting and workplace, retirement and college graduation, pregnancy and aging, and leaving home and taking care of aging parents.  An omnipresent, omniactive, and providential God has a word to say to each sphere of our lives.
Far from abstract, preaching that joins inner and outer reminds the preacher of the concreteness of congregational life, spiritual leadership, pastoral care, and balancing commitment to her or his ministerial vocation and family life and self-care.  The permanent whitewater of the preacher's own life becomes a laboratory and lens through which he or she identifies and addresses the real world experiences of her or his fellow pilgrims in our challenging time.
David Lose has done a great service to preachers.  We must preach prayerfully – contemplatives who open our eyes to the rapid changes around us.  We must look for God in midst of change, knowing that God is also moving through and inspiring the challenges of postmodernism, pluralism, and secularity.
Visit the Patheos Book Club for more on Preaching at the Crossroads.