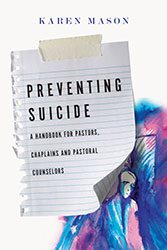 A number of months ago, a bereaved mother asked me, "Where is Susie now?" Her question was far from academic. When her daughter committed suicide, one of the first pastoral responses she received was, "Suicide is an unforgiveable sin. Your daughter has cut herself off from God entirely, and is now paying the price, forever!" To that pastor, it meant Susie, whose life was tormented by depression in this lifetime, would now experience eternal torment in hell. The minister with whom she spoke not only failed to be a good pastoral care giver, he failed to be a good theologian; despite his "orthodoxy," he may have also failed to provide her with theological counsel worthy of the gospel of Jesus Christ.
I took a very different path from the aforementioned pastor in responding to Susie's mother. My approach was grounded in a dynamic, relational vision of reality, and an understanding of God's love as personal and intimate, and also infinite in time and space. I responded with, "While we don't know all the answers about the afterlife, I believe that Susie is in God's hands just as she was throughout her life. Suicide has not changed God's love for her." Quoting the apostle Paul, I asserted that "nothing – not even suicide – can separate us from the love of God."
Karen Mason, in her new book Preventing Suicide: A Handbook for Pastors, Chaplains and Pastoral Counselors, is right on target in her recognition that theology can cure or kill, help or harm, in relationship to the needs of persons struggling with suicide and the family members of persons who have been successful or unsuccessful in attempting suicide. Good theology is known by its fruits: it joins rather than separates, is graceful rather than condemnatory, it promises good and not evil, and a future and a hope. Karen Mason sees preventing suicide as involving grace and acceptance and not fear of punishment.
The apostle Paul captures the spirit of healthy theology in I Corinthians 12. In describing the interdependent body of Christ, Paul proclaims, "If one part suffers, every part suffers with it; if one part is honored, every part rejoices with it." In other words, suicide is not a problem pertaining to "others," it affects "us." There is no "other" in an interdependent world; we are all in this together, creating each other through our relationships, bringing pain or possibility to the world by our actions. Recognition of our interdependence reminds us that no one is immune from suicidal thoughts or the despair that may lead to suicide; it also reminds us that help is always on the way. We are never alone; God is with us, and God gives us persons who can nurture us in the most challenging times.
Biblical theologian and scholar Terrence Fretheim notes that the question, "Do you believe in God?" may not be as important as "What kind of God do you believe in?" That is, what is the moral character of your object of ultimate concern? Is God on your side, gracefully ready to support you? Or, is God a stern judge, ready to punish you severely at the slightest infraction? While we can never fully ascertain God's nature, it is clear that these two visions of God will radically shape our understanding of suicide and those who successfully or unsuccessfully attempt suicide If God's primary characteristic is severe and unbending judgment, then suicide is final and irrevocable and takes us beyond God's care. If on the other hand, grace abounds, suicide is part of our personal adventures: the pain is real, and the loss great to us and others, but the reality of suicide does not put an end to God's love and movement in our lives. From this perspective, our goal is embracing the pain of others and ourselves without judgment or condemnation, grounded in our recognition that suicide is often a result of seeing oneself in unbearable, unchanging, and hopeless situations of body, mind, spirit, or environment. Speaking in the context of his own despair, the author of Lamentations affirms:
The steadfast love of the LORD never ceases;
his mercies never come to an end;
they are new every morning;
great is your faithfulness.
"The LORD is my portion," says my soul,
"therefore I will hope in him."
The LORD is good to those who wait for him,
to the soul who seeks him.
It is good that one should wait quietly
for the salvation of the LORD. (Lamentations 3:22-26)
Suicide may eliminate certain divine possibilities from other lives, but God continues to provide new mercies every morning. God's mercy never comes to an end. Suicide attempts call us to understanding and affirmation, not blame or ostracism. Psalm 139 captures God's own attitudes toward our moments of feeling lost, alone, and without hope. We cannot evade the love on the One who searches and knows all things.
Where can I go from your spirit?
Or where can I flee from your presence?
If I ascend to heaven, you are there;
if I make my bed in Sheol, you are there.
If I take the wings of the morning
and settle at the farthest limits of the sea,
even there your hand shall lead me,
and your right hand shall hold me fast.
If I say, "Surely the darkness shall cover me,
and the light around me become night,"
even the darkness is not dark to you;
the night is as bright as the day,
for darkness is as light to you.
Our darkness cannot impede God's light. Nothing can separate us from the light and love of God.
Read an excerpt from Preventing Suicide at the Patheos Book Club.