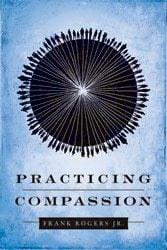 This post is part of a discussion on the new book Practicing Compassion, by Frank Rogers, Jr. For more conversation, visit the Patheos Book Club here.
Claremont School of Theology is my theological and spiritual home. At Claremont, I studied theology and philosophy of religion, received my ministerial training, and met my wife Kate. Like the swallows returning to San Juan Capistrano, I always return to Claremont to renew my theological and professional vision. I return to Claremont because of the sense of place, the tree lined streets, the halls of ivy, the inspirational colleagues, and the memories of colleagues and professors who nurtured my spirit and still serve as spiritual mentors long after their deaths.
In 1977, I had the opportunity to participate in Bernard Loomer's Advanced Seminar in Process Studies. We met around the table, sharing large ideas and learning from one another, as Bernie puffed on his pipe and pontificated in between listening to the insights of ten young theologians, some of whom, such as Jay McDaniel, Catherine Keller, Rebecca Parker, and Rita Nakashima Brock are now leaders in the process theology movement. One of the founding figures in process theology, Bernard Loomer had recently retired from teaching at the American Baptist Seminary of the West and Graduate Theological Union. Still generative, his wise insights deepened our vision of the theological task and our role as intellectual leaders in a time when big thinking was needed then and now more than ever. Loomer's vision still shapes my own theological and professional work.
Of all the themes Loomer discussed, the one that most influenced my thought was his vision of "size" or "stature." Loomer believed that we needed to be people of stature who modeled our vision after a God of sufficient size. Too many visions of God were simply too small, Loomer asserted. They excluded and damned. They portrayed an aloof deity who was easily angered and lacked a sense of humor and recognition of the essential ambiguities of life. They described a divinity who coerced and influenced but never listened; a god whose providential actions excluded any human or non-human creativity. In contrast to images of God and humankind that lacked stature, Loomer proposed a vision of a relational God and interdependent humanity that embraced pluralism, diversity, and ambiguity. If an image of God lacked sufficient stature, it was unworthy of our allegiance, Loomer asserted, even if it was perceived by some as orthodox. According to Loomer, size or stature was the measure of divine and human maturity:
"By S-I-Z-E, I mean the capacity of a person's soul, the range and depth of his love, his capacity for relationships. I mean the volume of life you can take into your being and still maintain your integrity and individuality, the intensity and variety of outlook you can entertain in the unity of your being without feeling defensive or insecure. I mean the strength of your spirit to encourage others to become freer in the development of their diversity and uniqueness. I mean the power to sustain more complex and enriching tensions. I mean the magnanimity of concern to provide conditions that enable others to increase in stature."
Whether human or divine, I believe spiritual stature is the prerequisite for compassion. When we can hold in contrast our whole self in its complexity, we can embrace others in their messiness and ambiguity. Large souls embrace rather than exclude, welcome rather than alienate, heal rather than destroy. As Martin Buber once noted, large souls recognize that reality – or the uniqueness of an "other" – is not always understandable but it is embraceable.
Thirty five years later, during the fall of 2012, I was invited to be Visiting Professor of Process Studies at Claremont School of Theology. During that time, I had the opportunity to teach across the seminary patio from Frank Rogers. Some evenings, as I walked to my study, I overheard him teaching his course on compassion. Autumn in California can be warm and so occasionally I sat in the courtyard and simply listened. Like Loomer, Rogers counseled largeness of soul. Although I never heard him use the words, my mind moved to images of the bodhisattva and Christ as I listened to Rogers interact with his students. Compassion involves growing in wisdom and stature – words applied to the spiritual growth of Jesus. It involves cultivating a spirit as large as the planet and for whom no one is a stranger and all potential friends.
We are destined, if we attend to divine possibilities, to become what author and process theologian Patricia Adams Farmer describes as "fat souls," spirits of stature and compassion, able to include the world's – and our own – diversity, including flaws and contrasts. Luther called these fat souls "little Christs." Buddhism calls them "bodhisattvas," who defer enlightenment to care for humankind in its brokenness. In both cases, compassion is the key. (For more on "fat soul philosophy, see http://www.jesusjazzbuddhism.org/what-is-fat-soul-philosophy.html)
As I was writing this piece, my two year grandson decided it was time to sit on my lap. If my spirit were constricted by trying to meet my Patheos schedule, I might disregard his desire to be with me. But, writing about compassion expands one's spirit: if you talk about being a large soul, you must aim at perspectives larger than one's ego. So, I set aside my laptop to talk with a small boy who simply wanted to be held. I was enriched! New ideas came to me as I let go of resistance and welcomed him into my world.
I am a person with good boundaries and a strong focus. Still, I have learned that when I compassionately and mindfully let go of my agenda to open to the joy and pain of others, I experience a new and deeper energy. I have lost my "self" – the small and protective self- and discovered a much larger self, indeed a spirit as large as the planet. I have gained something more than getting a task done or have the day go according to my wishes, I have gained a compassionate and loving heart, and that is more than any loss I could imagine. That is the wisdom of Frank Rogers' practice of compassion, Loomer's stature, and Farmer's fat and beautiful soul.