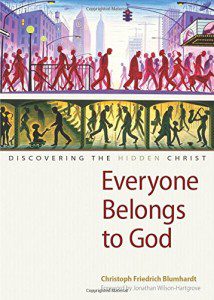 A Response to Everyone Belong to God, by Christoph Friedrich Blumhardt (Plough Publishing House, 2015)
One of my preaching mentors Ernie Campbell once said that "there are only two kinds of people in the world: those who are in God's hands and know it and those who are in God's hands and don't." Christoph Friedrich Blumhardt made this same affirmation one hundred years ago. He believed Christ is one of us and in Christ's unity with us, all persons belong to God. There is no "other." No distinction between in and out, saved and unsaved, wise and foolish, sinner and saint. We are all radically dependent on a grace that moves within us and all things.
In the spirit of Ernie Campbell and Christoph Friedrich Blumhardt, I affirm that "there are only two moments in life: when we experience God with us and when we don't." No one is lost, no moment is lost, and no experience is beyond God's care. If we ascend to the heavens, God is with us. If we descend to the depths, God is with us. If we cover ourselves with a cloak of darkness, God is with us. Such is the faith of the author of Psalm 139.
All is grace and grace is our affirmation of our radical dependence on God's love. We are all standing in the need of prayer, and standing in the need of grace. Truly there is no "other," we are all one in spirit. God's grace is sufficient and will respond to our every need.
From Blumhardt's and my perspective, our complete dependence on grace compels us to affirm our unity with one another, regardless of our faith, moral status, or religious background. We share Christ out of grace, not superiority. We don't have something non-Christians lack. We simply have moments of God awareness that compel us to become good news people. Surely, this is what Paul meant in Philippians 2:5-11. Christ does not claim superiority, otherness, or distant divinity. He becomes one of us, fully and completely.
God's realm is here and no one is on the outside. God's realm is alive and everyone is welcome. A recent Patheos post by Caryn Riswold asked the question: How should people of faith respond to Bruce Jenner? Certainly many will see Jenner's transition as turning away from God's way. Others will question his morality and see him as a lesser human being once he transitions. Perhaps God has another vision: in Christ, as the apostle Paul affirms, there is neither Jew or Greek, male or female, slave or free. In Christ, there is neither gay or straight, or transgendered or content with their sexual assignment. All things are God's and everyone belongs to God, and a year from now Bruce Jenner will be as much God's beloved as he is today. This is good news if your name is "Bruce" (and mine is) and good news for all of us. Thanks be to God!