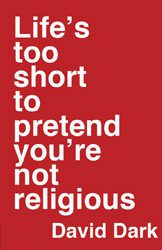 David Dark presents a clever, imaginative, humorous, and insightful text in his new book, challenging us to fess up to our religiosity. Yes, we are religious, all of us, but the practical issue is "What difference does it make? How shall we act on our religion? And, how do we deal with the great 'so what' that should be echoed after every sermon and lecture?"
Yes, we are religious, and Dark rightly believes, it does make a difference. The challenge is to discern the contours of our religiosity and discern ways, if we affirm our "faith," to act accordingly, or at least recognize where our values and social concerns are in tension, as they almost always must be.
I have been writing a short book on Jonah. I found it interesting that David Dark also finds a good deal of truth in this short and provocative text. When God calls Jonah to preach to Nineveh, Jonah flees. He's not being faithless. He just believes that God's obviously made a mistake and has become too morally lenient. Jonah can't imagine God asking him to turn his back on everything he learned from his religious teachers as well as the values of his culture. How can God ask me, Jonah reflects, to proclaim God's message to Nineveh, the archenemy, the oppressor, a people without any moral compass? They just might believe and be saved! God can't have mercy on our nation's enemies. Jonah's problem is theological in nature. He sees God as parochial, nationalistic, and jingoistic, not as global, graceful, and forgiving.
As a preacher and teacher, I struggle with the great "so what" just as Jonah did. I wonder whether we can – or should – take the idealistic way of Jesus seriously in domestic and foreign policy, and if so, how far should we go?
For example, I believe that God is present in all things and that God's light shines in the heart of each person, as her or his deepest reality. As Meister Eckhardt asserted, "all things [and all persons] are words of God." This runs right into Jonah's controversy with God. Jonah believes along with virtually everyone running for President this year, and most average Americans, that evildoers have abdicated their rights and if we just happen to bomb them, they're just getting what they deserve!
When I heard the news that Osama bin Laden had been killed, I pumped my fist and shouted "Hallelujah!" Although I didn't join a public demonstration of patriotic bloodlust, I wasn't alone. Normally mild-mannered and practical-pacifist friends also rejoiced. Yet, I also recognize that as heinous as bin Laden's deeds were, he is still a child of God, loved by God, and illuminated by God's presence. What to do about bin Laden? On the one hand, justice must be done; he needs to be taken off the streets and neutralized. On the other hand, repentance is always possible, even for a terrorist. Are we acting prematurely when we kill him?
I think ISIS is a diabolical group. But, I recognize that many of their proponents are acting out of social pressure, anger, pain, and protest against the economic military policies of the USA and the developed world. Just as in 9/11, there is a reason, even if we think it misguided, why they hate us and want us off their land. Moreover, they aren't the first to attempt world domination. Many of our presidential candidates' comments about American exceptionalism come close to a type of monolithic American military leadership, and of course, our country like so many others became powerful as a result of some form of "manifest destiny," that is, God favors us and calls us to dominate the world, or at least a portion of the world. Despite my awareness of our complicity and the practical realities of national defense — and I believe we need a strong but prudent national defense — how does this shape the deployment of drones, air attacks, and the use of special forces? Does faith have something to say in dealing with this ethical and spiritual tension?
I often say that Jesus' Sermon on the Mount or books like Jonah can't be used to directly determine domestic and foreign policy in a pluralistic society, although they provide ethical and spiritual guidelines that shape governmental and institutional policy and place limits on our rhetoric. Still, the prophetic writings (Amos, Hosea, Isaiah, Micah, and possibly Jonah) were intended to shape foreign policy and look remarkably like a faith-based form of social democracy in which private ownership and profit-making is seen in light of justice, fair economic distribution, workers, and the responsibility of business to promote the social good.
Dark's book challenges me to reflect on the great "so what" and recognize that we – Dark and I – are both complicit in the world's evils as a result of our economic, ethnic, and social position. Both of us, as professionals, professors, and in my case, a minister as well, benefit from the social system and have freedoms that are exceptional in the USA and around the world.
We need the great "so what." We need to have an uneasy conscience and feelings of moral tension. As a pastor, I don't dictate what my congregants should believe or their political positions, but I still can provide religious – spiritual – guidance to help them make decisions congruent with their faith. We cannot all be the Berrigan brothers, lifted up by David Dark as exemplars of evolved religion, but we can look at our lives with mindfulness, not hide from our social responsibility, and let our lives speak in the political and social sphere.
This mindfulness, and the uneasy conscience that goes with it, may be the first step to what Dark calls an undivided life.
Read an excerpt from Life's Too Short to Pretend You're Not Religious at the Patheos Book Club here.