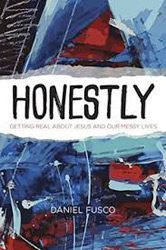 This post is part of a conversation on the new book Honestly: Getting Real About Jesus and Our Messy Lives, by Daniel Fusco, at the Patheos Book Club here.
Elizabeth Kubler Ross once said "I'm not ok. You're not ok. But, it's ok." In a similar vein, a Jewish proverb notes that everyone should have a note in each pocket. The first says, "For you the universe was made." The second, "You are dust and to dust you shall return."
Life is messy, and we are all messes, so asserts Daniel Fusco in his "kinder, gentler" portrait of conservative evangelical faith. Quite orthodox in theology, this text, like the Crossroads Community Church website, portrays conservative Christianity in ways that almost seem cool and open-spirited. I find the book quite engaging, and definitely approachable. But, I kept looking for the fine print. That is, what about non-believers, persons from other faiths, LGBT persons, and persons who simply can't believe the message articulated by the "orthodox" vision that underlies the ministry of Crossroads church. There are varieties of Christianity and, on the whole, Fusco presents a positive vision.
I believe that we should present an affirmative faith. Faith lives by its affirmations, not its negations. We know with Luther that "in the midst of life, we are surrounded by death." But, the affirmation to live by is "in the midst of death, we are surrounded by life." Yes, life! The loving parent wants us to have life in all its abundance, and the loving parent wants all of us to have this life – Christians, Buddhists, Hindus, agnostics, atheists, and GLBT folk, just to name a few. God loves me enough to suffer with the pain of the world, so I must be valuable, beloved, and holy.
Yes, life is messy. A minute ago, while I was writing the last paragraph, a congregant called me at home, telling me that Thursday she will have heart surgery. Another family is dealing with the death of a parent. The grief is raw, and the memorial service will be difficult. Still, other congregants struggle to deal with the aging process. Life is often more challenging than we had imagined. As Jesus says to Peter, they'll take you where you don't want to go. But it is truly a beautiful mess. Indeed, as Fusco says, Jesus is the beauty in the midst of the mess.
The fact that life is messy doesn't necessarily mean that we are "messes" (noun) ourselves. The following comment gave me pause: "So life would be less messy if I did not exist." Fusco redeems that statement somewhat with "if I didn't exist there would be one less person to follow Jesus through the mess, day in, day out." I am not quite sure a Loving Parent would say that of her or his children. A Loving Parent loves her or his children because they exist, not in spite of it. A Loving Parent doesn't require perfection or particular doctrinal or behavioral marks to love her or his child. A Loving Parent may even allow for many specific ways of healthy living, not just one specific way. God tells each child, regardless of their conscious relationship to God, "I am glad you exist. I love you. I have a vision for you if you broaden your own vision and partner with me in a holy adventure."
We all know we can create messes. But, more importantly, we need to know that we are worthy – yes, worthy – in God's eyes regardless of the mess we've gotten into. The Cross is not primarily about judgment, although it serves to judge the powers and principalities of the earth, the 1% that dominate politics and economics; but while revealing our brokenness, the Cross does something much more important; it reveals God's love for us. God suffers with us, mourns with us, and walks through the mess with us. Nothing – not the messiness of our lives, our brokenness, or sin – can separate us from a Love Supreme, that accepts us whether or not we belief the right things or reach an ethical bar. The Loving Parent, Jesus' Abba, blesses and gives abundant life to all. We can't lose it, but we need to awaken to it, to let go of the need to be right, to have others wrong, to judge or control, or to connect violence and punishment with God's way, whether on earth or in heaven.
I will close with a passage that has meant a great deal to me through the years. Taken from Paul Tillich's sermon, "You are Accepted," this passage captures a God without enemies who pronounces us worthy even when we, like the Prodigal Son, have traveled willfully to the far off country and thrown it all away in self-destructive behaviors.
Grace strikes us when we are in great pain and restlessness. It strikes us when we walk through the dark valley of a meaningless and empty life. It strikes us when we feel that our separation is deeper than usual, because we have violated another life, a life which we loved, or from which we were estranged. It strikes us when our disgust for our own being, our indifference, our weakness, our hostility, and our lack of direction and composure have become intolerable to us. It strikes us when, year after year, the longed-for perfection of life does not appear, when the old compulsions reign within us as they have for decades, when despair destroys all joy and courage. …Sometimes at that moment a wave of light breaks into our darkness, and it is as though a voice were saying: "You are accepted. You are accepted, accepted by that which is greater than you, and the name of which you do not know. Do not try to do anything now; perhaps later you will do much. Do not seek for anything; do not perform anything; do not intend anything. Simply accept the fact that you are accepted." If that happens we experience grace.
After such an experience we may not be better than before, and we may not believe more than before. But everything is transformed. In that moment, grace conquers sin, and reconciliation bridges the gulf of estrangement. And nothing is demanded of this experience, no religious or moral or intellectual presupposition, nothing but acceptance.
Yes, it's a mess. But you are God's child, a beloved holy mess.