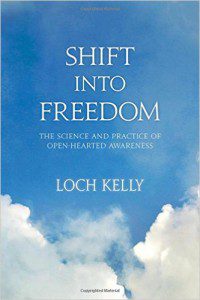 Shift into Freedom: The Science and Practice of Open-Hearted Awareness
by Loch Kelly
Copyright: September 2015
Publisher: Sounds True
Summary:
Awakening can be the natural next stage of human development. Awakening is not a rare event limited to those who leave for the monastery or cave. We can awaken in the midst of our daily lives by discovering what Loch Kelly calls "open-hearted awareness." For the past two decades, this innovative psychotherapist and meditation teacher has been helping people from every background learn how to access a spacious, natural way of living in tune with a deeper truth.
Shift into Freedom presents Loch Kelly's original synthesis of ancient wisdom, modern psychological insights, current neuroscience research, and unique awareness practices for the body, mind, and heart. Written for both first-time and lifelong meditators, here is a training guide filled with simple and effective experiential tools for "unhooking" awareness from our chattering minds and dropping into our awake heart space, expanding our sense of intimacy and interconnection, and embodying inner peace, clarity, and love.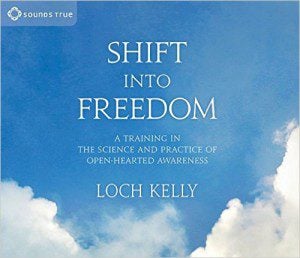 Shift into Freedom: A Training in the Science and Practice of Open-Hearted Awareness Audio CD – Audiobook, CD
by Loch Kelly
Copyright: September 2015
Publisher: Sounds True
Summary:
This audio program is a recording of the unique meditations from Loch's book, Shift Into Freedom. While these practices are written in the book, hearing the audio meditations is a powerful way to experience them directly. This audio program is a progressive series of short guided-meditations, pointers, and "glimpses" designed to help you find peace of mind and awaken in the midst of your daily life. You can do these "shifts into freedom" with your eyes open at your desk, on the train, or while walking.
Awakening is not limited to advanced meditators, but can be the next natural stage of human development available to all of us. It is a natural potential that we can access through what Loch's practice of "small glimpses, many times." This approach expands upon basic mindfulness by teaching us effortless mindfulness and heart mindfulness. This audio is a simple yet thorough training program designed to support your ability to shift from an anxious, contracted sense of self, and instead live from open-hearted awareness.